Donegal's Ryan McHugh says that every game against Dublin is like a final after the Sky Blues' "phenomenal" achievement of winning back-to-back All-Ireland titles.
The champions got the better of the Ulster men by 1-15 to 1-10 at the quarter-final stage last summer.
"Dublin are definitely the number one team in Ireland at the minute, the team that everyone is trying to beat," he told RTÉ Sport. "They're trying to knock them off the perch.
"I read somewhere that Alex Ferguson, I think it was in a letter to Eric Cantona, said that every team when they play United it's like a cup final.
"I suppose teams in Ireland are facing Dublin now and it's a cup final, it's the biggest match when you're playing the Dubs."
Jim Gavin's side sealed the county's first two-in-a-row since 1976-77 when they beat Mayo in October's final replay and the Kilcar man says Donegal's experience of trying to sustain success means he understands just how difficult a task that was.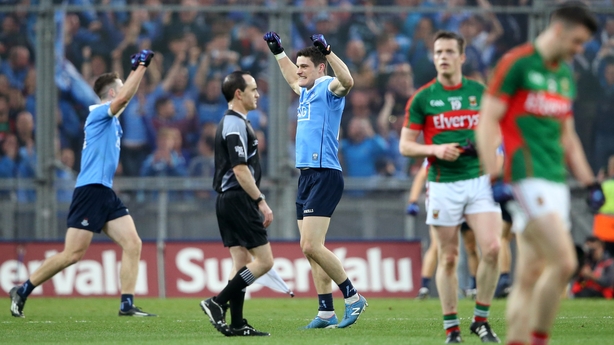 "They'll definitely go down as one of the best teams ever to play the game, with some of the best players ever to play the game," said McHugh.
"I know when I came into the Donegal panel first in 2013, when you win something it's hard to get back up.
"Thankfully we got back up in 2014 and again in 2015 we were going well, but the Ulster final took a lot out of us.
"From the Dublin point of view, it is phenomenal what they're doing. it's a great achievement so it's going to be hard to knock them off that top spot."
Donegal were the last team to beat the Dubs in Championship action, that stunning semi-final upset in 2014.
McHugh believes that surprise defeat has taught Dublin to be more ruthless.
"I think they're a lot more smart, a lot more streetwise," he said. "They're just getting more experienced, they know how to win games.
"They're extremely hard to play against. They're such a good team with experienced players all over the pitch, no matter where it is. Just runners coming from everywhere. You go out and you have to mark six forwards, it's hard to leave men free. You don't realise until you actually play against them.
Full-time: Donegal 3-14 Dublin 0-17. A masterclass from Jim McGuinness and his players. They march on to the All-Ireland final versus Kerry.

— RTÉ GAA (@RTEgaa) August 31, 2014
"Maybe in 2014 they were...it's hard to know, if Diarmuid Connolly finishes the goal then we could be talking about a completely different thing. Football is thin margins.
"Mayo know more about that than any other team, it's extremely thin margins. You kick a point and you're the best team in Ireland. Unfortunately if you miss it you're the villain. That's the way it goes, it's football, you train all year, it's tough. It's such thin margins."
Nonetheless, the 22-year-old doesn't accept the notion that Gaelic football is in for a long period of capital dominance.
"You have to strive to be the best and in Donegal we're just trying to do that. It's not easy, I suppose Mayo were within the kick of a ball of beating them.
"Kerry are coming as well with their minor teams so there are plenty of good teams in Ireland. Competition is high."