All-Ireland senior champions Kilkenny dominated the 2016 All Stars team sponsored by Liberty Insurance, taking eight places on this year's selection
All-Ireland runners-up Cork received three awards along with semi-finalists Galway who also received three, with Wexford completing the line-up with one award.
The awards were presented at a ceremony at the Citywest Hotel on Saturday night.
Amongst the winners for the Cats in defence were goalkeeper Emma Kavanagh, left corner-back Collette Dormer, as well as Anne Dalton and Meighan Farrell in the half-back line.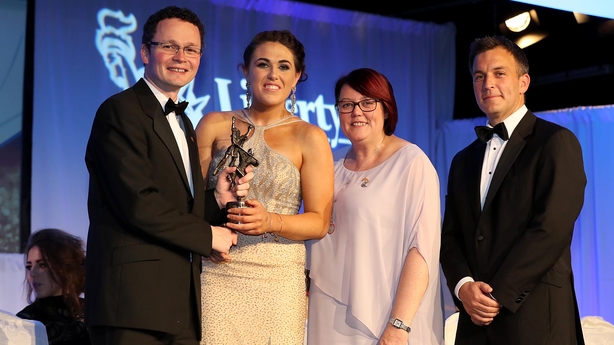 Miriam Walsh was selected in midfield whilst in the forwards Denise Gaule and Julie Ann Malone were selected in the half-forward line with their captain Michelle Quilty selected at right corner-forward.
Wexford's Kate Kelly collected an incredible ninth award to equal Gemma O'Connor at the top of the roll of honour. The Slaney legend took the full-forward spot after an outstanding year which saw her finish as the championship's top scorer with an amazing tally of 5-49.
The Mackey twins, Pamela and Katrina of Cork, completed an All Stars double for the second time by capturing the right corner-back and left corner-forward spots respectively. It is their third award each, having achieved the feat together in 2012. Midfielder Orla Cotter completed the Cork contingent, winning her fourth All Star in the process.
Galway's Sarah Dervan collected an incredible fourth award in-a-row at full-back, whilst Rebecca Hennelly at right half-back and Aoife Donohue at left corner-forward made up the rest of the Galway selections.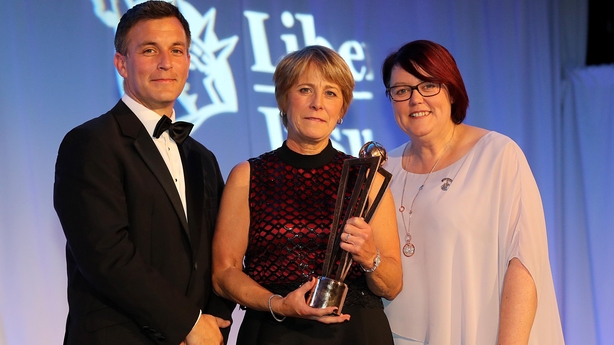 Kilkenny manager Ann Downey was named as Manager of the Year after guiding the Cats to their first senior title in 22 years, having played in all of Kilkenny's previous 12 All-Ireland successes.
Denise Gaule of Kilkenny also collected the Camogie Association/WGPA Senior Players' Player of the Year award.
Ciara Holden of Kilkenny was the recipient of the Intermediate accolade whilst Eleanor Treacy of Carlow was chosen as the Junior Players' Player of the Year.
All three were selected from a shortlist compiled by the WGPA after voting by inter-county players with the awards sponsored by Liberty Insurance.
The 2016 Intermediate Soaring Stars Awards went to champions Kilkenny's Jenny Clifford and Ciara Holden, Cork's Linda Collins and Chloe Sigerson, Aisling Burke of Laois and Jane Dolan of Meath who picked up her fifth Soaring Stars Award.
The 2016 All-Stars team sponsored by Liberty Insurance:
Goalkeeper: Emma Kavanagh (Kilkenny)
Right Corner-Back: Pamela Mackey (Cork)
Full-Back: Sarah Dervan (Galway)
Left Corner-Back: Collette Dormer (Kilkenny)
Right Half-Back: Rebecca Hennelly (Galway)
Centre Half-Back: Anne Dalton (Kilkenny)
Left Half-Back: Meighan Farrell (Kilkenny)
Midfield: Orla Cotter (Cork)
Midfield: Miriam Walsh (Kilkenny)
Right Half-Forward: Denise Gaule (Kilkenny)
Centre Half-Forward: Julie Ann Malone (Kilkenny)