The All Star awards scheme has been on the go for nearly half a century and each statue held by more than a thousand winners is unique.
Not only are the awards redesigned every year, but they are turned out by hand by sculptor Jarlath Daly and a skilled team of artists. No two are the same.
"Initially, from the drawing stages, I would put a number of proposals together in June and send them off to Croke Park and the GPA," explains Daly, who works out of a foundry in Dublin's south inner city.
"We would meet and they would say 'we'll go with this' or 'we'd like to modify this' and from that I initially make two preliminary sculptures (hurling and football) from my concepts from the drawings. I get approval and then we go ahead."
Daly is a sports fan in general and a GAA fan in particular so he says it's a great honour to be involved in the prestigious scheme at any level.
He knows that his sculptors are valued by whoever wins them, though he is modest about his contribution - joking that they're good to use as doorstoppers.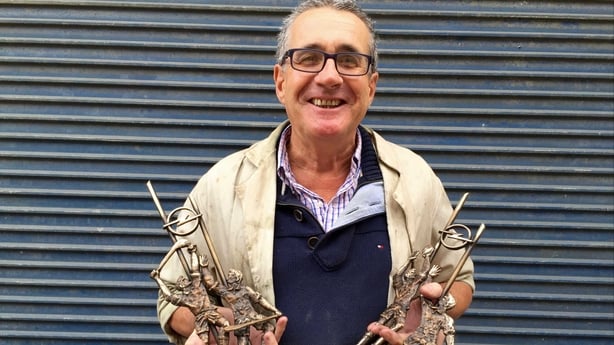 "I have been doing the All Stars every years since 1995, bar a break of two years when there was a change of sponsors," he noted.
"Thankfully I am back with Opel and I've gone through Powerscreen, Eircell, Vodafone/Eircell, Vodafone and Opel.
"Every year the All Stars are different and Henry Shefflin would have nine of my All Stars, he has eleven all together, and each one is different. Tommy Walsh would have seven or eight of mine. They're all different - they're all unique pieces of sculpture."
The 2016 GAA/GPA Opel All Star football team was unveiled yesterday morning.
The hurling selection will be announced live at the All Star ceremony at the Convention Centre Dublin this evening along with the players and young players of the year in both codes.
The All Stars is live on RTÉ One at 7pm.