Meath and Antrim provide the backbone to the Christy Ring Team of the Year selection, with the top performers in the Lory Meager and Nicky Rackard competitions also acknowledged today.
The GAA has revealed its 'Champions 15' selections in each competition with the awards to be presented on Friday evening at the Convention Centre as part of the GAA GPA All-Stars ceremony.
Not surprisingly, almost half of the Christy Ring selection come from finalists Meath and Antrim, where the Royals eventually got the better of their Ulster opponents in a replay after a controversial final.
The teams were forced to a replay after a scoring mistake, but the Royals won the second time out after prevailing 4-21 to 5-17 after extra-time.
Goalkeeper Damien Healy has his Meath full-back line of Adam Gannon, James Toher and Shane McGann for company, with Antrim trio of Simon McCrory, Eoghan Campbell and Ciarán Clarke named in the half-back line.
Kildare, Down, Derry, Wicklow, London and Roscommon are also represented.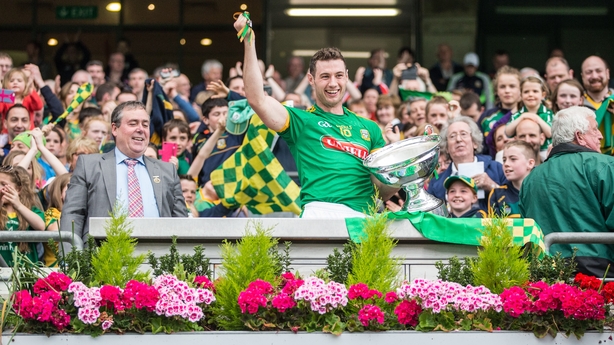 Christy Ring Champion 15
Damien Healy (Meath), Adam Gannon (Meath), James Toher (Meath), Shane McGann (Meath), Simon McCrory (Antrim), Eoghan Campbell (Antrim), Ciaran Clarke (Antrim), John Doran (Kildare), Gerry Keegan (Kildare), John McManus (Down), Caolan Taggart (Down), Oisin McCloskey (Derry), Luke Maloney (Wicklow), Tomás Lawrence (London), Micheál Kelly (Roscommon).
Mayo, who tasted their first ever success in the Nicky Rackard Cup, have four representatives in the 'Champions 15', with seven counties making the selection.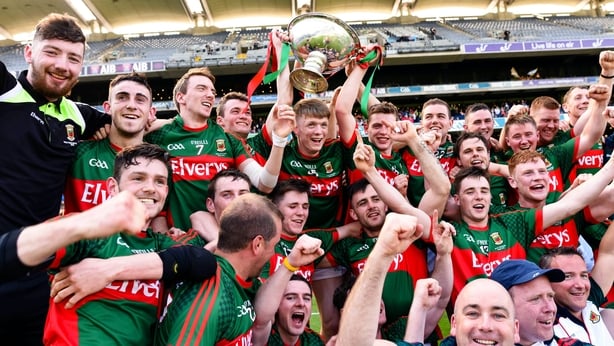 Nicky Rackard Champion 15
Brian Hunt (Mayo), Kenny Feeney (Mayo), Cathal Freeman (Mayo), Joseph McManus (Mayo), Cahal Carvill (Armagh), Ciaran Clifford (Armagh), Declan Coulter (Armagh), Patrick Sheridan (Fingal), Killian O'Flynn (Fingal), Danny Cullen (Donegal), Pádraig Doherty (Donegal), Damian Casey (Tyrone), Ryan Bogue (Fermanagh), Patrick Farrington (Longford), Connor McKenna (Monaghan).
In the Lory Meagher team, Warwickshire and Lancashire have two players each, with champions Louth leading the way with five awards.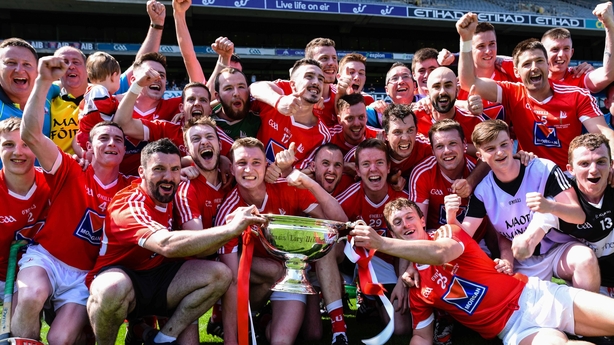 Lory Meagher Champion 15
Andrew Mackin (Louth), Diarmuid Murphy (Louth), Andrew McCrave (Louth), Shane Callan (Louth), Mark Wallace (Louth), Brian O'Loughlin (Sligo), Liam Reidy (Sligo), Cormac Behan (Sligo), Keith Raymond (Sligo), Colm Moreton (Leitrim), Zak Moradi (Leitrim), Shane Morrissey (Warwickshire), Padraic Crehan (Warwickshire), Seamus Richardson, David Cahillane (Lancashire).
A Player of the Year will also be selected on the evening for each competition.
"These players and the teams they play for do not always attract the attention or the credit their skills and contribution to hurling deserve and these awards are a tacit recognition of the standards they have set for themselves," Uachtarán Chumann Lúthchleas Gael Aogán Ó Fearghail said.
"I laud the displays and the efforts of all of those named and hope this acknowledgement will further bolster their desire for future honours."