Brian Fenton is in the running for Footballer of the Year, but back in March when he was whipped off in Dublin's Allianz League game with Cork at Croke Park that seemed like a distant dream.
Not long back following shoulder surgery, the 23-year-old midfielder got the 'curly finger' from manager Jim Gavin at the break, who brought on substitute Mick Fitzsimons in his place.
It prompted a bit of soul-searching for the double All-Ireland winner, who has yet to lose a championship game in a Dublin jersey, and he never guessed that he would turn his season around in such spectacular fashion.
"I remember one moment in particular from that Cork game," recalled the 2015 All Star winner.
"Michael Savage was in goal that night and he took a short kick-out. I got the ball, turned, looked out the field and with a simple kick pass that would have been on nine times out of ten I just kicked it straight to an opponent.
"They came in, got a free and kicked it over the bar. Then you get the curly finger at half-time. I knew that night, it was a wake-up call for me. Looking ahead for the rest of the year I knew I had to put that hard work in.
"I was having an absolute stinker to be honest. That was definitely a wake-up call that I needed to get my sharpness up and my fitness up after the surgery.
"I knew then that if I wanted this year to be in any way as good as last year then I needed to pull off my socks as they say."
Fenton was speaking to RTÉ Sport at the Gaelic Writers' Association (GWA) awards, where he scooped the 2016 Football Personality of the Year prize. Waterford boss Derek McGrath got the hurling equivalent.
Playing greats-turned-pundits for RTÉ's Sunday Game Ger Loughnane and Pat Spillane were inducted into the GWA Hall of Fame. Journalist and Offaly All-Ireland winning manager Eugene McGee was given the Lifetime Achievement award and Mayo's Paul Cunnane was honoured as PRO of the year.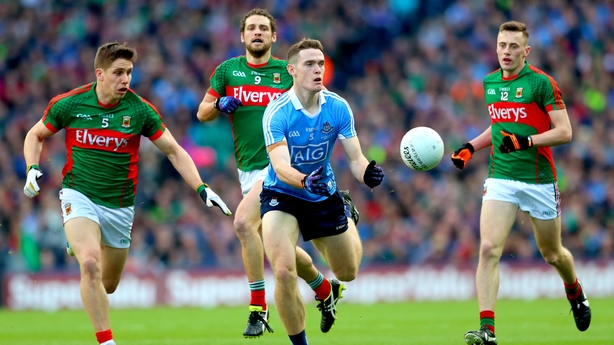 Fenton burst onto the scene last year with a string of immense performances in the middle of the field.
Backing that up with another big season was always going to be tough and people close to him advised him how much of a marked man he would be in 2016.
He says he was determined to prove himself again, though the thoughts of actually winning the Footballer of the Year award - Mayo's Lee Keegan and his Dublin team mate Ciarán Kilkenny are also nominated - didn't seem like a realistic proposition.
The Raheny man said: "This time last year I'd meet people in the club and people who would know football and they'd say 'you came in last year under the radar, nobody knew you but this year you are going to be a marked man, people are going to know you, they are going to have watched your clips on tape.'
"I knew that and that was a big fear of mine, having that extra attention, maybe not getting as many possessions or as many kick-passes or scores in a game or being dominated by an opponent.
"I remember last year talking with close friends around the club in Raheny. They'd be saying 'things couldn't have gone better for you in 2015.' I used to turn around jokingly say 'ah sure look I'll push for Footballer of the Year next year.'
"That was just miles off my radar that I'd joke about it. It wasn't a realistic option to me at all. I don't know; in that Dublin team and all around the country there are players that are more skilful, better players and can kick better scores than I can.
"So on a personal level I'm honoured to be even nominated alongside the likes of Ciarán, who is a spectacular footballer, and Lee, who is probably one of the best footballers Mayo ever produced. He'd get into any half-back line in any team.
"So to be nominated I'm honoured," said Fenton, who also revealed that he is already planning for next season and helping Dublin win a three in-a-row of All-Ireland titles.
The Footballer of the Year will be announced at the All Star awards on 4 November.