The GAA must take a leaf out of the Aussie Rules book and introduce a 50-metre penalty instead of the black card, says Kieran Donaghy.
The controversial rule, brought in three seasons ago to curb cynical fouling, has come in for fierce criticism from many commentators and players.
We need your consent to load this SoundCloud contentWe use SoundCloud to manage extra content that can set cookies on your device and collect data about your activity. Please review their details and accept them to load the content.Manage Preferences
However, recent black card recipients James McCarthy, in the All-Ireland final, and Colm Cooper, in the Kerry SFC semi-final, have come out in favour of its retention but called for more consistency in implementation.
But Donaghy, who has four All-Ireland winners' medals to his name, has another idea.
"It's obvious it has to be gotten rid of," he told RTÉ Sport.
"It's turning the end of games into huge frustration for fans and players.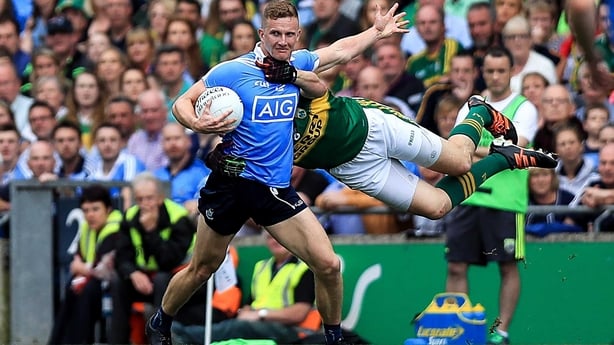 "If you are down five points and you're trying to come back, teams have been told beforehand by their managers, 'take a black card'.
"Why? Because the ref will have to come over and talk to you, then he'll have to issue a black card, then we've to try and get a sub in, that's two minutes, you're losing a game, you want to keep the game [going].
"They have a thing in Aussies Rules, it's so simple – the 50-metre rule.
"If you give away a foul in Australia and you don't throw the ball back to the guy, into his hands..or if you toe-poke it away to allow your team to get back, the ref blows the whistle, runs 50 metres, the ball goes up the pitch and over the bar.
"That's how you punish cynical play, [on the] scoreboard.
"For cynical fouls, for a pull-down or an ankle-trip, all these black card [fouls] that happen inside the 21, I'd say automatic penalty."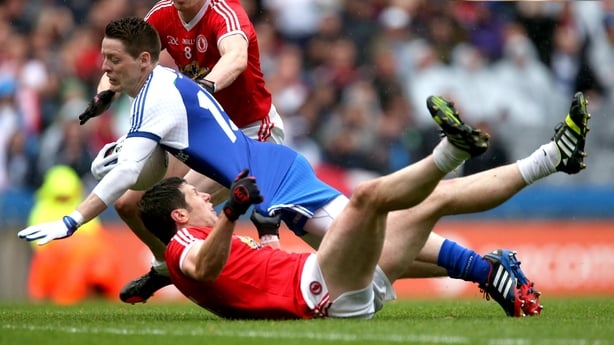 The 33-year-old, who will continue in the Kerry colours for another season "if the body is able", says it will ease pressure on the officials and lead to self-policing. 
"You'd speed the game up. People would have to be honest in how they defend late on," he added. 
"I think it would be so much easier for the referees.
"You'd have players correcting their own team-mates, 'hey man, leave off that cynical fouling, it's killing us on the scoreboard'.
"Now a fellow is nearly winking at [his team-mate] if he pulls some fellow down at the right time.
"It's just turning into a farce of black cards, rugby tackles, fellows delighted to be taking black cards, subs coming on, slowing the whole thing down."
Former Offaly manager Eugene McGee was the chairman of the Football Review Committee that proposed the rule and he said that one of the recommendations was to review the situation after three seasons.
However, GAA president Aogán Ó Fearghail said earlier this month that "2020 is the next Congress that we have when we change playing rules."