Dublin's James McCarthy has backed the controversial black card law but called for referees to be given more help in implementing the rules.
The defender was dismissed after 25 minutes of the drawn All-Ireland final against Mayo after colliding with Cillian O'Connor.
Referee Conor Lane adjudged that McCarthy committed a black card or cynical behaviour foul – deliberately body collide with an opponent – and duly ordered the Ballymun Kickhams man to the sideline.
We need your consent to load this SoundCloud contentWe use SoundCloud to manage extra content that can set cookies on your device and collect data about your activity. Please review their details and accept them to load the content.Manage Preferences
McCarthy says he agrees with the rule but would like to see more consistency in its application.
"The idea of it is probably right, to stop the cynical fouls, which is great," he told RTÉ Sport.
"But like, there's some black cards being given for very little or nothing.
"Maybe for the marginal calls, err on the side of caution. Maybe just give a free instead of giving a black card.
"The refs have a lot going on in games, they are under a lot of pressure, they are very tough games to ref.
"They have time-keeping, they have to keep an eye on both sides of the pitch.
"You can't be too hard on the refs. It is a very tough job to do. Maybe they need more help. I know the linesmen do help them as much as they can but it is very tough now.
"There's so many rules, so many cards, I think it's a lot on their shoulders."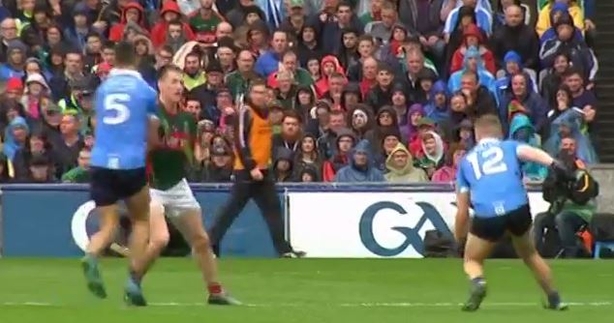 All ended well for McCarthy as Dublin prevailed in a replay but he recalled his frustration at the time and said he knew exactly how team-mate Jonny Cooper and Mayo's Lee Keegan felt when they were black-carded in the rematch.
"It was a bit of disbelief really," he said.
"We had the ball and I was trying to carry the move forward. Obviously there was a coming-together of myself and Cillian O'Connor. I don't think there was much in it either way really.
"I think the linesman said I body-checked. I was really disappointed. Of all things you expect out of an All-Ireland final you don't expect to be over after 25 minutes unless you get injured.
"I suppose one of the biggest days of your year, biggest day of your life, to be over like that it's very disappointing.
"I certainly know how Jonny Cooper and Lee Keegan feel, it's very tough. Surely, maybe there's a better way.
"Or maybe a better way of implementing the black card."
Last week Kerry star Colm Cooper threw his weight behind the rule, which some pundits have called to be scrapped.
He said: "Overall, it's something that I'd like to see continue.
"Because of one or two high-profile decisions mightn't have been the right decisions I don't think we should pull back from it."