Dr Crokes 2-16 Kenmare District 1-12
Dr Crokes overwhelmed Kenmare District to claim their 11th Kerry SFC crown following a scintillating second half display in Killarney.
With Colm Cooper to the fore, Crokes secured their fifth championship in seven years as they dominated throughout, despite the spirited resistance of Kenmare's Adrian Spillane, Tadhg Morley and Paul O'Connor.
Crokes' movement had Kenmare in difficulty from the opening exchanges as Cooper converted an early free, but Paul O'Connor responded from a close-in free, the first of five points for the Kenmare marksman.
There were a couple of intriguing match-ups with veteran Eoin Brosnan lining up at corner-back to curb the threat of Adrian Spillane, while Michael Moloney was sticking close to Kenmare District's danger man Paul O'Connor.
O'Leary, who became an influential figure for the Crokes, kicked a fine point from an acute angle in the 9th minute but then wasted an easier opportunity a minute later.
Kerry senior Morley was playing the role of sweeper at the back for Kenmare in an effort to curb the influence of Cooper, who was as always the conductor of the Crokes' orchestra.
Cooper gave Crokes the lead in the 10th minute with a beauty, but Killian Spillane scored a sublime point from the corner at the end of the opening quarter and the game was delicately poised.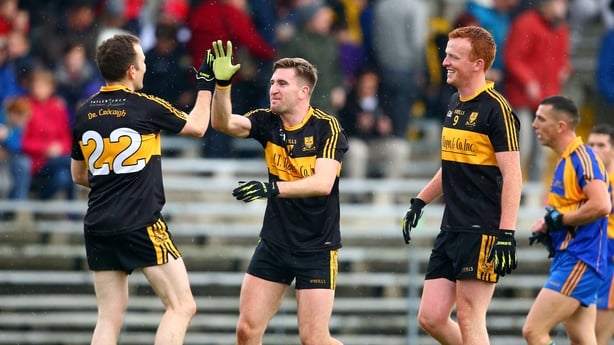 However, Crokes appeared to be winning all the crucial battles and with Johnny Buckley assigned to ensure that Patrick Clifford would be kept to his defensive duties. 
Crokes began to gain momentum and after a keeper error, Cooper restored their lead before keeper Shane Murphy slotted a 45 to push two points clear.
O'Connor reduced it to the minimum in the 20th minute with another free after Killian Spillane was fouled off the ball, but then, thanks to an Ambrose O'Donovan long-range effort and another from Cooper from a free, Kenmare found themselves in difficulty.
The crucial score in the opening half came in the 26th minute when Fionn Fitzgerald raided up the right flank and found Kieran O'Leary
O'Leary then fed Dara Crowley who smashed home with his left foot.
Crokes were now five points clear but a late O'Connor point reduced the deficit, as Kenmare trailed 1-7 to 0-6 at half-time.
However, Crokes assumed control in the second period as they weaved their magic in attack with Cooper giving a man of the match display with some trademark scores and flawless point taking.
Michael Burns came off the bench and kicked the first point of the second half, but when Gavin White found Johnny Buckley in the 34th minute for Crokes' second goal, Kenmare had a mountain to climb.
Teddy Doyle struck back immediately with a goal but Crokes cruised to victory with an up-tempo performance claiming their 11th senior football crown and on this display they will be contenders for the Munster and All-Ireland titles.
Dr Crokes Murphy; J Payne, M  Moloney,  F Fitzgerald; G White, A O'Sullivan, D O'Leary; A O'Donovan (0-01), J Buckley (1-00); D Casey. G O'Shea, B Looney (0-04); C Cooper (0-07), K O'Leary, (1-01) E Brosnan.
Subs: M Burns (0-1) for A O'Sullivan (half-time), L Quinn for D O'Leary (48), J Kiely (0-01) for G O'Shea (48), M Milner for E Brosnan (56), PJ Lawlor for A O'Donovan (58), T Brosnan for K O'Leary (59).
Kenmare District: K Fitzgibbon;  D Crowley, G Crowley, K O'Neill; P  Clifford, D O'Shea, J Spillane; T  Morley, P O'Shea; S O'Shea, A Spillane 0-01), T Doyle !-00); S O'Brien, P O'Connor, (0-08) K Spillane. 
Subs: K O'Sullivan for P Clifford ( 28), F O'Sullivan for P O'Shea (h/t), M Crowley for J Spillane (0-02) (h/t), P Spillane for S O'Shea (55 mins), S O'Leary for T Doyle (60 mins),
Referee: B Griffin (Clounmacon).