Despite having won two All-Ireland medals in two seasons, Dublin midfielder Brian Fenton says he doesn't take success for granted.
The Raheny clubman made his Championship debut against Longford last summer and has yet to taste defeat.
Along with the two Leinster and two Sam Maguire titles, Fenton also got recognition from the Sunday Game panel, who voted him as their Footballer of the Year for 2016.
These are good times for the 24-year-old but he acknowledges that things won't always be so rosy.
"You do need to pinch yourself at times, nothing lasts forever," he told RTÉ Sport.
"There will be bad days no doubt. It just makes the good days even more special and you have to enjoy them, you can't take them for granted."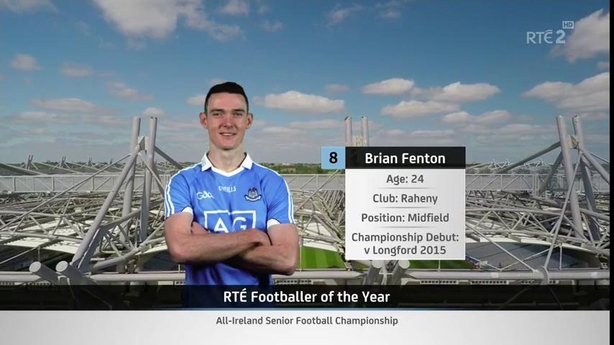 Dublin overcame Mayo in a dramatic finale, full of twists and turns, and Fenton reflected on the game after the immediate celebrations died down.
"The initial elation and the ecstasy is just a magical, wonderful feeling," he said.
"It was tough going, it was tit for tat the whole way and we knew we were in for a big challenge.
"There were huge hits, huge intensity, we're just lucky to come out the other side of it. It's just such a special feeling to bring Sam Maguire back and keep it in Dublin
"There was a couple of times throughout the game when I was gasping for air.
"Those boys in midfield for Mayo are very tough opponents. It was very tough, it was great, it was traditional, it was kick-passing , long-range scores, it was brilliant.
"There were huge hits, huge tackles.
"We're worse for wear now at the minute but to win Sam Maguire two years in a row is special, it's hard done but we won't take it for granted."
Dublin All-Ireland Celebrations