As those in attendance filed out of Croke Park a fortnight ago, thoughts immediately turned to this evening's All-Ireland football replay [Live on RTÉ2, 5pm].
Of course, everybody has an opinion. We had a fair chorus of 'Dublin forwards won't be as bad again' even before the throngs had left the confines of Croke Park.
On O'Connell Street, I overheard one Dubs fan confidently predict that their boys "will murder Mayo the next day".
However, another supporter of the Boys in Blue wasn't surprised that the westerners put it up to the All-Ireland champs and added: "Mayo are a damn good side and it would have been a travesty if they had lost today."
What fans of Dublin and Mayo would agree on, along with the rest of us, was the "strange" nature of the drawn game. Former Galway captain Ray Silke, speaking on RTÉ Radio, went a little further by calling it the "GUBU" final.
GUBU, an acronym of Grotesque, Unbelievable, Bizarre and Unprecedented, relates to a comment made by former Taoiseach  Charles Haughey to describe a series of incidents while he was in office in the summer of 1982.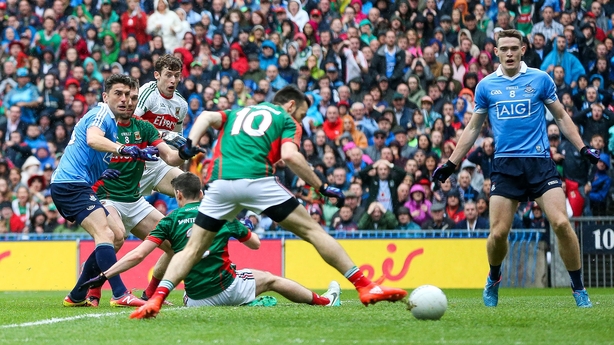 To that end, you could sum up the two own goals conceded by Mayo and Dublin's failure to score from play until the 30th minute, as something though not grotesque, was most certainly unbelievable, bizarre and unprecedented.
Replays, in general, tend to take on different forms to what has gone on before.  
Dublin won't be as slow getting into their stride this evening and how Mayo deal with that upturn will be interesting.
Aside from the concentration lapses that led to the two own goals, the westerners defended with great maturity a fortnight ago.
Brendan Harrison dispossessing Bernard Brogan early on was a sign that the star-studded Dubs attack would not have things their own way. Keeping the Dubs at arms length again will require greater concentration levels.
If Mayo can restrict their opponents to 12 or 13 scores they may well be on their way.
Looking ahead to today's encounter, Mayo boss Rochford is confident the experience gained in recent season will stand to the squad, while also identifying areas they can improve on.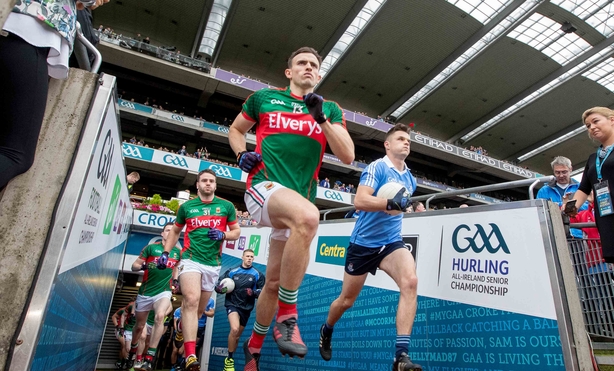 Speaking to RTÉ Sport, he said: "This team is very experienced and they've developed that sense of composure in tight situations.
"They've been in a lot of tight situations and sometimes they've come the right side of the result and sometimes they haven't and I think that's all borne into being able to deal with this.
"What I knew about the group was that they were certainly never going to lie down and when the challenge was there to come back from being three points the last day down the willingness and the eagerness to drive on and get those equalising scores was something I definitely knew was within them.
"However, I wasn't happy with the level of turnovers we had the last day.
"Also we didn't create any clear-cut goal chance."
When asked was the performance in the drawn game a "six out of ten display" on RTÉ Radio, Dublin manager Jim Gavin's response was "I think you're been generous there".
The Round Towers man clearly was not happy by what he saw. On these pages, Dessie Dolan stated that "Gavin will ruthlessly motivate his players in the run up to the replay".
Furthermore, the All-Ireland champions will feel that, despite not firing on all cylinders on 18 September, they should have closed out the deal going down the stretch.
We need your consent to load this rte-player contentWe use rte-player to manage extra content that can set cookies on your device and collect data about your activity. Please review their details and accept them to load the content.Manage Preferences
If Gavin can extract another 10% from his charges than that might be enough to get over the line in a game of fine margins.
However, after the surreal nature of the drawn game, who knows what other quirks will pop up later today to make a mockery of what we think might happen?
What impact will the weather have, if any?
Will an unlikely hero emerge?
Could Diarmuid Connolly be employed at the edge of the square?
Is this the stage for Aidan O'Shea to go on the rampage again?
How will referee Maurice Deegan fare? 
Barring another replay, Dublin's status as a great team will be enhanced or Mayo's day will finally come to banish all that heartache.
Bring it on.  
Watch live coverage of Dublin v Mayo on The Saturday Game on RTÉ2 and the RTÉ Player from 1600 and follow our live blog on RTE.ie. Live radio coverage on Saturday Sport on RTÉ Radio 1 and highlights on The Saturday Game on RTÉ2 from 2200. 
We need your consent to load this SoundCloud contentWe use SoundCloud to manage extra content that can set cookies on your device and collect data about your activity. Please review their details and accept them to load the content.Manage Preferences