An error-strewn, yet compelling encounter. An apt description then to describe the drawn All-Ireland SFC final between Dublin and Mayo.
In a game where defences were to the fore, Dublin will, perhaps, rue the fact that they didn't close out the game when three points up approaching the 70th minute.
Mayo, for their part, may have some regrets that they couldn't push on when they drew level at a crucial stage in the second half, while also cursing their bad luck at conceding not one, but two own goals.
And so Saturday's replay.
The clamour for those precious tickets will continue until just before 5pm outside Croke Park, adding to the sense of anticipation for this the sixth championship meeting involving Dublin and Mayo since 2012.
As soon as Conor Lane blew the full-time whistle last Sunday week, it was felt that Dublin had the greater room for which to improve and that Mayo had left another All-Ireland behind then.
It's hard to rationalise the latter assessment after the Connacht side showed much bravery and no little skill in quickly wiping out a five-point deficit after half time and then reeling in their opponents again at the death.
"Mayo really raised their game and put in a massive performance like many expected they would," was a summary of that effort from Dessie Dolan.
However, The Sunday Game analyst feels they will need an awful lot more from their forwards if they are to end their 65-year wait for an All-Ireland.
Assessing the Green and Red attacking threat, Dolan said: "Cillian O'Connor is a very versatile player and very accurate from placed balls.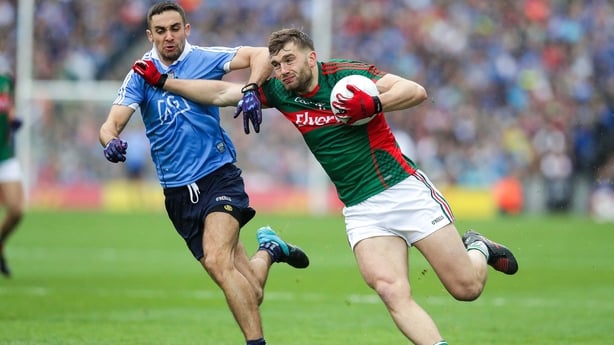 "You know what you are going to get from him. In terms of what you're going to get from the likes of Aidan O'Shea, Diarmuid O'Connor, Kevin McLoughlin and Jason Doherty, well there's an awful lot of question marks for me.
"Take Aidan O'Shea, there has to be much, much more to come from him.
"As for Diarmuid O'Connor, well at one stage people were talking about him as the Footballer of the Year.
"Kevin McLoughlin is great at sweeping up, but he needs to be making more of an impact where it really matters for Mayo."
One Mayo forward that has impressed Dolan is Andy Moran.
"Moran, in terms of his ball-winning ability in key positions, has been vital all year for Mayo," he added.
"The support he got from the half-forwards did break down at times the last day, particularly in the first half. Andy needs quality ball."
Under Stephen Rochford, Mayo have tightened up defensively and many of the marquee Dublin forwards were kept quiet in the drawn game.
The 2004 All Star held particular praise for Brendan Harrison's performance in keeping tabs on Bernard Brogan.
"Brendan Harrison has been the unsung hero of the Mayo team," he revealed.
"The man-marking job he done on Brogan was excellent. Harrison is a player who goes about his business in a very quiet and efficient way."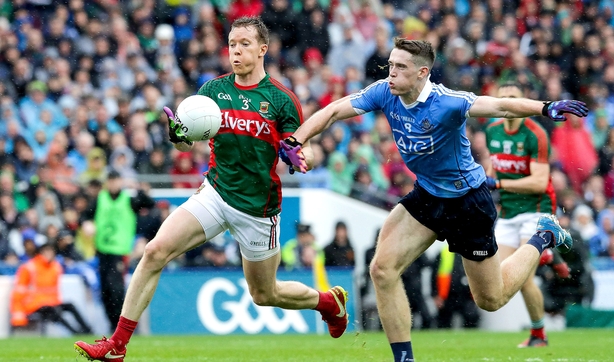 Elsewhere, Donal Vaughan was excellent at full-back, while Lee Keegan, Colm Boyle and Patrick Durcan certainly had the measure of the Dublin half-forward line. The key for Mayo is to replicate this work rate on Saturday evening.
"The question for Jim Gavin is how to get more out of his forward division?"
Much focus then will be on Gavin in this regard, with Dolan of the view that a few tweaks in the Dublin forward division can aid their quest to retain Sam Maguire.
"I feel myself that Dublin are the stronger of the two teams despite their substandard showing the last day and with a couple of positional changes up front, I think that could be enough to get them over line," Dolan predicted.
"The obvious choice would be to bring in Paddy Andrews and keep Kevin McManamon in reserve. McManamon is a proven sub.
"In terms of impact, Paul Mannion's running ability certainly caused Mayo problems when he came on and he may get his chance from the off on Saturday.
"Paul Flynn, a four-time All Star has been poor enough all year. He's due a big game.
"You can be sure that Jim Gavin will ruthlessly motivate his players in the run up to the replay."
The former Westmeath star also dismissed the notion that this Dublin side may have peaked after big names failed to fire last Sunday week.
"To say that they are over the hill after one poor performance would be foolish," he opined.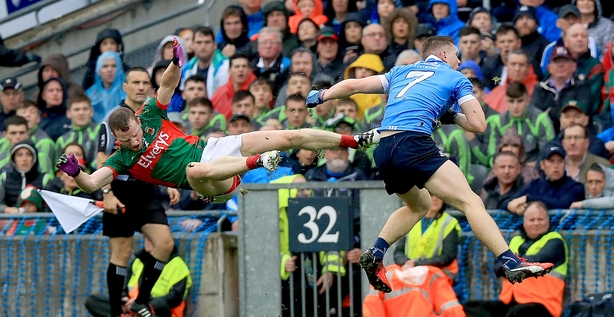 "Other names stood up. John Small was outstanding in the half-back line. I didn't realise the potential he has, he was outstanding.
"I knew how good Brian Fenton was. His share price in terms of ability just seems to grow and grow.
"If Dublin can deliver this All-Ireland they will go down as one of the great teams. You can have off days. All the motivation was with Mayo to play well last time out.
"They did play well but it was still Mayo that had to go and kick the last point to get a draw.
"The motivation may now be with Dublin to go on and triumph, with three or four points in it at the end."
Watch live coverage of Dublin v Mayo on The Saturday Game on RTÉ2 and the RTÉ Player from 1600 and follow our live blog on RTE.ie. Live radio coverage on Saturday Sport on RTÉ Radio 1 and highlights on The Saturday Game on RTÉ2 from 2200.