A statement from the Dublin Ladies Gaelic Football Association has ruled out an appeal to the outcome of Sunday's senior All-Ireland final which Cork won by a point.
Dublin protested that Carla Rowe's 22nd-minute point was wrongly chalked off, with their manager Gregory McGonigle subsequently questioning why Hawk-Eye was not in use at for the final.
A spokesperson for the Ladies' Association explained that using Hawk-Eye for championship games was discussed at Central Council level earlier this year – but it was decided not to do so.
We need your consent to load this SoundCloud contentWe use SoundCloud to manage extra content that can set cookies on your device and collect data about your activity. Please review their details and accept them to load the content.Manage Preferences
This latest statement from the Dublin LGFA urges the powers that be within Ladies football to consider using Hawk-Eye at the games.
The statement read: "Dublin players, management and executive congratulate Cork on winning the 2016 All-Ireland senior final.
"We wish it to be noted that we are very disappointed that the score error could not be rectified on the field of play and we will focus our efforts to require that LGFA put processes in place so that no other team is subjected to such a situation. 
"Dublin LGFA will be making no further comment on this issue."
Earlier, Cork manager Ephie Fitzgerald emphatically ruled out the prospects of his side agreeing to a replay.
"There won't be any rematch," he told Neil Prendeville on Cork's Red FM.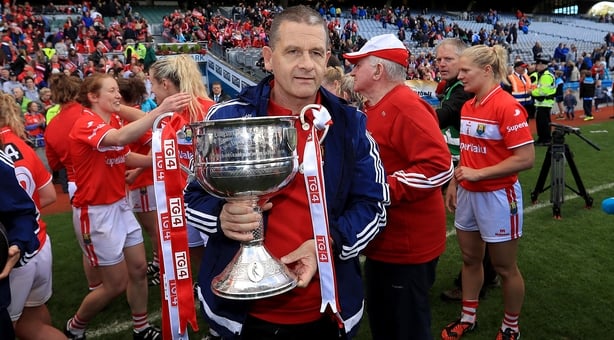 He added: "We all knew HawkEye wasn't available – that's been the case all year.
"You know going out that you're not going to have the use of HawkEye. So talking about HawkEye should be in use afterwards, to me, is a bit rich.
"I was fully aware that HawkEye wasn't going to be in use, so the fact that they should or shouldn't use it is down to the powers that be, it's irrelevant to us.
"The dynamics of the game change anyway. If we were three points up yesterday coming down the stretch… if there were 30 seconds left when the ball came into the square for the penalty, that would have been a different scenario.
"You just can't compare like with like. We were two scores up so it didn't really matter what they got at that stage. If it was a three-point game, we probably would have been a little bit more focused.
"The bottom line is the scoreline says that Cork won the All-Ireland by a point and that's all we're concerned about."