Three-time All Star Lee Keegan is absolutely certain that Mayo will do whatever it takes to get over the line and win an All-Ireland title this year.
Keegan and his team-mates put two first-half own goals behind them to level Sunday's drawn All-Ireland final and force a replay on Saturday, 1 October.
The battling wing-back says this squad of players simply won't take no for an answer and the belief that they will finally win Sam Maguire this season is absolute.
We need your consent to load this SoundCloud contentWe use SoundCloud to manage extra content that can set cookies on your device and collect data about your activity. Please review their details and accept them to load the content.Manage Preferences
"At this stage everyone knows what this group has and the belief in the squad," insisted the Westport man.
"Management have huge trust in us and we had total belief that we were going to win. We still have belief that we are going to win again in two weeks' time but we know the challenge ahead of us. 
"A draw isn't good enough for this squad any more, it's about getting over the line"
"Dublin are champions for a reason, three times in five years. We have plenty to work on but we know the challenge already.
"We'll analyse and review what we didn't do well and what we did do well. At the end of the day we didn't win the game but we know what we have to do to win it in the next two weeks."
And Keegan explained that it was this absolute self-belief that kept Mayo going even when they went in at the break five points down having conceded two dispiriting own goals, the first by Kevin McLoughlin on eight minutes and then Colm Boyle on 22.
"You're probably hearing the same thing, but we just stick to our processes. There are going to be setbacks," he said.
"When you're playing a team of the quality of Dublin there are going to be setbacks regardless of how well you're going or not going.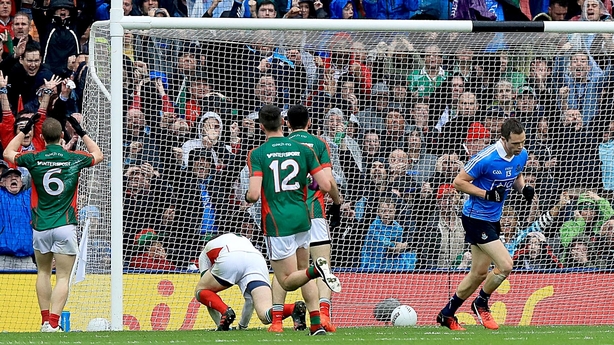 "The goals were what they were, but we had a very good start to the first half and we held them scoreless points-wise for 20 minutes or so, so that's a huge positive for us.
"The Dublin forward line is built up to be one of the best there is out there and I thought we did well as a unit and, look, in the second half we only conceded five points.
"The stats are pretty good on our behalf - it's not the result we wanted, but, again, as I keep saying, we really need to kick on in 13 days and we have to find that inch or foot or whatever it is to get across that line.
"At the end of the day a draw isn't good enough for this squad any more, it's about getting over the line."
"The Dublin forward line is built up to be one of the best there is out there
Keegan has history with Dublin's influential forward Diarmuid Connolly, which dates back to last year's spiky All-Ireland semi-final draw.
Connolly was sent off, and Keegan booked, though the Dub had his punishment later overturned and featured in the replay.
They tangled again on Sunday, both picking up yellow cards following an incident just after the hour mark, tough the Mayo man made light of the flash-point.
"There was nothing, to be honest. The two of us both just want to do whatever we can to win a game. I wouldn't think too much about it," he said.