Fergal O'Donnell has resigned as joint-manager of the Roscommon senior football team, along with selectors David Casey and Stephen Bohan. 
In a statement issued last night by three members of the management, it was claimed a "concerted effort has been made (outside of management and players) to undermine and disparage us." 
The resignation of O'Donnell, along with his selectors, leaves the other joint-manager, Kevin McStay, and selector Liam McHale, at the helm.
The decision was relayed to the county board at a meeting last night, also attended by McStay, to review the 2016 season. 
O'Donnell and McStay took over the job at the end of last season after John Evans finished a three-year stint in charge. 
Roscommon were beaten in this year's Connacht final by Galway after a replay, and knocked out of the qualifiers by Clare. 
RTÉ football analyst Eamonn O'Hara paid tribute to O'Donnell's handling of the situation, acting quickly to avoid any further conflict in the county.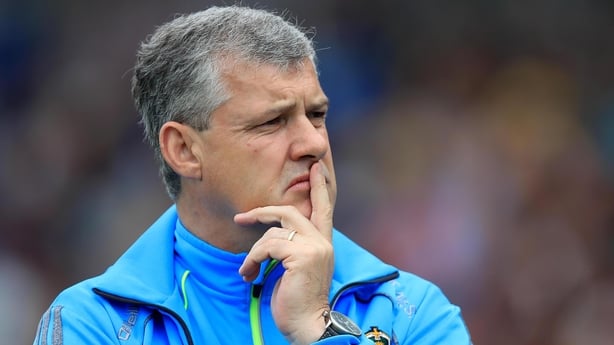 "You've got to tip your hat to Fergal O'Donnell, the integrity that he has shown to walk away from this," the 2002 All Star told RTE Radio's Morning Ireland programme. 
"That's he's willing to put Roscommon first, that he doesn't want this conflict...you have to say well done to him.
"But it's unfortunate that something like this has happened. We want people like Fergal O'Donnell involved in football, particularly at county level. He's a good character, a good Roscommon man.
"Now it opens the way for Kevin McStay (above) to deliver on his own. He will obviously hold on to Liam McHale and have him more involved. There was talk that he wasn't getting lot of time on the training field."  
Roscommon GAA said they will meet this evening to discuss the management situation for next season and thanked O'Donnell for his "long and dedicated service". 
FERGAL O'DONNELL STATEMENT
"It is with much regret and disappointment that myself, Stephen Bohan and David Casey have decided to resign from our roles as joint manager and selectors with the Roscommon senior football team. 
"Having been asked 12 months ago to contribute to making Roscommon a force again over a three-year term, we were wholeheartedly committed to achieving that goal. 
"Our decision to depart now is made in the best interests of Roscommon football and with a view to removing the inevitable distraction that would result from a potentially divisive contest for the position of manager between myself and Kevin (McStay). 
"Recently, a concerted effort has been made (outside of management and players) to undermine and disparage us and it is especially disappointing and damaging that those involved purport to be concerned about the promotion of GAA within the county. 
"We want to thank the backroom team, the County Board, our generous sponsors, our loyal supporters, Club Rossie and most importantly the players for their dedication, sacrifice and commitment to Roscommon's cause.
"Roscommon has a hugely talented group of footballers. Now, as supporters, we share the hope that they will continue to learn, develop and ultimately fulfil their potential. To this end, we wish the team every success in the future."