Former Meath forward Cian Ward believes Kerry do not possess the firepower to beat Dublin in the All-Ireland SFC semi-final, and rubbished any suggestion that there's a vulnerability in the reigning champions' full-back line.
The two face off at Croke Park this Sunday (3.30pm, live on RTÉ One) for the right to take on Mayo in the decider, with the Kingdom desperate to avenge their defeat in last September's final.
Ward, speaking on the RTÉ GAA Podcast Jones's Road, feels they may just lack to cutting edge to do it.
"I don't think Kerry have the scoring power to beat Dublin," the Wolfe Tones man said.
"You'd always have associated Kerry with having these really dangerous forwards, but they've had to change, and I think they're a more defensive team now.
"With the form of some of their forwards, I would think they're not going to be able to flick that switch."
Ward also poured cold water on talk that the Dubs have a frailty that can be exposed, as he speculated about how Eamonn Fitzmaurice will set his team up.
"I think you'd actually have to six or seven points ahead of Dublin to be in with a real chance of winning the game."
"Will the Gooch play? Where will he play? How will he have an impact on the game? You just don't know how these things are going to go," Ward added.
"Will Donaghy be used around the middle or will he be used inside?
"Everybody has spoken about trying to maybe target this Dublin full-back line.
"There's a perception that Dublin are weak under the high ball there but and full-back line can be exposed under the right type of ball, no matter who they are.
"I don't think it's a weakness that they particularly have that other teams don't have.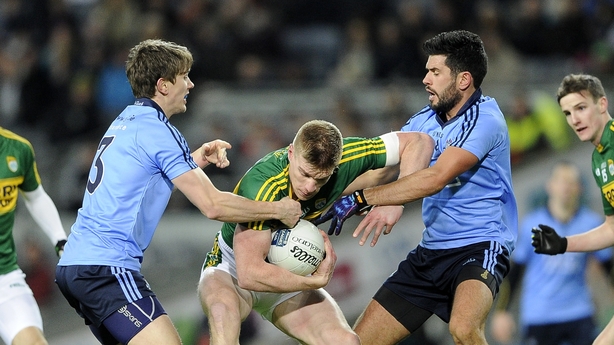 "In Cian O'Sullivan Dublin have the best centre half-back in the country, who's been unbelievable at shoring up those gaps. They're hard to get at."
While Dublin have tended to be slow out of the blocks this summer, their incredible strength in depth means they have been able to steamroll teams in the latter part of matches.
Ward said that's an advantage that is incredibly hard to combat, but also warned that the strength they possess all around the field means an aggressive attacking approach could be ruthlessly punished at the other end of the field by the Dubs' rampaging forward line.
"Often times I'd look at these games from a forward's perspective and you'd be thinking, 'right if I was playing in there, what way would I like to see us attacking to cause them problems?'
"But then if you look at that and you go, 'yeah we'll get somebody up at centre half-forward, we'll try and keep Cian O'Sullivan busy, we'll play six forward and occupy their defenders'.
"Then if you're playing corner-back you'd be thinking, 'Jesus lads we need to block up these gaps, we need to try and shore up a few spaces'. So it's very, very difficult to find that balance...
"I think you'd actually have to six or seven points ahead of Dublin to be in with a real chance of winning the game. They've tended to able to blitz teams in the second half.
"They have those reserves of know how and experience and obviously quality coming off the bench."