Tipperary's inspirational captain Peter Acheson admitted he may have played his last game for his county, but believes the Premier County will line up in an All-Ireland SFC final within the next "five or six years".
The Moyle Rovers man has put off going to Dubai for two years but will now take the plunge after a Tipp's incredible summer charge was halted by Mayo in the All-Ireland semi-final on Sunday.
The 26-year-old, who played with a broken hand at Croke Park, expects people to dismiss his team as one-Championship wonders, but has every confidence they'll prove the doubters wrong.
"I'm definitely going to be gone for a year, unless I absolutely hate it, but I've no doubt I'll enjoy it," Acheson told RTÉ podcast Jones' Road.
"I'll be there for a year at least but I'll say it'll be a lot longer. We're used to being underdogs and everyone saying, 'you won't win this game or that game'. We live off that to be honest.
"It was a tough defeat. What makes it tougher is that we'd a chance of winning it."
"That drives us on that extra bit. The more we hear that the better. I've no doubt we'll be contesting an All-Ireland final in the next five or six years."
Mayo plundered goals in either half to reach their third All-Ireland SFC final in five seasons, but the Premier were far from disgraced in the 2-13 to 0-14 loss.
Acheson admitted mistakes at crucial junctures cost them dear, and those small margins made the sting of defeat even more painful.
"It was a tough defeat. What makes it tougher is that we'd a chance of winning it," he added.
"We're gutted about that. If you'd told me we'd get to an All-Ireland semi-final and would have the chance to beat Mayo we would have taken that.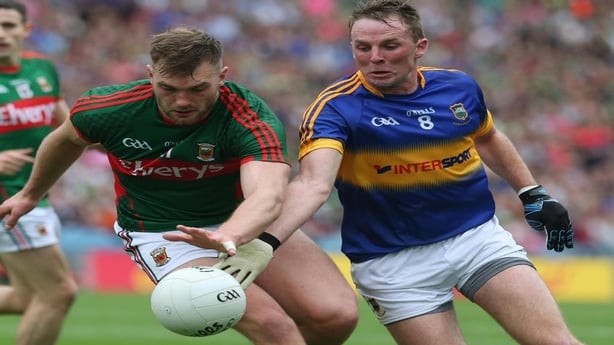 "We were on top for the first quarter and for the first 15 or 20 minutes, we probably should have been up more. They got the goal and they dominated the rest of the half after that.
"We came out in the second half and we dominated again, and again they got a lucky enough goal. At the end of the day they probably just deserved it but we were touch and go for a while.
"That second goal was an absolute sucker punch and it just killed us altogether. I'd say they'd their homework done. They sat the extra man as a sweeper to block up the centre."
Acheson revealed that his teammates had no idea he was carrying an injury into Sunday's showdown.
He suffered the knock midweek but played through the pain. Now facing a lengthy - and potentially indefinite - spell away from inter-county football, Acheson said he's happy to leave the side in such a healthy position.
"The management know but the team didn't we didn't want to be messing with lads' heads or whatever.
"I got an injection before the game but I'd no strength in the hand during the game... so it affected me a small bit, and I'm disappointed with that, but at the same time it's worse to have a broken leg or a hamstring; at least I could play the game.
"It is a pity this didn't happen three or four years ago because we had the talent to do it but for some reason we didn't take that step. At the same time I'm delighted I'm leaving on this point."