Tipperary manager Michael Ryan believes his team have put to bed the notion they can't win tight games after a hard-fought semi-final triumph over Galway.
Tipp trailed the Tribesmen for a full 35 minutes at Croke Park, before goals in the 61st and 63rd minutes, from substitute John 'Bubbles' O'Dwyer and John McGrath, guided them to the slenderest of victories – 2-19 to 2-18.
The Premier men have been accused of losing their nerve in close contests over the last couple of seasons, most notably when losing to the Tribesmen by a point at this stage last year, but they prevailed this time to set up a fifth final meeting with Kilkenny in eight years.
"To turn one around and win a tight one is nice because the prize is great," Ryan told RTÉ Sport. "It's well documented that we've struggled to win those kinds of games. Whether you like being associated with that or not, it's a fact.
"There's no silverware for a semi-final but, in a sense, there's a lot more on offer. The chance to get to hurling's Holy Grail, playing on the first Sunday in September, that's every team's wish in January.
"We're there. It wasn't pretty but we're delighted, and it was a great kind of game to win.
"Galway were pressing, they really, really fought for this. If that game had gone on another two minutes it could have ebbed and flowed, we could have been on the end of a one-point margin. We're thrilled."
Ryan saluted the impact of his bench, including the efforts of O'Dwyer, who missed the Munster final win over Waterford through suspension, and suggested that closing down Galway better in the second half had been pivotal to the win.
"We have a very strong panel, they compete for everything, and other than we had a good strong bench to come in and make a contribution, we'd have been in trouble out there," he admitted.
"I don't need to tell ye the kind of talent Bubbles O'Dwyer has. He's a hugely talented player, but it wasn't just him. It's a collective.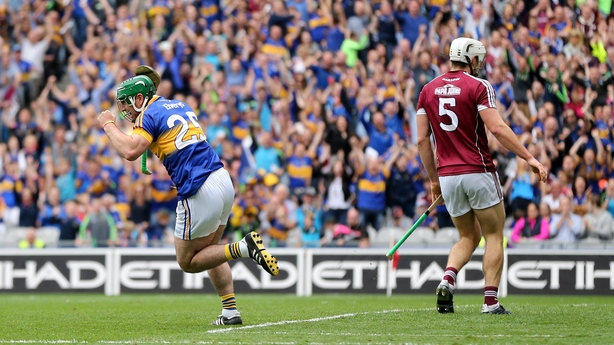 "I thought midfield and the half-back line attacked the ball a little better, I thought we gave Galway too much room in the first half.
"Our middle third really worked hard in the second half and probably swung the game back towards us, and allowed us to put Galway under pressure."
"Galway were quicker out of the blocks and caused us all sorts of issues in certain places"
Both Tipperary and Kilkenny (against Waterford) were pushed all the way in the semi-finals after comfortably winning their provincial titles.
Ryan accepted that the five-week lay-off may have been a factor in his side's slow start, which saw them slip behind to a sixth-minute Conor Cooney goal.
"I could give you the glib answer and say no, we won, but putting more thought into it, I didn't think we got to the pace of it," he said.
"Galway were quicker out of the blocks and caused us all sorts of issues in certain places.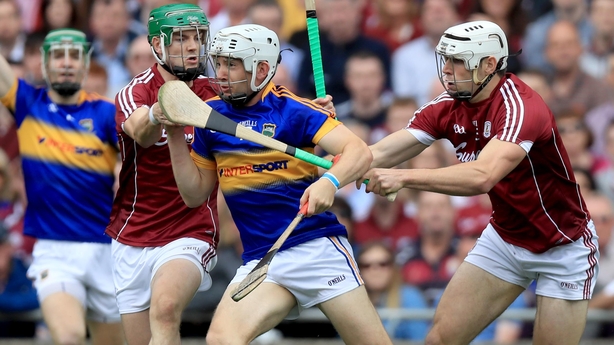 "But that's what you'd expect. All-Ireland semi-final day, we were a bit slower than we'd like and we have plenty to work on - but work on it we will.
"It's a great incentive, three weeks time to come back up here and have a go at Kilkenny, the recognised best team of our generation - and many generations."
Galway manager Micheál Donoghue said that he and his players were "bitterly disappointed" with the nature of the defeat.
His team were ahead from the 25th until the 61st minutes and could have forced a replay with just one more score.
"I can't fault the players' attitude or application," he said. "It's a hugely disappointed dressing-room.
"Coming into the game, the chat was it was going to be a shootout. From a manager's perspective and I'm sure Mick (Ryan) was the same, I didn't want it to turn out that way.
"Inevitably, it did and the game ebbed and flowed. The way it was going, we're obviously just bitterly disappointed we didn't get something out of it."
The Tribesmen lost star forward Joe Canning (hamstring) and midfielder Adrian Tuohy (dislocated elbow) at the interval but Donoghue felt that they had responded well to that setback before the double blow of Tipp's two goals in three minutes.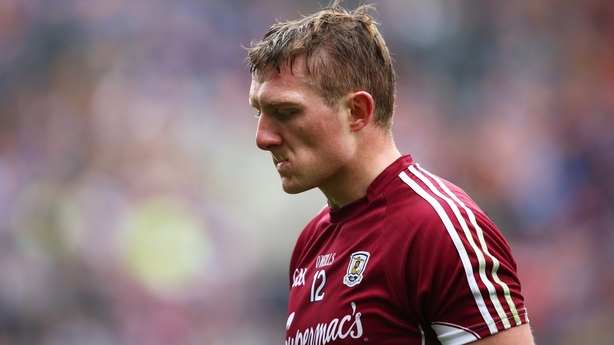 "We lost two guys that were performing really well in Adrian Tuohy and Joe. That was a big loss for us as a group but in fairness to the lads that came in, they put in a huge effort and shoulder to the wheel.
"The first few minutes we were still going okay. We got the goal (from Joseph Cooney). I just felt maybe if we'd got a few more points just to push it out a bit, it might have given us a bit of time to settle. But the way the game was going...
"I thought we responded well when Bubbles got (Tipperary's first) goal. It was a great finish but I think the boys got two scores to bring it back. John McGrath scored then, it was just harder to get back.
"The lads worked really hard. We defended very well. That was the disappointing thing in the last few minutes, we needed that break for a big score.
"Testament to our boys, they showed huge character and I'm really proud of the effort they put in. It was a massive shift."