Dublin 1-13 Donegal 2-7
Dublin will play Mayo in this year's TG4 All-Ireland ladies SFC semi-finals but their bid to reach a third senior final in a row only survived after a serious scare in Longford today.
The Leinster champions left their shooting boots behind them, shooting almost 20 wides in total, including many easy frees.
They struggled badly to deal with Donegal's blanket defence in the first half and trailed by two points (1-4 to 0-5) at half-time.
But then they made a breakthrough.
An inspirational point by Niamh McEvoy, followed by a brilliant Noelle Healy pass to put Sinead Aherne through to goal, saw them finally pull clear in the third quarter.
Substitute Siobhan Woods, Carla Rowe and Lyndsey Davey also contributed as they built up a four-point lead with eight minutes left.
But then Donegal's 'secret weapon' struck.
Geraldine McLaughlin, only recently back from America, was sprung from the Donegal bench at half-time and the Termon ace bagged a goal in the 55th minute to leave just a point between the sides again.
A great individual point from Rowe settled Dublin again and then Davey earned a free which Aherne slotted over.
Gregory McGonigle's side were reduced to 14 players in the final minute when Woods was sin-binned.
And they were under siege in their own square when former fullback star Muireann Ni Scanaill, just back from a long injury lay-off, made one of the game's most vital intervention.
When Donegal floated one last possession into the crowded goalmouth she leapt up to secure and clear it before the buzzer sounded.
The three-point margin may have flattered Dublin at times but defenders like Sinead Goldrick and Sinead Finnegan worked tirelessly throughout and they vitally pinned the Ulster women back in their own '45 for much of the second half.
Earlier they were rocked by a 21st minute goal when Amber Barrett sent a speculative lob into their square and Yvonne McMonagle got up to beat goalkeeper Ciara Trant to the punch.
But, in the end, the Dubs' experience and superior bench depth got them through.
Dublin: C Trant; O Carey, D Murphy, L Caffrey; S Goldrick, S Finnegan, N Collins; L Magee, S Furlong; N Healy (Capt), N Owens, C Rowe; N McEvoy, S Aherne, L Davey. Scorers: S Aherne 1-6 (3f), C Rowe 0-3, N McEvoy 0-2, S Woods and L Davey 0-1 each.
Subs: S Woods for Owens (32), M Lamb for Furlong (41), C Ruddy for Collins (50), R McDonnell for Magee (55), M Ni Scanaill for McEvoy (58).
Donegal: A McColgan; T Doherty, C Hegarty, K Wilson; T McCafferty, K Herron, D Foley; G Houson, K Guthrie; R Friel, N Hegarty (Capt), K McKinney; E Ward, Y McMonagle, A Barrett. Scorers: K Guthrie 0-4 (4f), Y McMonagle 1-1 (1f), G McLaughlin 1-0, A Barrett and K Herron 0-1 each.
Subs: G McLaughlin for Ward (half-time), Niamh McLaughlin for McKinney (half-time), Nicole McLaughlin for Wilson (53), P McGroary for Friel (55).
Referee: G Chapman (Sligo).
Mayo 2-10 Westmeath 1-11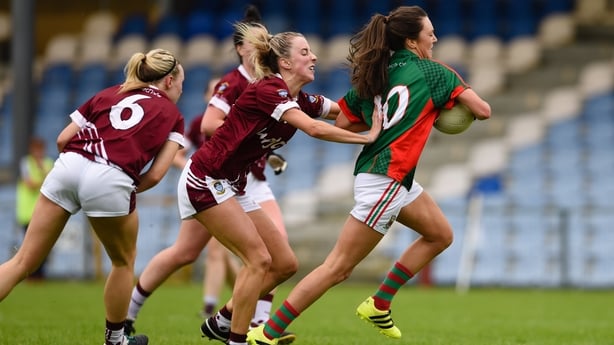 Mayo reached their first semi-final in seven years but only by the skin of their teeth after a nail-biting battle with Westmeath earlier in the day.
The Connacht champions looked home and dry when they pulled four points clear in the third quarter.
But a dramatic late Westmeath goal from midfield star Johanna Maher cut the gap to a minimum with four minutes left and it took a brilliant individual insurance point from Niamh Kelly to make Mayo's victory safe.
Westmeath had one late chance when topscorer Leona Archibald won a free and took it quickly to Maud Annie Foley but, with another goal needed, her shot drifted wide just ahead of the buzzer.
This year's beaten Division 2 finalists really put it up to Mayo throughout.
They only trailed by two points (1-3 to 0-4) at half-time and Mayo's first goal, on 26 minutes, was a lucky one when a Cora Staunton shot came off the cross-bar and fell into Doireann Hughes' path.
They sides were level a third time seven minutes into the second half when the Midlanders got hit with a second sucker punch, after ace poacher Staunton stepped up quickly to take a 14m free and sent a rocket from her hands straight into the net.
That gave the stuttering Mayo attack the confidence they needed and they kicked on, with good points from Aileen Gilroy, Sarah Rowe and three more from Staunton pushing them clear.
The Westmeath defence, where Fiona Claffey and Laura Brennan were outstanding and had held Staunton to just 0-2 (1f) by half-time and they might have pushed on if they had not persisted so long in chasing goals.
But Staunton eventually found her rhythm, Niamh Kelly was excellent throughout.
Mayo looked ring-rusty after their six-week lay-off and this was probably the ideal preparation for their first All-Ireland semi-final since 2009 when they meet Dublin..
Mayo: Y Byrne; L Ryder, S Tierney (Capt), N O'Malley; M Corbett, M Carter, O Conlon; F McHale, C McManamon; N Kelly, A Gilroy, D Hughes; S Rowe, C Staunton, D Caldwell. Scorers: C Staunton 1-5 (1-1f), D Hughes 1-0, A Gilroy 0-2, N Kelly, G Kelly and S Rowe 0-1 each.
Subs: G Kelly for Clodagh McManamon (half-time), S Mulvihill for Caldwell (40), R Kearns for Ryder (40), N Moran for O'Malley (49), L McManamon for Mulvihill (59).
Westmeath: S Keegan; T Durkan, D Dunne, A Martin; J Rogers (Capt), F Claffey, L Brennan; J Maher, F Coyle; K McDermott, M Foley, L Archibold; C Blundell, L Walsh, L McCartan. Scorers: L Archibald 0-6 (4f), J Maher 1-1, MA Foley 0-2, L Brennan and L McCarton 0-1 each.
Subs: T Fagan for Coyle (52), C Kelly for McDermott (52), S McGrath for Maher (59).
Referee: G Corrigan (Down).