Former Waterford star Ken McGrath believes the current squad, if allowed to fully express themselves, can put it up to Kilkenny in next Sunday's All-Ireland SHC semi-final at Croke Park.
After a trouncing by Tipperary in the Munster final, the Déise recovered to see off Wexford in the quarter-final and, with the U-21 side conquering all en route to their provincial success, there is a renewed optimism in the county as they seek to beat the Cats for the first in the championship since 1959.
Under Derek McGrath, Waterford have re-joined hurling's top table. Yet there is that sense that there is more in them. Amid all the talk of systems and sweepers, many are now calling on McGrath to allow his players play with a bit more abandon.
Among those who would like to see a few tweeks to the current Wateford approach is Ken McGrath.
Speaking to RTÉ Sport, he said: "They should be lot of the leash to play a bit more. It's something I've said openly for the last year or two.  Hopefully it might happen on Sunday and we'll see then what they are really capable of.
"We have the hurlers, top class stickmen, so let them a have a proper go.
"Our championship record is poor against Kilkenny but that's going to have to change sometime. You have to have a crack off them. You won't beat Kilkenny by holding back. Go one on one with them.
"The players have to trust themselves. We're capable of giving Kilkenny and right good game and a right good fright.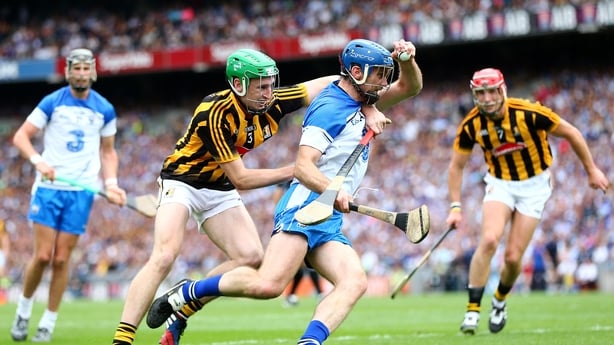 In what for most observers is a common sense approach, he Mount Sion clubman added that Waterford will have to deploy more numbers in attack.
"You'll beat some of the second-tier teams leaving one or two inside but you won't beat the likes of Kilkenny or Tipperary playing doing that," he revealed.
"Kilkenny are the masters of closing down space. If we leave one inside the '45 on his own then we'll be eaten. 
"You have to go at them a bit more and that's what this team need to do."
With a number of the senior squad involved in the U-21 set up, McGrath feels the manner by which the latter achieved their success this summer shows what they county can achieve.
"The U-21 win shows we have the hurlers that are capable of opening up any team if we go at them," he opined.
"I think the confidence and belief gained from the win over Tipperary in the final last week will help the seniors. They really went at Tipperary in that game, played 15 on 15.
"I wouldn't be surprised if there's a bit of a bite in Waterford on Sunday – a bit of a change on what we've seen before.  We have to be able to test the Kilkenny full-back line." 
The three-time All Star also referenced the exploits of the Tipperary footballers.
"Just look at the way Tipperary went about beating Galway last Sunday. Anything is possible on a given day. The potential is in our squad," he insisted.
Sunday 7 August: Live coverage of Kilkenny v Waterford on RTÉ One and the RTÉ Player from 1345. Live radio commentary on Sunday Sport from 1400. Watch highlights of all the weekend's GAA action on The Sunday Game from 2130 on RTÉ One.