The heaviest defeat I ever suffered in football was when our club (Corofin) was hammered by 14 points in the 1990 Galway senior final by a star-studded Salthill/Knocknacarra team that went on to lose the All-Ireland club final to Lavey (Derry).
Salthill really trounced us in that final and it was a mauling we did not forget.
The following year we came out and beat them by eight points in the county decider.
What had happened in the intervening 12 months to turn things around?
Yes, we were a better, harder working, cuter and improved team that had a few new players.
However, the crucial special ingredients to our victory were massive hurt, hunger and a desire for revenge for the beating we had taken.
With all the talk of systems and tactics and professional backroom teams we should not forget that attitude and desire to succeed are the cornerstones of success in any match, be it club or county.
This Sunday in the Ulster football final in Clones I suspect that the Tyrone players should have the greater raw hunger, conviction and desire to get one over on Donegal that can make a huge difference in the final ten or 15 minutes of the game - the period of time that often decides tight championship games.
All that most of Mickey Harte's new side know at the hands of Donegal, is defeat.
The bitter taste of defeat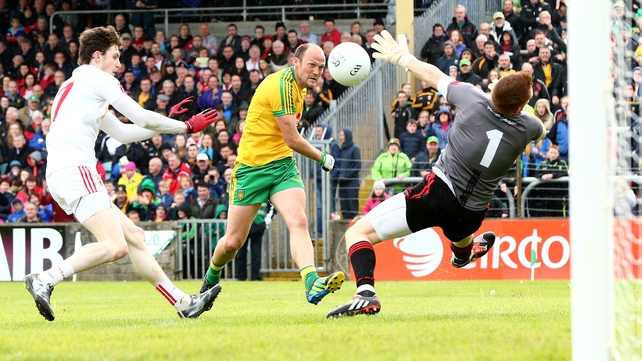 They know only too well the bitter, bile taste of walking off an Ulster championship field having been shown the exit door by the likes of Murphy, MacNiallais, McBrearty, McGee, McFadden and the McHughs four times in the past five years.
Lets' be honest here, any squad of players worth their salt will eventually have a team meeting before they face their nemesis again, and a few leaders, or better still a few quiet lads, need to lay it on the line to the entire panel and say:
"No more. We will not wilt in this one. No matter what it takes, they shall not pass. Sunday is OUR DAY."
Tyrone have not won an Ulster title since 2010 when they beat Monaghan easily by 1-14 to 0-7, so the likes of the very talented Mattie Donnelly, Tiernan McCann, Ronan O'Neill, Niall Sludden, Conor McAliskey and Niall Morgan should be totally revved up to do the business and collect a first Ulster senior medal.
That said, they face a massive test to beat a Donegal team, backboned by such a talented and experienced panel of players, many of whom are going for a fourth Ulster medal. They showed in both their games with Monaghan that they are still the team to beat in Ulster.
Rory Gallagher has rejuvenated some of the older players in his care while having given more scope and far greater roles to the likes of Martin O' Reilly, who has been very impressive to-date, and the hard-running Eoin McHugh.
There is unlikely to be much between the sides and how Tyrone handle the hugely influential Michael Murphy will be crucial to the outcome.
When Galway played Donegal last season in Croke Park in the qualifiers they were still in the game until Murphy opened his shoulders and in the space of five minutes turned the game on its head.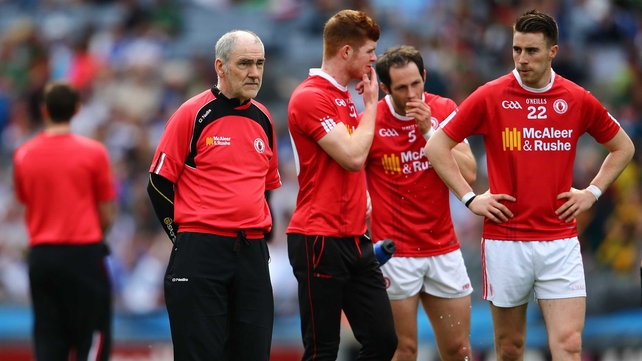 Mickey Harte must get his match-ups right and it will be interesting to see if he assigns Justin McMahon the role of curbing Donegal's captain.
Consistent hard running for the full 70 minutes of Tyrone players such as Tiernan McCann, Peter Harte, Niall Sludden and Mattie Donnelly will be critical if Tyrone are to puncture some scoring holes in the Donegal rearguard.
The return of the supremely talented Karl Lacey, who is stunning to watch in full flow, is a big plus for Donegal, however it will be interesting to see if he has the engine and match stamina he had in the past if targeted by Tyrone.
Surely all those miles and injuries have taken a toll on him?
Calling a winner in this is not easy but....
Tyrone have not beaten a real All-Ireland contender for many years and they must produce a top class performance to take out Donegal this weekend.
They went out by 0-18 to 1-11 last year in the All-Ireland semi-final against Kerry and Mickey Harte was livid with some of the calls made by Maurice Deegan in that tie. From that perspective how David Coldrick referees the game will be important.
A big decision either way could be a defining moment in the game and I don't expect there to be much beside the sides at the final whistle.
Tyrone hit Derry for 3-14 in the Ulster quarter-final and Cavan for 5-18 in their replayed semi-final which are big tallies and if they get in for a goal or two they will be hard stopped.
The fact that as a panel of players Tyrone need to finally prove to themselves, and to Donegal, that they can beat them allied to their tireless support running can see them crowned Ulster champions on Sunday around 3.40pm.