Mayo manager Stephen Rochford didn't go so far as to admit he listened to this morning's GAA Championship draw on RTÉ Radio 1's Morning Ireland with a smile on his face, but there was no mistaking his home-sweet-home comfort from the fact Saturday's tie against Kildare will be played in Castlebar.
"There's so much uncertainty in the qualifier process that if you could ask for anything, you'd ask for a home game because what that does is allow you a familiar environment to put your plans in place," Rochford told RTÉ Sport.
Indeed, MacHale Park in Castlebar will be a den of activity this weekend, with Mayo and Kildare squaring up in the knockout stages at 7pm on Saturday evening, and Galway and Roscommon replaying their Connacht final on Sunday at 3.30pm.
But while their Connacht rivals do battle for provincial honours, Rochford will be more aware than most that Mayo haven't hit the summer with a swagger just yet.
A new sweeper system is being trialled and not everybody in the county has been quite convinced by their two most recent championship performances.
"I would agree that we all sense improvement is required and that's what we're aiming to do," Rochford conceded.
"We kicked 2-14 against Fermanagh and maybe should have kicked on with some more.
"I think people are probably making too much of our sweeper system, to be honest.
"The concession of the goal against Galway had nothing to do with the sweeper - if we had three sweepers in place we wouldn't have stopped that goal. And when you lose a game all those things get looked at, and it becomes a systems failure and so on, whereas when you win, you get cut a bit of slack."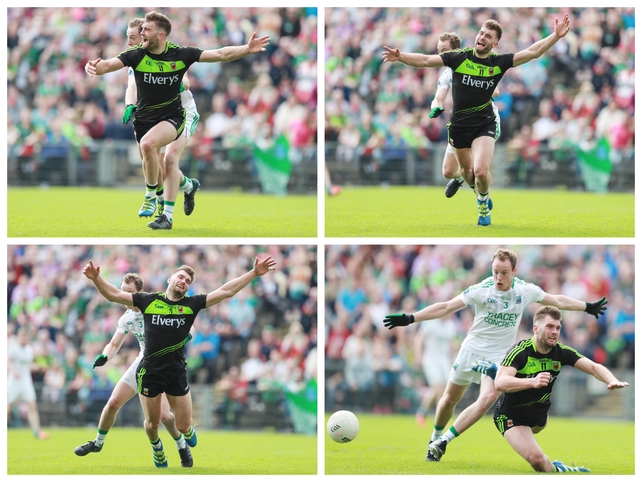 Mayo trailed by six points at half-time against Fermanagh and needed a Cillian O'Connor penalty six minutes from time to eventually edge in front before running out five-point winners.
In many ways the fall-out from that penalty - controversially awarded to Aidan O'Shea in a much-replayed and talked-about incident - has taken the attention away from the Mayo performance.
Rochford, though, isn't sure what the fuss is about and added: "Is there a bit of hysteria? Possibly.
"I think when you have somebody of the quality of Aidan O'Shea and they're involved in an incident, it's going to be blown up.
"Social media and that can help drive a certain type of campaign and opinion.
"It's unfortunate, because it was a refereeing decision that guys make in the split moment.
"To be honest, I don't think it had the impact people are making out - we were in quite a strong position anyway. And from our perspective, we have drawn a line under it and the only thing we are thinking about this week is the Lilywhites. Bodies are a little tired, but thankfully we picked up no fresh injuries on Saturday."