After a horrendous league campaign that saw them relegated to Division 4, the longer days have once again brought better tidings for Westmeath footballers as they look forward to a consecutive Leinster football final appearance.
The Lake County put in a strong second-half performance to get past Kildare by a point in the first of the semi-finals at GAA HQ on Sunday.
As was the case in 2015, Dublin will be the opposition in the decider. Jim Gavin's men are the warmest of warm favourites to add to their provincial haul on 17 July. What will be of most interest on the day for many will be how Westmeath set up to stem the blue tide?
Last year, the midlanders went with a defensive approach and were certainly competitive in the opening half. Two quick goals shortly after the break killed the game as a contest, but Tom Cribbin's men were in no way humiliated, despite only scoring six points on the day.
Speaking on RTÉ's GAA Podcast, Jones' Road, Cribbin feels if Westmeath are to take Dublin on, then they should give it a right go, and adds that his side are in bonus territory now that they are in the last 12 of the All-Ireland race.
"If we are to have a go at Dublin then we need to have a right go at them, even it means getting beaten by a big score," he said.
"I don't think we have anything to lose now."
It would seem that Cribbin faces a dilemma of sorts as to his team selection for their date with the Dubs.
"Do we bring in three or four young lads with a lot of pace and see if we can have a go at them from the off or do we save a few experienced players for the second half?"
"It's a big decision and it could backfire completely on you. You could find yourself ten points down after 15 minutes."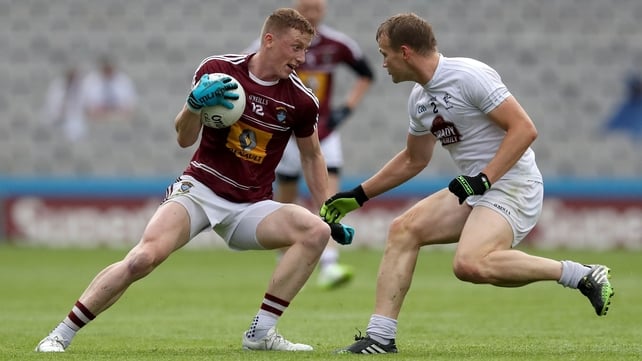 Cribbin is in his second year in charge of Westmeath and while Sunday's reeling in of Kildare was nowhere near as dramatic as the win over Meath at the same stage last year, the manager is nevertheless happy with the resolve his troops have shown in getting to respective Leinster deciders.
"They have developed a great character and there is a great team spirit in the camp," he revealed.
"Those are things that have been there for the two years. A few of the team are now starting to stand up and lead.
"I thought James Dolan was exceptional yesterday, Ger Egan seems to be back to his best, Kieran Martin is still able to pop up and get those important scores that just lifts the team. I think the team are nearly close to their full potential even though they may not have been as pretty as one liked against Kildare."