Familar foes collide again in the Ulster Championship.
For the fourth year running Donegal and Monaghan face off, but this time it's for the right to contest a provincial decider. If previous encounters are anything to go by it should be a tight affair at Breffni Park on Saturday evening. 
Scores may also be hard to come by, with both sides averaging about 0-10 in the meetings since the Farney upset the then All-Ireland champions in the 2013 Ulster final.
In looking ahead to the latest renewal, RTÉ analyst Martin Carney prefaces his thoughts by saying: "They know so much about each other in terms of their strength and weaknesses that you have to look where one or other will gain an advantage."
That upper hand may rest with Monaghan in the knowledge that they won't have to contend with Donegal full-back McGee, according to Carney.
After his red card against Fermanagh and the subsequent loss of his appeal, the Gweedore clubman will be an absentee this weekend.
"They have a very good defensive system but the thing that would worry me is the absence of McGee," said Carney.
"He carries that snarling presence that forwards hate but I also think that his aggression masks a very good footballing brain. His loss, along with that of Neil Gallagher, is going to diminish Donegal's chances slightly.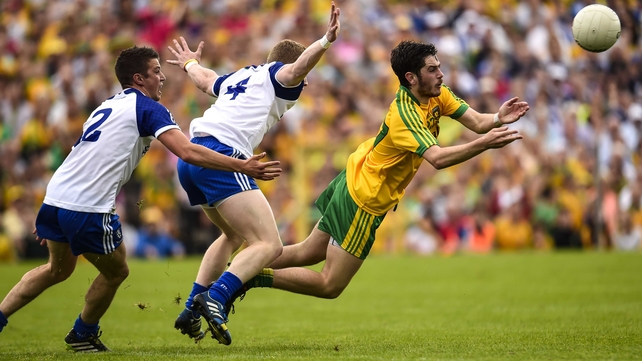 "In the full-forward line, Monaghan have two major players in Conor McManus and Kieran Hughes and it will be interesting to see how Donegal will now cope with their threat.
"I think Eamon McGee will look after one of them but who has the quality to look after the other?"
And while Carney is siding with Monaghan to just about prevail, he does add the following caveat: "I think whichever team plays with the least fear and gets their big players to perform to their optimum is the team that will win.
"Donegal will be driven on by the memory of last year's Ulster final where they kicked so many wides and where Paddy McBrearty was isolated for so much of the first half. I'm sure they'll will be looking to get him more involved with the help of Michael Murphy and others right from the off on Saturday."
Monaghan's demolition of Down in the quarter-final was a performance that impressed our analyst. A repeat of that against opposition, weakened by McGee's suspension, may very well see them on course for a date with either Cavan or Tyrone on 17 July.
"Monaghan showed a ruthlessness in the way they eventually swept Down aside," added the former Mayo and Donegal player.
"They played a much more expansive game and their movement and pace impressed me. All told they had ten different scorers.
"Getting to a fourth Ulster final would be a huge achievement and even though they've had a very good U-21 side this year, they've by and large stuck with the tried and trusted and have got great service out of the guys who have served the county over the last four or five years."