Louth manager Colin Kelly has described the six-day turnaround facing his players after their Leinster SFC quarter-final defeat as "absolutely crazy".
The Wee County were second best at Parnell Park as Meath ran out 0-20 to 1-13 winners, putting Louth on the road to Derry for a qualifier game next Saturday at 5pm.
"The six-day turnaround is crazy," Kelly said after the game.
"You're after playing 70 minutes of tough, competitive, championship. You have to deal with the emotions of getting beaten, so it's not a happy dressing-room as it is.
"It takes a few days to get over that.
"The physical exertion of having to play for 70 minutes in the heat, and then try to regroup and travel to Derry in six days' time, it's absolutely crazy.
"But the powers that be make these decisions and who are we to question them. We'll just try to go about our business.
"One thing I can guarantee is that whatever Louth team goes out next weekend will try as hard as they can."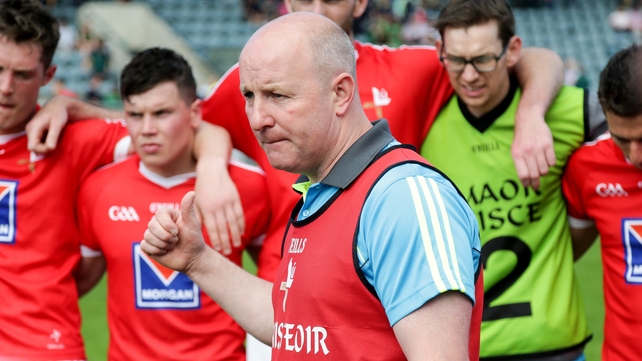 Meath were good value for their victory, opening up a five-point half-time lead and keeping Louth at arms length from that point forward. 
"Our first-half performance wasn't good enough," Kelly said. "I suppose it's better opposition than we've faced most of the year but the lads dug it out second half.
"We couldn't just bridge the gap, every time Meath had that quality.
"I can't fault the lads, they kept going to the end and their application was magnificent."
"But the powers that be make these decisions and who are we to question them. We'll just try to go about our business.
Kelly did bemoan a lack of composure in front of the posts when Louth were chasing the game late on, with Jim McEneaney's fine strike the lone time Paddy O'Rourke was beaten.
"It was another great finish from Jim, but our shot selection before that, we took some crazy shots from crazy situations trying to work ourselves into the game."
Meanwhile, Meath manager Mick O'Dowd was delighted to end the Royals' long wait for Championship action with a victory. 
"It was important we got over the first step, we were a long time waiting for it.
"We prepared well, I thought we were quite in control of the first half, we were disappointed a bit with our shooting, but in the second half Louth came at us and we picked up an injury at centre half-back which I thought had a big impact.
"But we responded to their scores and showed a bit of maturity to see out the game. Twenty points is a good score to be kicking. We weathered the storm well when it came."
Meath's young players had a big influence on the game, none more than debutant Cillian O'Sullivan, who kicked a pair of fine points.
"Cillian has worked so hard over two years out with injury and he's a real leader, at 22 years of age, in the dressing-room," O'Dowd said.
"But there's a lot of fellas there that are young but have great leadership qualities and they're just going to get better and better."
They will likely have to if they are to dethrone reigning champions and All-Ireland favourites Dublin in the Leinster semi-finals.
"We've Division 4 champions today and now we've the Division 1 and All-Ireland champions," O'Dowd added.
"They are the benchmark for everyone in the country. They are a big challenge but that's why you're doing it."