New York 0-17 Roscommon 1-15
Roscommon were given the fright of their Championship lives in the Bronx on Sunday evening as New York came agonisingly close to making history in a pulsating Connacht SFC opener. 
The surprise package of the National League season were almost the shock first ever scalp of the Empire State as a storming second-half surge left Roscommon sneaking back on the flight home with a solitary-point victory. 
They had more scores than their vaunted opponents. They had more fight too. It was startling, stirring stuff and the Gaelic Park crowd, who had braved the most unseasonable day of low temperatures and steady drizzle, rose to acclaim the brave but again beaten hosts.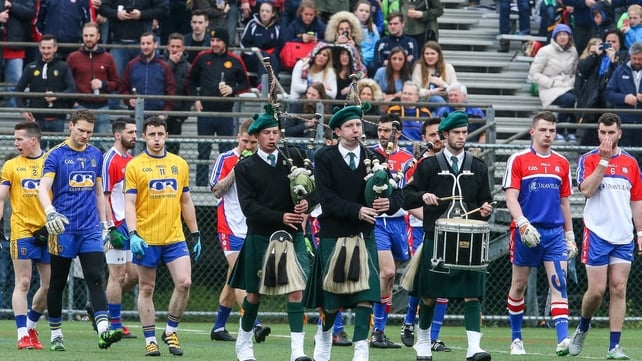 Justin O'Halloran's outfit were led from the very back with Sligoman Vinny Cadden a colossus between the posts. Roscommon had six goals chances. They scored none, Ciaran Murtagh's first-half penalty the only three-pointer of the day.
In the end it would be a point as the clock hit 70 from substitute Senan Kilbride that decided this one but for Brian Connor, Luke Loughlin and a host of New York's leading men, this was a break-out day that went a very long way to justifying their team's place in the Connacht and All-Ireland Championship.
It was the visitors who burst out of the gates with vigour, winning a free less than 40 seconds in but Fintan Cregg let the opportunity slip by as he sent it left and wide. If that first-minute frenzy had fazed the hosts they had a funny way of showing it. 
Darren Freeman may not be a household name in Gaelic football circles but he will now forever be the answer to the trivia question of who scored the first game of the 2016 Championship, the New York corner forward slotting over in the fourth minute.
Spent the last hour following New York (0-17)- Roscommon (1-15) game. What an effort by @NewYorkGAA  -they got more scores than the Rossies!

— Des Cahill (@sportsdes) May 1, 2016
Ciaran Murtagh pointed a free to equalise soon after but it did little to settle the favourites as a visibly frustrated O'Donnell stalked the sideline. 
Luke Loughlin was cutting through the Roscommon rearguard with some power and when he grabbed his second point in the 16th minute - his scores coming either side of a free from former Offaly forward Brian Connor, New York were leading by four points to two.
A Roscommon team who had been such impressive road warriors in the National League were finding the longer haul trip hard to shake off. 
In fact it wasn't until Maurice Deegan intervened that they assumed command. A stellar Vinny Cadden save was wasted when Cathal Cregg was hauled to the ground by Ronan McGinley and a penalty signalled. Ciaran Murtagh dispatched it expertly and Roscommon nerves began to settle as the floodlights were turned on early on a dank Bronx evening. 
What a game... #NYvROS@NewYorkGAA 0-17@RoscommonGAA 1-15
Heartbreaking for NY. pic.twitter.com/mhgyE16SFk

— Manhattan Gaels (@ManhattanGaels) May 1, 2016
The Murtaghs were to the fore both tacking on points - as did Devaney - before half-time but the team that blitzed Cork in the league were finding New York's defence tougher to crack. Paddy McNiece's free before the whistle ensured New York were still in it at the break, trailing by just four points, 1-07 to 0-06. 
McNiece pointed a free soon after the restart but by the time Donie Shine was sprung from the bench on 43 minutes, Roscommon looked to be assuming command, ahead 1-10 to 0-08, thanks largely to Fintan Cregg.
How wrong that was to prove as Freeman and Connor scored two apiece and ramped up the pressure in an incredible final 15 minutes. Let's Go New York chants erupted from the grandstand.
Go, they did. All the way to the final whistle and that agonising final margin. 
For Kevin McStay and Fergal O'Donnell, searching questions will fill their heads on the flight home.
NEW YORK: V Cadden; R McGinley, G McCartan, K Moynagh; K Scally, J Duane (c), K Quinn; J Glynn,  B Gallagher (0-01); L Loughlin (0-03), B Connor (0-4, 2f), P McNeice (0-03); P Boyle, K Connolly (0-01), D Freeman (0-04).
Subs: J Comerford for Quinn (11 mins; black card); 17 P Lambe for Comorford (40 mins); 19 S Hogan for Duane (43 mins), 24 N Egan for Glynn
ROSCOMMON: G Claffey; S McDermott, N Collins, S Mullooly; J McManus, D Keenan, N McInerney; N Daly, C Compton; F Cregg (0-04), C Murtagh (1-03, pen; 1f), C Devaney (0-03); C Connolly (0-01), D Murtagh (0-02, 1f), C Cregg (0-01). 
Subs:J McDermott for C Compton (23 mins); D Shine for Connolly (40mins); S Kilbride (0-01) for D Murtagh (60mins); N Kilroy for Cregg (61 mins) 
Referee: M Deegan (Laois)