By Michael Wilson in Owenbeg
Derry 2-12 Meath 2-12
Both Derry and Meath will have to wait to learn their Division 2 fate after an injury-time Ryan Bell free secured the Oak Leafers a point in a game that either team could have won.
The visitors had shocked Damian Barton's men by fighting back from a four-point deficit to take a last-minute lead with substitute Dalton McDonagh the hero as he hit three late points off the bench. 
Bell's free stopped the celebrations, however, and with Derry travelling to Armagh next week and Meath making to journey to Laois, it could be a nervous final weekend for both.
Meath started with a Sean Tobin point after only 20 seconds but Derry could easily have three goals in the opening seven minutes.
Mark Lynch had already equalised when Christopher Bradley picked out Emmet McGuckin. He showed great strength to hold off Meath full-back Conor Gill but his shot was blocked by the legs of Conor McHugh.
Lynch edged Derry in front soon after but when another of the Banagher player's shots broke to Sean Leo McGoldrick in space. He was able to pick out Shane Heavron in space at the back post but again the Meath keeper was equal to his low shot.
The Oak Leafers best goal chance though arrived on seven minutes when Christopher Bradley found himself through on goal - the Slaughtneil man dragged his shot badly wide at the near post.
Despite the misses, Derry remained in charge, even into a stiff breeze, and manufactured a 0-04 to 0-02 lead thanks to two points from James Kielt, though Meath's Michael Newman passed up a glaring goal chance after being sent clear by Andrew Tormey.
The corner-forward had Donnacha Tobin on his shoulder waiting for a pass that would present an open goal but opted to shoot instead and hit his effort over the bar.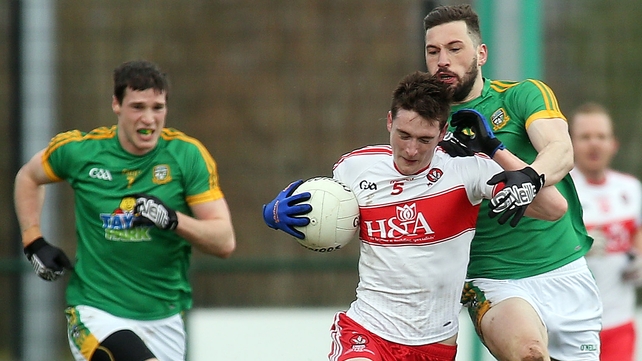 Within five minutes, however Newman, had made amends and the visitors had their goal. This time, a high ball in saw Tormey perform superbly to break the ball down for his fellow forward and Newman had the simple tasks of tapping home for only yards out to edge Meath in front at 1-02 to 0-04.
Derry responded with a Christopher Bradley point and the sides traded scores until a Sean Tobin '45 put Meath in front once more.
Derry were struggling to break down Meath's ultra defensive set-up but finally found a path through on the half hour. Substitute Niall Loughlin's excellent effort struck the bar but Daniel Heavron was alert to recycle possession, step inside two Meath backs and send a superb shot across McHugh into the far corner for a 1-06 to 1-04 lead.
It was a rare touch of quality in a dour first half but within three minutes Meath had fashioned themselves a fortuitous second goal as Derry's defensive struggles continued. This time a long, high ball in caused havoc and, with a number of players competing, Tormey looked to get the final touch to send Mick O'Dow's men in leading by 2-04 to 1-06.
Newman started the second half with a lovely score and Meath passed up a superb opportunity to get a strike on goal when they couldn't find Tormey after Heavron had been robbed in his own half.
It looked a costly decision when Derry grabbed a fortunate goal of their own. Lynch sent a high effort in but it struck the bar only to fall perfectly for Loughlin, who tapped into the unguarded net for a 2-06 to 2-05 lead.
Newman responded with a free but a point from Bradley and a brace by Benny Heron, one a sublime '45', had Derry in control  at 2-10 to 2-06 - despite a black card for goalscorer Niall Loughlin, who dragged James McEntee to the floor in midfield.
The deficit forced Meath to come out of their defensive shell and it worked wonder for the visitors with substitute Dalton McDonagh helping himself to two points as Meath brought Derry's advantage back to the minimum at 2-11 to 2-10 with five minutes left.
Another from McDonagh tied the game with four minutes to go and Derry were struggling to get a foothold despite bossing the kick-outs.
What had looked a mere possibility minutes before then became a probability when Tormey split the posts with  60 seconds of normal time left. McDonagh could have put the visitors two up but shot wide before Derry won a difficult free which Heron could only send wide at the near post.
It looked game over but Derry won the kick-out and when the ball was worked forward Christopher Bradley was brought down as he burst through. Ryan Bell sent the resulting free over to tie the game and both team will have to wait a week to learn their fate.
Derry: Thomas Mallon; Oisin Duffy, Chrissy McKaigue, Karl McKaigue; Gareth McKinless, Brendan Rogers, Daniel Heavron (1-0); Conor McAtamney, Mark Lynch (0-2, 1f); James Kielt (0-4, 2f), Christopher Bradley (0-2), Benny Heron (0-3, 1f, 1 forty-five); Shane Heavron, Emmet McGuckin, Sean Leo McGoldrick. (Subs) N Forester for D Heavron, blood sub 14mins (rev 19mins); Niall Loughlin (1-0) for S Heavron, 26mins; Cailean O'Boyle for E McGuckin, 49mins; Conor Murphy for J Kielt, 57mins; Emmet Bradley for M Lynch, 71mins;
Black Card: N Loughlin, 48mins (replaced by Ryan Bell (0-1);
Meath: Conor McHugh; Donal Keogan, Conor McGill, Mickey Burke; Seamus Lavin, Cathal Finn, Donnacha Tobin; Harry Rooney, Padraic Harnan; Sean Tobin (0-2, 1 forty-five), Cillian O'Sullivan, James McEntee; Donal Lenihan, Andrew Tormey (1-1), Michael Newman (1-6, 2f). (Subs) Darragh Smith for S Lavin, 22mins; Dalton McDonagh (0-3) for D Lenihan, 26mins; Cian O'Brien for D Tobin, 47mins; Conor Downey for S Tobin. 52mins; Alan Douglas for C Finn, 55mins;
Referee: Shaun McLaughlin (Donegal)