It's double the fun in the Allianz League on Saturday and Sunday as hurling and football feature on the same weekend for the first time this year.
A total of seven counties are unbeaten as the Football League heads for round 4. Donegal and Dublin (Division1), Tyrone (Division 2), Kildare (Division 3), Antrim and Louth (Division 4) have all won their opening three games while Tipperary are also unbeaten, having had two draws and a win.
In the hurling league, Waterford (1A), Clare and Limerick (1B), Antrim and Westmeath (2A), Down and Mayo (2B), Fingal and Roscommon (3A) all have 100% records after the first two rounds.
SATURDAY 5 MARCH
Allianz Football League Division 1
1900 Dublin v Cork, Croke Park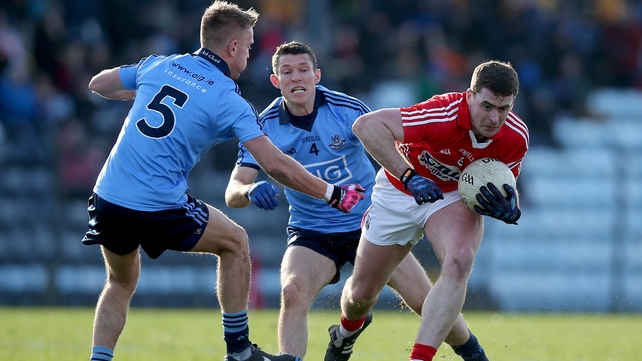 Champions Dublin and Cork have made vastly different contrasting starts to this year's league.
Jim Gavin's men have won all three of their games so far (Kerry, Mayo, Monaghan) and appear to be cruising back into the semi-finals. They are one of only two sides in all divisions, along with Antrim, not to have conceded a goal.
Cork, however, have lost heavily twice (to Donegal and Roscommon last weekend) after beating Mayo in the first round and are looking at a relegation fight if make it three defeats on the bounce tomorrow.
Allianz FL Division 2
1900 Cavan v Armagh, Breffni Park
1900 Tyrone v Derry, Healy Park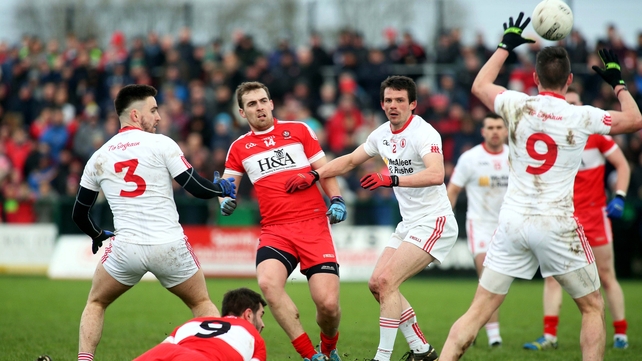 Tyrone lead the way with three wins in a highly competitive division where three other Ulster teams, Derry, Cavan, Armagh are in the top five.
Derry and Tyrone drew their Allianz League Division 1 clashes in 2014 and 2015 before both counties were relegated to Division 2 at the end of last season. Despite losing to Galway last Sunday, Derry are the highest scorers in Division 2 on 6-37, a point ahead of the Tribesmen on 5-39.
The Cavan-Armagh meeting will be the first Allianz League clash between the counties since 2008. Both had their first win of the season last weekend, with Armagh edging to victory over Fermanagh while Cavan staged a great recovery to beat Meath.
Allianz FL Division 4
1900 Waterford v Wexford, Fraher Field, 7pm
Wexford, who dropped into Division 4 this year, have won two of three games, beating London and Leitrim either side of a defeat to Antrim. They head for Dungarvan to face Waterford who enjoyed their first win of the campaign over Carlow last Sunday.
Allianz Hurling League Division 1A
1700 Dublin v Cork, Croke Park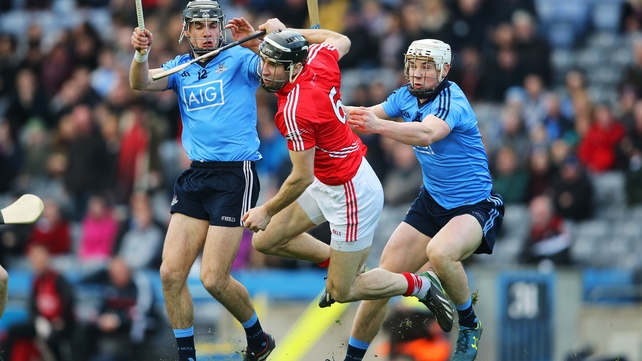 Dublin and Cork meet in the first act of a Saturday-night double bill at Croke Park. Dublin have won one (Galway) of their two games so far while Cork are bottom of the table after losing to Galway and Waterford.
The sides met twice in last year's Allianz League with Cork winning both in very high-scoring contests. The Rebels won the 1A clash by 0-34 to 1-20 and the semi-final by 1-27 to 2-23.
Division 1B
1900 Laois v Clare, O'Moore Park
Laois, who lost their opening games to Kerry and Offaly, host promotion-chasers Clare. Clare comfortably accounted for Offaly and won by four points at Wexford last week. The teams last met in the All-Ireland qualifiers in 2013, when Clare cruised to a 1-32 to 0-15 victory.
Division 2A
1330 London v Kildare, Ruislip
Division 3A
1700 Tyrone v Warwickshire, Healy Park
SUNDAY 6 MARCH
Allianz FL Division 1
1400 Roscommon v Down, Dr Hyde Park
1430 Kerry v Donegal, Austin Stack Park
1430 Monaghan v Mayo, Clones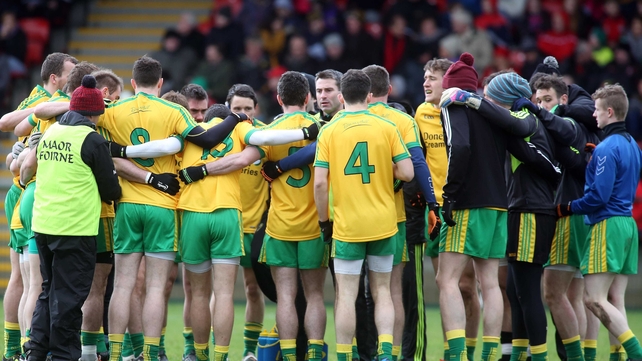 Donegal have made their best start to the Allianz League for a long time, beating Down, Cork and Mayo by a combined total of 29 points.
That sets them up nicely for the clash with Kerry, who took their first points last Sunday, when beating Down. Kerry beat Donegal by two points in last year's league, having also beaten them in the 2014 All-Ireland final.
Roscommon and Down were both promoted to Division 1 this year but have had very different experiences of the top flight.
Roscommon have won two of their three games (and should arguably have beaten Monaghan), racking up 5-48 in the process. By contrast, Down have lost all three (Donegal, Monaghan, Kerry) by a combined total of 35 points and scored only 0-24 in three games.
Roscommon and Down met twice in Division 2 last year, with the Connacht men winning both (1-15 to 1-11 in the divisional game and 1-17 to 0-15 in the final.
Mayo will be away to Monaghan, who have won two of three. Mayo beat the Ulster champions by 3-15 to 0-11 last year but are deep in the relegation mire after losing to Cork, Dublin and Donegal.
Division 2
1400 Fermanagh v Laois, Brewster Park
1400 Galway v Meath, Pearse Stadium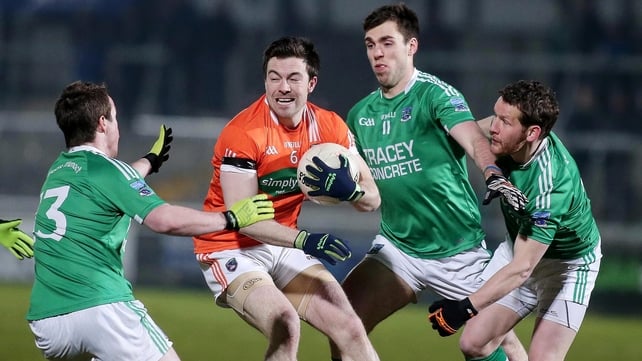 Galway moved into second place in Division 2 after beating Derry on Sunday and will be confident against an out-of-sorts Meath side.
Galway v Meath has produced plenty scores in their last two games with the Royals winning by 3-18 to 4-11 in 2014 while the Tribesmen triumphed by 2-13 to 1-12 last year.
Fermanagh v Laois is a bottom-of-the-table clash, albeit that both have two points along with Cavan, Armagh and Meath.
This will be their first league meeting clash since 2009. Their last championship meeting was in 2014 when Laois won by a point in a qualifier tie in Portlaoise.
Division 3
1245 Tipperary v Offaly, Semple Stadium
1330 Kildare v Limerick, Newbridge
1400 Clare v Westmeath, Cusack Park, Ennis
1430 Sligo v Longford, Markievicz Park
Kildare dropped from Divisions 1 to 3 in successive years but have stabilised in Division 3, winning their first three games in their bid for promotion.
They are top scorers in the group on 5-32 as they prepare to host bottom-of-the-table Limerick on Sunday. Limerick have taken only one point from their opening three games.
Westmeath are in the same boat as Limerick after losing two and drawing one of three games, leaving them in a scrap to avoid an unprecedented third successive relegation. Tom Cribbin's men head for Ennis to take on second-placed Clare on Sunday.
Tipperary are one of seven unbeaten teams in all divisions, having won once and drawn twice. They host Offaly, who have settled in well (two wins from three games) in Division 3 after being promoted this year.
Longford, who were also promoted, have won one of three and travel to Markievicz Park to take on a team another team on two points, Sligo.
Division 4
1300 London v Antrim, Ruislip
1400 Leitrim v Louth, Pairc Sean Mac Diarmada
1430 Wicklow v Carlow, Aughrim
Louth, who were relegated last year, have made a great start, winning all three games. Antrim have also won their three games, while Wicklow and Wexford are both two points further back.
Antrim travel to Ruislip to take on London, who have lost all three games, while conceding a total of 10-33, the biggest giveaway across all four divisions. Antrim beat London by four points last year.
Louth head for Carrick-on-Shannon to face Leitrim, who are still looking for their first win of the campaign.
It's Wicklow (4 points) v Carlow (2 points) in Aughrim. The sides drew last year while Wicklow won in 2014.
Allianz HL Division 1A
1400 Kilkenny v Galway, Nowlan Park
1430 Tipperary v Waterford, Semple Stadium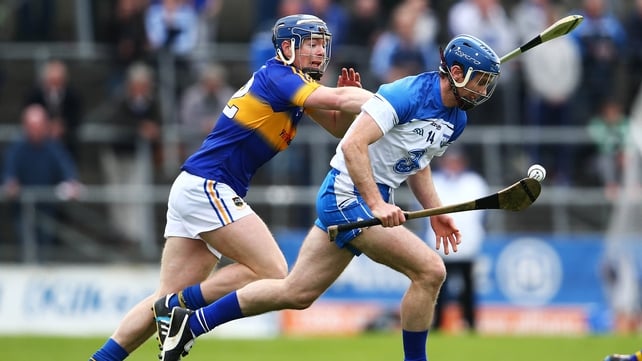 Kilkenny against Galway has been a very busy rivalry in recent years, including three All-Ireland final clashes (draw and replay in 2012 and last year).
This will be the 13th Allianz League and Championship clash between the counties since the start of 2012, with Kilkenny having won seven to Galway's three while there were two draws from their previous 12 meetings. Both have won one and lost one of their two Allianz League games so far.
Tipperary v Waterford is a re-run of last year's Munster final and Allianz League semi-final, which produced one win each. Waterford won the Allianz League semi-final (1-19 to 2-15) while Tipperary won the Munster final (0-21 to 0-16). Waterford have got off to a great start this year, beating Kilkenny and Cork in their first two games while Tipperary beat Dublin and lost to Kilkenny.
Division 1B
1235 Kerry v Wexford, Austin Stack Park
1400 Offaly v Limerick, O'Connor Park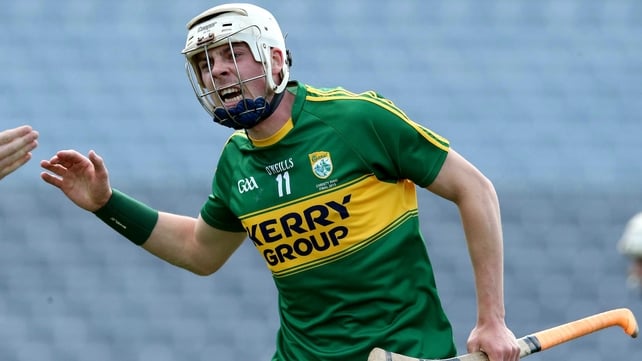 Clare and Limerick were pre-season favourites for promotion and, so far at least, they have lived up to expectations, winning their first two games, while there are only two points (Limerick +18 and Clare +16) between them in scoring difference.
After Clare's visit to Laois on Saturday, Limerick head for Tullamore on Sunday to take on Offaly, who beat TJ Ryan's men by three points last year.
Kerry, who beat Laois before putting it up to Limerick, host bottom of the table Wexford in a rare live televised clash for the Kingdom's hurlers.
Division 2A
1400 Carlow v Derry, Netwatch Cullen Park
1400 Westmeath v Antrim, Cusack Park
Having won their first two games, Westmeath and Antrim have put themselves firmly in the promotion slots, giving their clash in Cusack Park real significance. Their last meeting was in last year's Leinster championship round-robin when Westmeath won by 1-21 to 0-7.
London and Carlow are both on two points as they prepare to take on Kildare and Derry, neither of whom have won a point so far. Carlow beat Derry by two points in last year's Allianz League but London and Kildare (Saturday) did not meet as the Lilywhites were in 2B.
Division 2B
1230 Wicklow v Armagh, Aughrim
1400 Down v Mayo, Ballycran
1400 Meath v Donegal, Trim
Down and Mayo have both won their opening two games so the winners of their clash will become outright leaders in the race for promotion. Down beat Mayo by 2-20 to 0-15 in last year's League. Armagh and Meath are both on two points while Donegal and Wicklow are still seeking their first points.
Division 3A
1300 Monaghan v Louth, Castleblayney
1300 Roscommon v Fingal, Athleague
Roscommon and Fingal have both won their opening games, making their clash in Athleague on Sunday of vital importance. Roscommon beat Fingal by 3-24 to 1-11 in last year's Allianz League. Tyrone and Louth (Saturday) have two points each while Monaghan and Warwickshire are still looking for their first win.
Division 3B
1230 Sligo v Fermanagh, Markievicz Park
1400 Longford v Leitrim, Glennon Bros Pearse Park
With only four teams in this division, it starts later than the rest. Sunday's programme launches the campaign.
ONLINE
RTE.ie will have live blogs on all the weekend's action from 1645 on Saturday and 1330 on Sunday.
ON TV
Saturday
1700 Dublin v Cork (HL), Croke Park, live on Setanta Ireland
1900 Dublin v Cork (FL), Croke Park, live on Setanta Ireland
1900 Tyrone v Derry (FL), Healy Park, live on Setanta 1
Sunday
1235 Kerry v Wexford (HL), live on TG4
1430 Kerry v Donegal (FL), live on TG4
1430 Tipperary v Waterford, deferred on TG4
1930 Highlights from the weekend's action on Allianz League Sunday on RTÉ 2 and RTÉ Player
ON RADIO
Sunday
1400 Updates on all of the day's games on Sunday Sport on RTÉ Radio 1
All live/deferred games available worldwide via GAAGO.