The pomp and profile in the Allianz Football League is routinely associated with those teams that ply their trade in Division 1 of the NFL, and rightly so.
Dublin, Kerry, Donegal, Cork, Mayo and Monaghan are the truly high-profile teams in the country and the ones that get bums on seats. Be those seats at the stadia, or on the couches of Ireland, watching the high-profile Saturday night games which invariably feature games between sides competing in the top division.
Nevertheless, there will be significant interest in Division 2 over the coming months too.
Especially, since Tyrone were relegated to Division 2 last season after drawing with Kerry in their last league game. Now there will be lots of study from afar to see if they are rebuilding a team to have a real crack at winning some bigger trophies later in the season.
Also, with five northern teams in the one division, there is an almost 'mini-Ulster championship' feel to proceedings.
Apart from Laois, Galway and Meath, the remainder are all teams that know each other very well from either the Ulster championship or the McKenna Cup, where Tyrone beat Derry two weeks ago in a high-quality game that ended in Tyrone's favour on a scoreline of 1-22 to 1-17.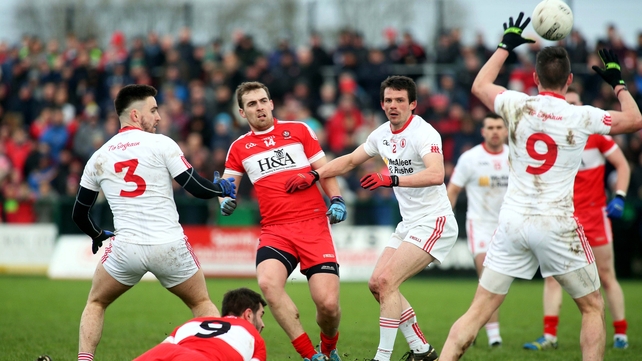 Such familiarity can also fuel disdain and as a result there is a genuine expectation of some pretty high-octane games and top-quality clashes when the likes of Tyrone, Derry, Cavan, Fermanagh and Armagh face off in skin-tight league clashes.
Tyrone are the obvious stand-out favourites to top Division 2 and bounce back up to Division 1 for 2017.
Following on from their fifth consecutive McKenna Cup success earlier this month and the fact that they really put it up to Kerry in last year's All-Ireland semi-final before going down by four points with some contentious decisions going against them, it is no surprise that the bookies have Mickey Harte's men at 4-6 to get promoted.
They are also a very short price of 6-4 to win the division outright.
Both Derry and Galway are a long way behind them at 4-1 to win the division final when the first-placed team will play the second-placed team on Sunday, 24 April.
Tyrone are very unaccustomed to being in any division except the top tier, and a manager that has led them to three All-Ireland senior titles in his tenure will be very forthright in explaining his expectations about a rapid return to Division 1 to his talented squad.
Mickey Harte has some terrific talent at his disposal and other teams and players with ambition in Division 2 will be genuinely looking forward to jousting with guys like Peter Harte, Seán Cavanagh, Ronan McNamee, Mattie Donnelly, Ronan McNabb and Mark Bradley.
The Red Hands kick off their league campaign this Sunday at home to Cavan and very few would expect anything except a winning start for the home side.
Despite their good showing in last year's qualifiers and their commendable showing against Dublin in Croke Park, Fermanagh are the bookies favourites at evens to take the drop to Division 3 for next year.
Pete McGrath's men were promoted alongside Armagh last spring and they lost their divisional final to Armagh (0-16 to 0-11), and it will be interesting to see if they have the panel to make a fist of Division 2.
Laois are also expected by many to find it tough going in this division.
They are under the new management of Mick Lillis, who guided Portlaoise to six county titles and won an All-Ireland title with the club in 1983. They face Galway in O'Moore Park on Sunday and they are on a terrific run against Galway, having beaten them for the past three years in the league.
Kevin Walsh and his backroom team will have targeted this opening league game as they will face Tyrone on Sunday week and a winning start is imperative or they could find themselves pointless after two games.
On the back of a reasonably good showing in the FBD league and after beating Roscommon last Sunday by a point, Galway supporters will be travelling to Laois with a quiet confidence that they can turn the tables on the home side.
The other games down for decision on Sunday in Division 2 see Meath at home in Páirc Taitleann to Armagh and Derry taking on Fermanagh in Celtic Park.
The leagues can be so capricious in all divisions that trying to make predictions is folly.
Nevertheless, most pundits would be very surprised if Tyrone are not one of the two sides promoted and if Fermanagh are not deep in the quagmire of relegation in nine weeks' time.
To paraphrase Effie Trinket (Elizabeth Banks) in the Hunger Games: "Let the National League games begin. And may the odds be ever in your favour".