Kerry forward Kieran Donaghy has revealed that he considered retiring following the Kingdom's All-Ireland final defeat to Dublin last September but insists he has regained his 'hunger' ahead of the start of the Allianz Football League on Saturday.
"Coming off this field last year after the All-Ireland... When you're 32, you have to weigh things up," he said, speaking at the launch of this year's league at Croke Park.
"The amount that goes into the game now and what you have to do with your life to make sure that you're giving the team the full commitment, an inter-county set-up is serious now.
"To do it for a 12th season was something that I would have looked at at the start of last year but as soon as the year finished I got straight back into it with the club and played a few months of basketball.
"The hunger comes back into you and the conversations that were happening in late September were different to the ones that were happening in early January.
"It would be nice to beat Dublin in Croke Park. It's the country boys versus the city boys."
"So I'm glad to be back. But it is something you have to consider at the end of every season once you get past 30. It's a young man's game now.
"It was tough [losing the final] for that few months afterwards but I was glad to see the first of January 2016."
Donaghy's side's season culminated in losing their second Sam Maguire decider to the Dubs in five years but Kerry have the chance to get one over their old rivals in the opening fixture of the league campaign at Croke Park on Saturday (throw-in 7pm).
"Revenge might be the wrong word but [Kerry will] definitely try to get a good result and start our league the way we want to," said the three-time All-Star. "It would be nice to beat Dublin in Croke Park.
"We don't like the record over the last few years but it's something that comes and goes over the generations.
"The constant thing in that great rivalry is the ups and downs between Kerry and Dublin. We're lucky to have been a part of it in recent years. It's the country boys versus the city boys."
As for four-in-a-row league-title chasers Dublin, their forward Kevin McManamon believes that they have enough strength-in-depth to replace the loss of full-back Rory O'Carroll (travelling) and retired attacking legend Alan Brogan.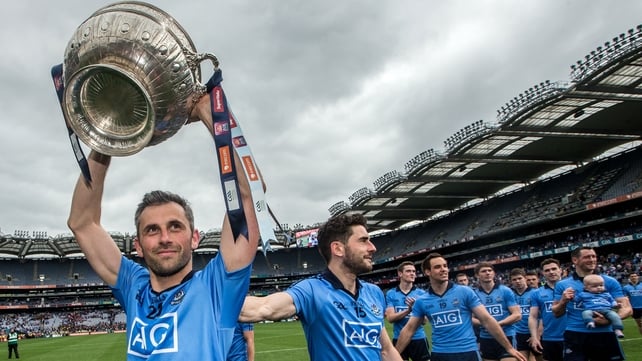 "Rory has been such a mainstay for Dublin for the last few years," said McManamon. "But there are a number of guys who can put their hand up there.
"Mick Fitzsimons would have had one of his best seasons last year. Coming off the bench, he had a few great games, particularly the semi-final against Mayo.
"Jarlath Curley has come in and done well at full-back. Then we have Eoin Culligan, David Byrne, who is a sticky marker and a strong, tall guy.
"Anyone can step up to the job, it's just whoever puts their hand up and makes it their own. It's a great opportunity for someone."
"[Alan Brogan is] one of the best forwards ever to play with Dublin. He'll be hard to replace" - Kevin McManamon
McManamon has often found himself playing an impact substitute role with the All-Ireland champions and joked that even allowing for Brogan's retirement there would be intense competition for places among Jim Gavin's forward lines.
"Alan will be missed," said McManamon. "His creativity, ball-winning and movement... In my opinion he's one of the best forwards ever to play with Dublin. He'll be hard to replace.
"We have Eoghan O'Gara coming back from his cruciate injury, he's back doing a bit slowly. Paul Mannion is back from his travels last year.
"Cormac Costello has been making a push, he's been knocking on the door, and we have a couple of younger guys coming through as well.
"It doesn't sound great for me when I say it like that!".
Listen to Dublin v Kerry live on RTÉ Radio 1 from 6.55pm on Saturday and watch highlights from the first round of Allianz Football League action on 'League Sunday' at 7.30pm on RTÉ2 and RTÉ Player.