By Murt Murphy
Killarney Legion 1-12 South Kerry 1-13
South Kerry annexed their ninth Kerry Senior Football Championship title when they edged out Killarney Legion in a pulsating replay at the Fitzgerald Stadium that finished in semi darkness.
Despite losing man of the match Bryan Sheehan towards the end of normal time through a black card, somehow South Kerry, with Declan O'Sullivan taking over the leadership mantle, managed to finish the stronger in extra-time and a punched point from Aidan Walsh saw them win a game that, for long periods, looked like slipping away from them.
It was tough luck on Legion but they had every opportunity and a lack of experience at this level may have cost them in the end.
It had been all Legion in the first quarter with Conor Keane and corner-backs Padraig O'Connor and Chris Davies appearing to have acres of space as they raided on both flanks.
Conor Keane opened the scoring in the sixth minute with a free but Paul O'Donoghue replied for South Kerry when he punched a point after a great Paul O'Sullivan run.
Sheehan was then wide with a long-range effort and Keane converted a free from a foul on himself but Sheehan and Declan O'Sullivan combined for two superb points from long range and South Kerry were 0-3 to 0-2 in front, against the run of play, by the 18th minute.
Legion were not to be deterred, however, with Keane finding the inrushing Jamie O'Sullivan who finished to the South Kerry net in the 18th minute and four unanswered points followed from Keane (2), and one each from Tom Moriarty and Billy McGuire.
Legion were six points clear but South Kerry rallied before half-time with a '45 and another fine effort from by Sheehan plus a point from wing-forward Aidan Walsh however, in injury time another needless foul by the South Kerry defence allowed Keane to give Legion a 1-7 to 0-6 interval advantage.
Legion then kicked the opening three points of the second half, via two James O'Donoghue frees and a superb effort from Padraig O'Connor before Sheehan displayed all his leadership qualities to drag South Kerry back into the contest.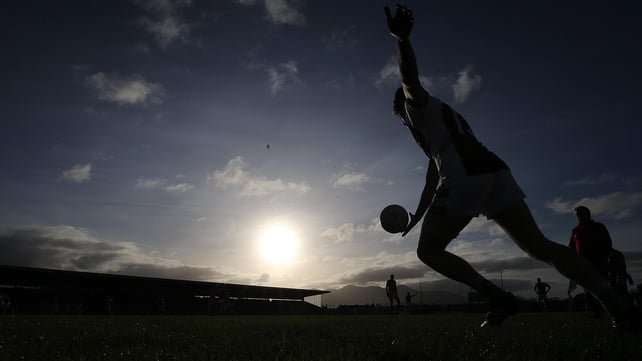 It appeared that the Killarney side were about to cruise to their first county title win since 1946 but county star Sheehan produced some inspired play to firstly set up Aidan Walsh for a point and then in the 39th minute collect a ball from Declan O'Sullivan and beat a number of Legion defenders before planting the ball in the back of the net.
That revitalised South Kerry and Legion appeared to be crumbling in sight of the finish line as points from Sheehan and Conor O'Shea narrowed the gap to a point with 10 minutes remaining.
James O'Donoghue missed two chances of scoring but did convert a free in the 52nd minute as Legion edged two clear, however, South Kerry had the bit between their teeth and Daniel Daly reduced the gap to a point before Killian Young, up from defence, sent over a magnificent equaliser from close to the sideline with five minutes remaining.
Both sides had chances before referee Paul Hayes blew for full-time and so extra-time was required for the first time in a replay since the Pat Spillane-led Kenmare edged out the Crokes in 1987.
There was no score in the first period of extra time but two key players made their exit as Sheehan picked up a black card and James O'Donoghue went off before coming back on again.
Podge O'Connor fired over his second point for Legion in the opening minute of injury-time but Daniel Daly equalised from a free a minute later after Robert Wharton had been hauled down.
Then came the late drama and after Legion turned the ball over in the 79th minute Aidan Walsh punched over the match winning score in a game where all but one point of South Kerry's total came from St Mary's clubmen.
South Kerry: Brian O'Connor ( Valentia), B Sugrue ( Renard), K Young ( Renard) (0-1), P O'Sullivan ( Valentia), Padraig O'Sullivan ( Dromid Pearses), B Walsh ( Skellig Rangers), Denis Daly ( St Mary's), Bryan Sheehan  St Mary's (1-5, 0-1 '45, 0-1 free) , B O'Sullivan ( Valentia) , P O'Connor ( Valentia), Declan O'Sullivan ( Dromid Pearses) , Aidan Walsh ( St Marys) (0-3), Ian Galvin ( Sneem/Derrynane ), P O Donoghue ( St Marys), Conor O Shea ( St Marys) (0-1).
Subs: R Wharton (Renard) for P O'Connor (36 mins), G Gibson for P O'Sullivan (36 mins); Daniel Daly (St Mary's) (0-2, 0-1 free) for I Galvin (42 mins), Aidan Shine O'Sullivan (Piarsaigh Na Dromoda) for B Sugrue (73 mins) Odhran Clifford (Waterville) for Padraig O'Sullivan (79 mins).
Killarney Legion: B Kelly; P O'Connor (0-2), D Sheehan, C Davies; J Lyne, Damian O'Sullivan, D O'Doherty; S Keane , J O'Sullivan (1-0), B McGuire (0-1), J O'Donoghue (0-3, frees), D Lyne ; T Moriarty (0-1), C Sheahan , C Keane (0-5, 0-4 frees).
Subs: K Breen for D Lyne (49 mins); J O'Neill for B McGuire (56 mins); Denis Sheahan for T Moriarty (57 mins); Andy O'Sullivan for C Sheahan (b/c 59 mins) David O'Sullivan for J O'Donoghue (66 mins); James O'Donoghue for Denis Sheahan (72), Tom Slattery for Shaun Keane [79 mins).
Referee: Paul Hayes (Kerins O'Rahilly's)