All-Ireland champions Cork and runners-up Galway dominated the 2015 Camogie All Stars team sponsored by Liberty Insurance, taking seven places each on this year's selection.
Gemma O'Connor of Cork also collected the inaugural Camogie Association/WGPA Senior Players' Player of the Year award.
Patricia Jackman of Waterford was the recipient of the Intermediate accolade while Kate Nolan of Carlow was chosen as the Junior Players' Player of the Year. All three were selected from a shortlist compiled by the WGPA after voting by inter-county players.
O'Connor collected her ninth All Star award at centre-back while team-mate Aoife Murray was selected in goal. Pamela Mackey and Rena Buckley were named in defence, Cork captain Ashling Thompson was selected in midfield while Orla Cotter and Briege Corkery were named in the forward line.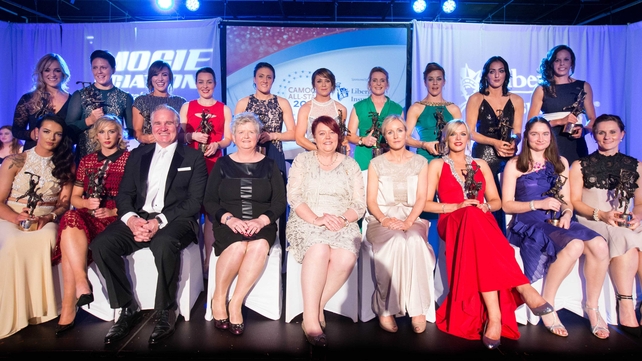 Galway received seven awards. Defensive duo Sarah Dervan and Heather Cooney were named at full-back and corner-back respectively. Lorraine Ryan was selected at wing-back and Galway captain Niamh Kilkenny took a place at midfield.
Niamh McGrath was named at centre-forward while Molly Dunne and Ailish O'Reilly were named at full-forward and corner-forward. Wexford's Kate Kelly completed the team at left-wing forward.
Cork manager Paudie Murray was named Liberty Insurance Manager of the Year after guiding his county to successive All-Ireland titles.
Camogie All Stars: Aoife Murray (Cork); Pamela Mackey (Cork), Sarah Dervan (Galway), Heather Cooney (Galway); Rena Buckley (Cork), Gemma O'Connor (Cork), Lorraine Ryan (Galway); Niamh Kilkenny (Galway), Ashling Thompson (Cork); Orla Cotter (Cork), Niamh McGrath (Galway), Kate Kelly (Wexford); Briege Corkery (Cork), Molly Dunne (Galway), Ailish O'Reilly (Galway).
Senior Players' Player of the Year: Gemma O'Connor (Cork)
Intermediate Players' Player of the Year: Patricia Jackman (Waterford)
Junior Players' Player of the Year: Kate Nolan (Carlow)