All-Ireland winning manager Jim McGuinness says that the biggest threat to the future of Gaelic football is the resources backing the most successful counties.
He believes that Sam Maguire holders Dublin are operating at a completely different level to the rest of the country financially, with Kerry not far behind them.
This gives them a massive advantage over the chasing pack and threatens to open an unbridgeable gulf between the haves and the have-nots.
McGuinness took Donegal from arguably their lowest point at the end of the 2010 season to just the second All-Ireland win in the county's history less than 24 months later.
He reveals there were multiple factors behind their success – and that getting the requisite finance in place was one of the biggest hurdles to cross.
"I know we wouldn't have been able to be compete the way we were able to compete were we not able to get external funding to put everything in place to give lads every opportunity to be successful," said McGuinness, speaking on RTÉ Radio 1's Sunday Sport.
 "For me, the top teams in the country are operating on a completely different level to most other teams.
"There are a lot of county boards who would like the thing to be going well and moving forward, but they're not really backing that with action.
"Look at Kerry – I've heard that they've gathered €3 million in the last 12-to-18 months. 
"What can you do other than take your hat off to them and say 'they're serious about football'.
"We had a bucket collection in Donegal that raised €1,500 in the last week, I believe. Do you see what I'm saying? That's the difference.
"Dublin, in my opinion, are operating like a Premier League team in the UK; that's the level they are operating at. That's my opinion," he said.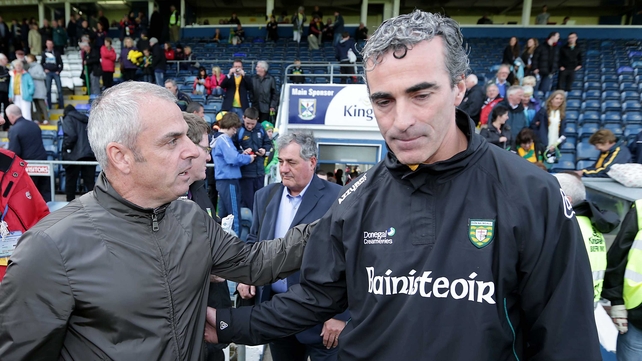 "You have a situation as an inter-county manager – do you work within the guidelines of the county board you're attached to, go the way you're going and just hope you're going to come across a team that's off a wee bit on a given day while you come up with an unbelievable performance, or do you try to compete with them?
"I took the decision that I was going to compete with it. The county board gave us a lot, don't get me wrong," continued McGuinness (pictured above with Ryder Cup winning captain Paul McGinley)
"But it came to a point where I then started door-stepping people saying 'we need this and we need that' and then trying to get the money in place.
"That was top hotels, and training camps, Johnstown Hose and wherever else, and that's what we needed to do to compete with the best teams in the country. And we did prove when we did that that we could compete with the best teams in the country.
"The top teams are just pushing and pushing. They're up at 90 per cent plus and they're looking for tiny percentages. Other teams are at 50 per cent and they're having a battle just to get small concessions.
"For me the gap is only going to get bigger. For me the gulf is getting bigger and it's going to continue to get bigger until it's addressed within the Association that gives all the counties a really good opportunities."
McGuinness, who is currently promoting his new book, also revealed that he hasn't spoken to his former right-hand man Rory Gallagher in more than two years.
Gallagher was McGuinness's number two with Donegal from 2011 to '13 and was credited with a huge part of their Sam Maguire triumph in that second season.
But following the 2013 All-Ireland quarter-final hammering by Mayo the manager shook up his backroom team and Gallagher was one of the casualties.
When asked had he not spoken to him since, McGuinness said: "That's true. It was one of those things; it was a break-up.
"It's a relationship and we had fantastic times and unbelievable experiences together. But these things happen in sport and in life. Sport is a microcosm of life.
"As a manager in a situation like that you have to try to get a handle on where you are yourself and try to move forward again.
"I felt that on the back of 2013 changes were needed and I felt we needed to go in a new direction.
"Every decision I made, whether it was to bring a player in, letting a player go, trying a new tactical formation, every decision was made to try to move the thing forward and that's why I took it."
Gallagher, pictured below with McGuinness, is now getting ready for his second season as Donegal manager having succeeded the All-Ireland winning boss this time last year.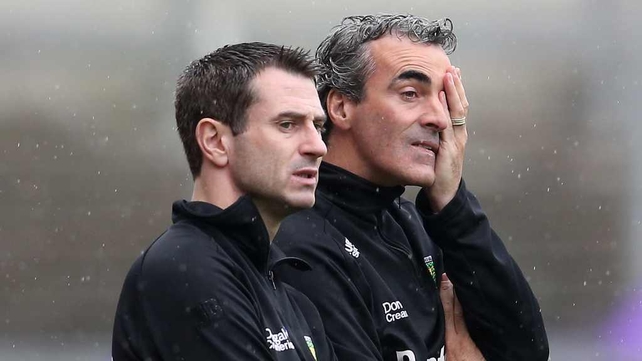 McGuinness's book is called Until Victory Always, a direct translation of Argentinean revolutionary hero Ernesto 'Che' Guevara's slogan, Hasta Victoria Siempre.
He is now working as a coach with Glasgow Celtic and though he is cagey about his future, it seems as though he wants to manage soccer teams in years to come.
"I feel like I'm developing and moving forward," he said.
"I have to go through my badges and experience that before I can give you an answer whether I'm going to be any good with it or not.
"Nobody knows where that's going to take me. The only thing, in terms of a plan, is I want to be the best I can be.
"You don't know until you are put into an environment how you are going to react to it. So for me every single day for me is a school day at the moment.
"There's an awful lot of learning going on and each of the coaches have been great, the manager, John Collins, John Kennedy, they've all given me time.
"If I do three hours with one of them and then go into a game you see the game differently and then it becomes layer upon layer upon layer in terms of your own perception of it.
"I'm working my way through the coaching and that's the way it's moving."