A majority of inter-county football players want a new championship structure put in place that would see eight groups of four teams playing in a round-robin format, according to the Gaelic Players Association.
The GPA has submitted its proposal, which would see all teams playing three group games, to the GAA's competitions structures review.
The player representative group claims that 85% of the counties favour the new structure, which would be see the teams seeded based on league standings and provincial performances.
There would be no league semi-final or finals with winners based on final league standings. 
Importantly, all of the counties favoured retention of the provincial championships, which would be played off by mid May under the new system.
Additionally, provincial winners would be top seeds for the group stage of the All-Ireland series and have home advantage in their game against the second seeds.
Fourth seeds would be guaranteed home advantage against the top seeds, with a draw taking place to decide venues for the remaining fixtures.
Fourth seeds would also have home advantage in the first two knock-out rounds if they progress that far.
The proposal also calls for the abolition of the pre-season competitions and recommends a condensed season with the All-Ireland final being played in early September, freeing up more time for club championship fixtures.
Winners of the round-robin groups would qualify for the last-16 stage, with second and third teams playing off to join them (as per the mock draw below).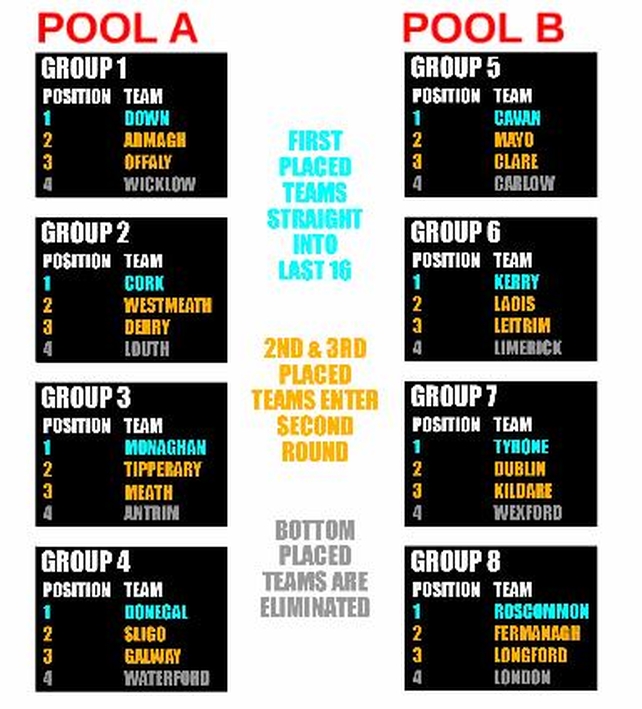 In the event of a draw before the semi-final stage, there would be no replay but two periods of extra-time and then a shoot-out from the 45-metre line if necessary. 
GPA chief executive Dessie Farrell said: "These changes will improve the welfare of the player by tightening the competition calendar, improving the games to training ratio and enhancing the playing experience at club and county level.
"This proposal can help unlock the potential of our inter-county football competition."
Farrell added that Dublin and Kerry, the All-Ireland champions for the last two seasons, are in favour of the new system. 
The GPA wants the system trialled for two years before being reviewed.