The dream has now become a reality for Galway's Jason Flynn. On Sunday, the Tribesmen take on Kilkenny in this year's All-Ireland hurling final and Flynn will be part of the big day. It's something he has already played out in mind as he revealed to RTÉ Sport.
"As a young lad growing up - it's what you want to do – play in an All-Ireland final," he said.
"I have about 50 All-Irelands played at home at the gable wall of the house. I was playing alongside Eugene Cloonan and Joe Canning and we won all those All-Irelands." 
And while Cloonan and Canning were the heroes that populated his dreams, in reality, Flynn is no less complimentary of what the pair have achieved in the Galway colours.
"The opportunity to work with the two of them now is unbelievable. Eugene (now a Galway selector) does great work with the forwards. He's been through it all and has never won an All-Ireland. You can always learn a lot from Joe, a super player, brilliant athlete."
Galway's year began with a less than impressive showing against Dublin in the Leinster quarter-final. They subsequently reached the provincial decider, where they lost to Sunday's opponents, before getting back on track with wins over Cork and Tipperary in the All-Ireland series.
"You are only remembered as one of the greats if you have that All-Ireland medal" - Jason Flynn
Reflecting on the campaign, Flynn added: "The Dublin game was the one we had our eye on at the start of the year but I thought we were a bit nervous that day. I missed a lot of ball at the start of the game and felt I only got into it coming up to half-time. In saying that, we learned an awful lot from that game.
"I came on in the Leinster final as a sub. We got a goal just after half-time but we didn't really drive on. We seemed to go backwards. But then we had the character to come back and win two games after that."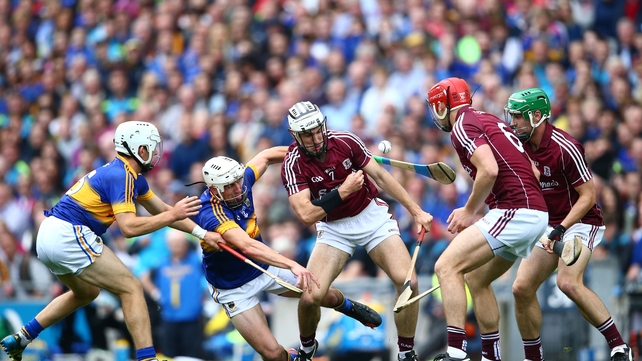 Galway's win over Tipperary in the All-Ireland semi-final was a thrill-a-minute contest, with Flynn describing it as "a huge, intense game, where you didn't get a chance to breathe."
The westerners edged it by a point and the corner-forward is hoping the intensity of that encounter will stand to him and his colleagues as they aim to bring the Liam MacCarthy Cup across the Shannon for the first time since 1988.
 
"The Tipperary game was a step up. We all know that the further you go in the championship, the harder it gets. We worked hard for each other and there was an honesty of effort from all involved. We'll need a repeat of that if we are to beat Kilkenny."
The word coming out of Galway is positive, however. Flynn is relishing the prospect of playing in his first All-Ireland final and collecting a winners medal at the end of it all.
"You are only remembered as one of the greats if you have that All-Ireland medal. We're in a final now, so there can't be any excuses. Hopefully, we'll have no regrets coming off the field on Sunday.
 
"I don't think too many counties would begrudge Galway an All-Ireland. Some of the work players have put in over the years has been unbelievable – particularly the older players like David Collins, Andy Smith and Iarlaith Tannion."