When you consider the year in question, it was not surprising that Dublin and Mayo finished level last Sunday. In their semi-final meetings in 1955 and 1985, parity also ensued, and so it was quite fitting that 30 years on another replay will be required to decide who reaches the decider. With that as a key cornerstone of the counties' rivalry, we remember many intriguing clashes.
Dublin 1-08 Mayo 1-07 - 1955 All-Ireland semi-final replay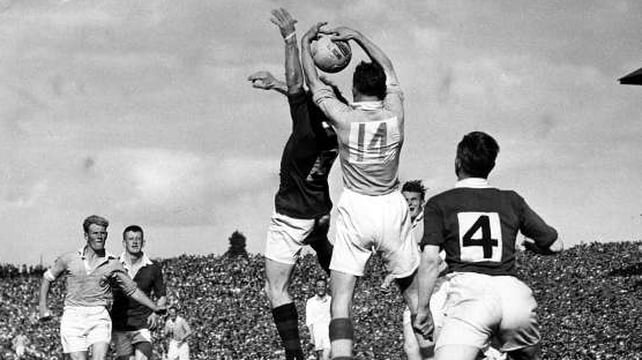 The first game was played in driving rain at Croke Park and Dublin, courtesy of late free from Nicky Maher, earned themselves a reprieve - Dublin 1-04 Mayo 0-07. Despite the low score and the inclement conditions, both teams produced good football, with Mayo's midfielder John Nallen receiving many plaudits for his performance.
In the replay, much praise was heaped on Dubs midfielder Jim McGuiness as the Metropolitans withstood a late rally from the Connacht champions to book their place in the final against Kerry.
Legendary names such as Kevin Heffernan and Ollie Freaney kicked vital points for the winners in the second half. 1-05 of Dublin's 1-08 came from play and that ultimately was a telling stat.
Dublin 1-13 Mayo 1-13 - 1985 All-Ireland semi-final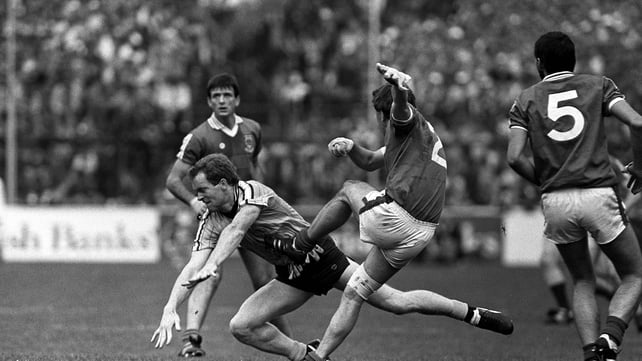 It was expected that Dublin would safely book their place in a third consecutive All-Ireland final. However, they didn't count on a stirring comeback from the Connacht champions, who showed much bravery in coming back from seven point down at one point in the second half to force a draw. TJ Kilgallon kicked over the levelling point in the last minute.
All told, the match did not offer much in terms of quality football, with players placing more emphasis on their opposite numbers. Mayo were particularly sluggish in the opening period and their cause wasn't helped by their careleess use of possession. Barney Rock, in particular, was a shining light for the Dubs and his first-half tally of 1-05 helped Heffo's men to lead 1-10 to 1-04 at the break.
On the resumption, Mayo's defence tightened up. Martin Carney (now an RTÉ pundit), Dermot Flanagan, Peter Ford, Frank Noone and John Finn were all starting to show well. However, it was the introduction of Padraig Brogan and his ability to supply better ball for the Mayo forwards, that ultimately saw the pendulum swing back towards the westerners. Late points from sub and selector Billy Fitzpatrick and Kilgallon saw them earn a deserved share of the spoils.
Both sides had to wait three weeks for the replay. Dublin ran out comfortable 2-12 to 1-07 winners, with Kieran Duff getting both their goals. For Mayo, Padraig Brogan can take some satisfaction with the superb three-pointer he drilled home.
Mayo 1-16 Dublin 2-12 - 2006 All-Ireland semi-final
This was one of the standout game of the 2000s. Dublin were 2-11 to 0-10 ahead after 47 minutes and on course for a final appearance against Kerry - and then something clicked for Mayo. An Andy Moran goal in the 51st minute was the start of the recovery mission. With David Brady making his presence felt after coming on as a sub just after half-time, Mayo assumed total control and reeled the Dubs in.
They took the lead only for Alan Brogan to level it up. Mayo's response was immediate and memorable. Ciarán McDonald fired over what was to be the winning point from a narrow angle. Dublin had a chance to save themselves, but Mark Vaughan failed to land a '45.
If the drama on the field wasn't thrilling enough, there was also the 'pre-match show' on the Hill 16 side of Croke Park.
Mayo came out onto the hallowed turf and did their warm up in front of the Hill 16 goals. The Dubs, seeing that their "space" had been taken, marched, arms linked, down towards the Hill, Both sides went through routines in close proximity and it lead to a tense atmosphere on Jones' Road.
Things did get out of hand a bit when Dublin manager Paul Caffrey clattered into Mayo assistant John Morrisson. We also had the sight of Mayo dietitian Mary McNicolas being treated on the pitch after getting hit by a ball.
Mayo 0-19 Dublin 0-16 - 2012 All-Ireland semi-final
Mayo ended the reign of champions Dublin to set up a western seaboard All-Ireland final against Donegal.
A gripping Croke Park encounter saw James Horan's men cling on for victory in the face of a furious Dubs fightback.
All six Mayo forwards scored, with Cillian O'Connor converting three '45s, as they built up a 0-12 to 0-06 half-time lead.
The westerners then moved 0-17 to 0-07 clear by the 51st minute, but Dublin fought back with a string of Bernard Brogan frees. However, Mayo hung on to win 0-19 to 0-16 and they can be thankful to David Clarke for his brilliant save late on from Brogan.
Dublin 2-12 Mayo 1-14 - 2013 All-Ireland final
Dublin were crowned All-Ireland football champions for the second time in three years following this one-point victory.
Mayo dominated the opening half hour with Cillian O'Connor and Andy Moran shooting them into a three-point lead, but Dublin kept in touch with Bernard Brogan's 16th-minute goal.
Mayo lead by 0-08 to 1-04 after the break but needed captain Moran's 50th-minute goal to go level before Brogan grabbed his second goal for the Dubs and despite a string of O'Connor frees, Mayo fell short yet again.
Dublin 2-12 Mayo 1-15 - 2015 All-Ireland semi-final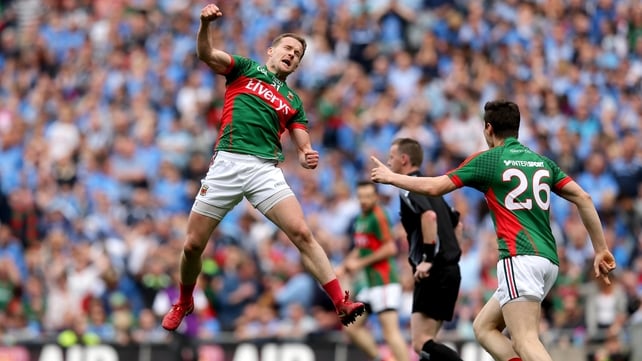 Andy Moran emerged as Mayo's super substitute at Croke Park with a dramatic injury-time equaliser that capped an incredible comeback, for the westerners.
The five-in-a-row Connacht champions looked down and out when they trailed by six with 63 minutes on the clock following Kevin McManamon's goal, but staged a thrilling recovery in the closing minutes to force a second date.
Veteran Moran was their inspiration as his first point began a scoring blitz of 1-03 without reply from the westerners and he also booted that crucial leveller at the end of the frenetic period.
The goal came from the boot of Cillian O'Connor who expertly converted a 69th minute penalty following a foul on Colm Boyle and finished with 1-09 in total.
Referee Joe McQuillan was busy brandishing cards of various in a game where RTÉ analysts Kevin McStay, Ciarán Whelan and Tomás Ó Sé all highlighted a "nasty edge to proceedings".