Tipperary hurler Padraic Maher has claimed that last year's win over Galway turned his county's season around.
Tipp looked set for another early exit in 2014 as they trailed the Tribesmen by six with the final quarter ticking down.
But a remarkable late surge saw Eamon O'Shea's side win by nine before they went on to push Kilkenny to an All-Ireland final replay. That helped to re-establish this team as real contenders and many people are backing them to topple the Cats next month.
"It did give us a great lift," revealed Maher, who started that game at full-back, but has played in the half-back line ever since.
"Galway are one of the top teams in the country and, probably not playing to the best of our ability, the last 20 minutes got us over the line.
"That gave us a great lift for the rest of the year and probably gave us more momentum going on, all the way to the final.
"Eamon gives us great confidence every time we go out. He's a dream to play for. There are always ways to improve and we've done that since 2012, we've gradually improved, and last year was a big help towards that.
"I can't remember much about the end of it, to be honest. It was hell for leather. The relief at the end of that game was great and you could see the way the players were, it was a moment that set us up for the rest of the year."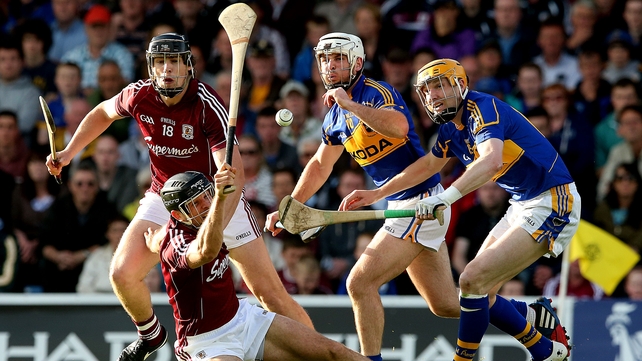 Tipp take on Galway on Sunday at Croke Park in an All-Ireland semi-final (live on RTÉ2 at 4pm).
They've had a five-week break since winning their first Munster title in three years, beating Waterford in the final last month, while by contrast Galway were in quarter-final action just a three weeks ago.
Whilst the break may not have suited everyone, it was ideal for Maher as he recovered from a shoulder injury picked up in the win over the Déise.
"That's one thing," he laughed. "I wouldn't have made a quarter-final.
"Obviously the first few weeks there was a bit of worry because it was so sore and I didn't know what way it was. I did the same one last year so I knew the protocol. Thankfully the last two weeks I've been able to do a nice bit of training so it wasn't too bad."
Of course, Maher's injury was put into sharp perspective by the recent return to training of Noel McGrath.
McGrath had to take time out as he overcame testicular cancer, diagnosed in April, and his reappearance was a massive boost to the rest of the panel.
"Great. It was fantastic to see him," said Maher, who won minor, Under-21 and senior All-Ireland titles alongside McGrath. "From what he went through in the middle of April, it was great to see him back involved.
"It puts everything - winning games and trophies - into perspective. It's all about being in the full of your health and being able to take part, and it's great to have him back.
"It's going to take him a while to get to his 100%, which is going to take him probably a year or so. But look, it's great to have him back in again.
"He's looking strong, he's doing everything, he's back doing all the training and gym work.
"That's the mark of the man he is. He didn't let the head go down," said Maher.
"He took everything on head-on, and in a way he's shown the rest of us what way to go about life, never mind hurling. It's great and he's a role model and person to look up to after what he's been through."