It's the middle of August and we're still waiting for the hurling championship to really enthrall.
We thought at the All-Ireland quarter-final stage that things would burst into life. Didn't happen really.
Galway were far too good for Cork, while in a much closer contest, Waterford came good in the second half to eliminate Dublin.
Last weekend's first semi-final saw Kilkenny advance to another decider after a comfortable win over the Déise. No fireworks there, either.
And so to Sunday next and the meeting of Galway and Tipperary in the second semi-final (4pm, live on RTÉ2).
Both teams have aren't short of potential match winners whose efforts will hopefully give us a high-scoring, free-flowing contest.
Both Galway and Tipperary have been involved in some intriguing high-summer games over the last 30 years. We look back at five such encounters.
Tippeary 3-26 Galway 6-08 - 1971 All-Ireland semi-final

Mick Keating the star for Tipperary as they beat Galway in a high scoring All Ireland Hurling Semi Final at St Brendan's Park in Birr, Co Offaly.
15,000 watched a game that Tipperary seemed to have wrapped up by half time - when they lead by ten points. But at the start of the second half, Galway launched a fight back led by John Connolly and inspired by a goal from Paddy Mitchell.
It was only when Galway had narrowed the gap to two points that Tipperary began to assert their class again. Mick Keating was the man of the match finishing the game with a personal total of 2-12.
Galway 3-20 Tipperary 2-17 – 1987 All-Ireland semi-final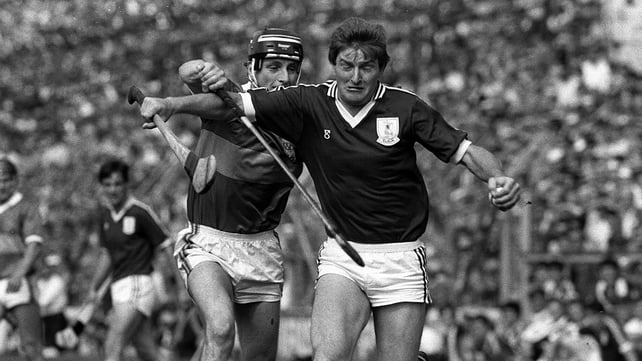 Tipperary had emerged from the doldrums to regain the Munster title after a 17-year gap. That set them up for a date with Galway on 9 August.
In what was an exhilarating contest, a late goal from Noel Lane finally settled the issue. Yet Tipp can take many plaudits for their efforts following on from their provincial final heroics in beating Cork after a replay.
Galway started well, with Martin Naughton finding the net after just a minute. The westerners were the more assured team for the rest of the half and went in at the break leading by 1-13 to 1-09.
Tipperary, however, were to find their groove after the resumption and with 15 minutes remaining they hit the front. Pat Fox took off on a 30-yard and his shot beat Galway goalkeeper John Commins.
A point from Nicky English followed and the Premier County were now two points clear. However, they failed to drive on.
Galway drew level with scores from Steve Mahon and Joe Cooney. And then came the defining moment.
Referee Gerry Kirwan had disallowed a Tipperary point, pointing to a foul on the Galway 'keeper. From the resulting free, Brendan Lynskey soared above three defenders to make a brilliant catch. He then passed to the unmarked Eanna Ryan, who beat Tipp custodian Ken Hogan with a palmed effort.
Points were exchanged thereafter, before Lane grabbed Galway's third goal. The men from the west would go on to win their third All-Ireland title in the final against Kilkenny.
Galway 1-15 Tipperary 0-14 – 1988 All-Ireland final
A year later and it's the September decider where Galway and Tipperary collided. It was a fourth successive final appearance for the Tribesmen and such experience shone through as they held their nerve against a plucky effort from their rivals.
Defences dominated throughout and it was the Connacht side who kept the door shut that bit tighter. Conor Hayes limited the influence of Nicky English and the Tribes 'keeper John Commins showed his agility to good effect when keeping out Pat Fox's goal-bound effort. Indeed, Fox was held scoreless throughout.
Noel Lane, who had been dropped from the starting XV, came on for Anthony Cunningham, and he was on hand late to score the only goal of the game.
Tipperary were only 0-10 to 0-06 in arrears at the break despite playing against the wind. And while they subsequently reduced the deficit to a point, they could get their noses in front and their spirit was eventually with Lane's late green flag.
The victory marked Galway's last All-Ireland success.
Tipperary 3-17 Galway 3-16 – 2010 All-Ireland quarter-final
A thrilling contest ebbed and flowed from start to finish, propelled by the passion and skill of two totally committed sides.
The scores were level on nine occasions before Liam Sheedy's men pushed on in the closing stages to take the win and set up a semi-final clash with Waterford.
Galway's Joe Canning failed to score from play in the opening half, due in no small part to the good work of Tipp corner-backs Paddy Stapleton and Michael Cahill. The Premier County led at the break by 2-08 to 1-09 with their goals coming from Eoin Kelly and Seamus Callanan.
Galway, however, hit the front with a sensational start to the second half. Damien Hayes took advantage of a rare Paul Curran error to get in for a goal, and points from Ger Farragher and Joe Canning made it 2-11 to 2-10.
A remarkable tie quickly took yet another twist, with Gearoid Ryan showing lightning pace to dart through for Tipp's third goal on 43 minutes.
Corbett gave them the relative comfort of a four-point lead, but inevitably there was to be yet another goal.
Joe Canning was fouled and smashed home the penalty himself, and when Damien Hayes and Kevin Hynes tagged on points, the Connacht men were back in front. Hynes and fellow sub Aengus Callanan added further points, but Tipperary refused to surrender, and late scores from John O'Brien, Ryan and Corbett saw them win a classic contest.
Tipperary would subsequently go on to win the All-Ireland and, in doing so stopped Kilkenny's 'Drive-For-Five'.
Tipperary 3-25 Galway 4-13 – 2014 All-Ireland qualifier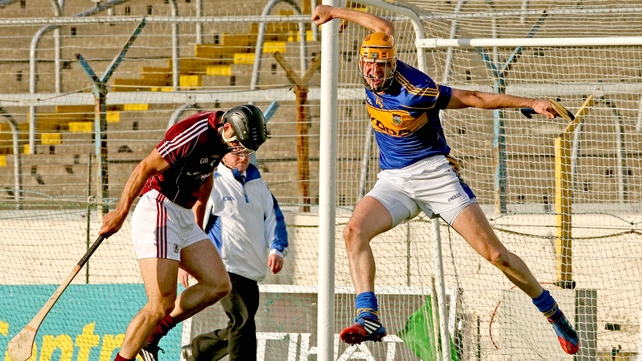 Tipperary came from six points down to defeat Galway by nine in a quite remarkable All-Ireland SHC qualifier at Semple Stadium.
With 51 minutes gone, the hosts trailed by 4-12 to 1-15. But a sensational final 20 minutes saw Eamon O'Shea's rejuvenated charges outscore Galway by 2-10 to 0-01.
Seamus Callanan scored two goals during that sensational scoring blitz and finished the game with 3-08 to his name.
John 'Bubbles' O'Dwyer added six points and Noel McGrath chipped in with five points from play.
Galway started the game brilliantly when Jason Flynn took a pass from that man Jonathan Glynn to net in the fourth minute.

Tipp responded in kind through Callanan with less than 13 minutes on the watch and the sides were level at 1-07 and 1-08 apiece approaching half-time.
Another long Iarla Tannian delivery led to Galway's second goal, as was the case with the first, as David Burke flicked to the net in the 31st minute.
Tipp were 2-08 to 1-09 down at that point but after O'Dwyer and Padraig Brehony traded scores, a brace of Callanan points, including a free, tied the scores a 1-12 to 2-09 at half-time.
Glynn, who had provided five assists by the 33rd minute, was a man possessed in the second half, netting in the 39th minute and again six minutes later to put Galway in the driving seat.
But Tipp were not done yet and that late revival sent the Tribesmen packing.