Waterford's Kevin Moran has said his side have "no fear" as they approach their All-Ireland Hurling Championship semi-final clash with Kilkenny at Croke Park this coming Sunday.
An Deise will head into the tie as underdogs, but half-forward Moran feels his team's youthful blend will have more than enough to put it up to the Cats and put to bed recent defeats - in 2008 and 2011 - to hurling's most dominant side.
"This team is different. So is the Kilkenny team though. A lot of our guys have no fear. They're used to winning big matches: minor matches and All-Ireland colleges, things like that," Moran told RTÉ Sport.
"From that point of view there won't be any fear. Obviously you have to respect the opposition. It's different to a few years back. There's a lot of changes on both sets of teams, so look, it's all about the day, all about the 70 minutes.
"And it's whoever is most efficient in front of goal and makes the most amount of mistakes will come out on top.
"Our guys are well capable of doing it. I've seen them in training and seen them week in, week out, I don't think it's a worry from that point of view. You're coming up against better opposition again, so look it's going to be a huge assignment against a formidable team and it's one that we're really looking forward to having a right go and see where it takes us.
"We're going to give it everything. We've given it everything all year. We're going to do what's been working well for us: working hard and playing as a team.
"We're right and ready and really looking forward to the game – huge game. Formidable opposition and an All-Ireland semi-final, it's a great one to be [involved in]."
At the start of the season, an All-Ireland semi-final may have seemed a lofty ambition for the Waterford panel, but with an Allianz Hurling League title in the bag, and a place in the All-Ireland last four secured, confidence is sky high within the panel.
"We didn't talk about it as group. Deep down we really wanted to get back to Croke Park. A lot of these players hadn't played at Croke Park," said Moran.
"We've a new team and a relatively new panel and things like that, so it's great for the guys, especially how young the majority of the team is, to reach the big days and obviously there is only one step bigger than an All-Ireland semi-final.
"It was brilliant to win a national title - that can't be underestimated. It was brilliant for the progression of the team and the overall confidence of everyone involved.
"From that point of view it was an absolutely massive win for us. We had to try and park it coming into the championship but it's really helped us."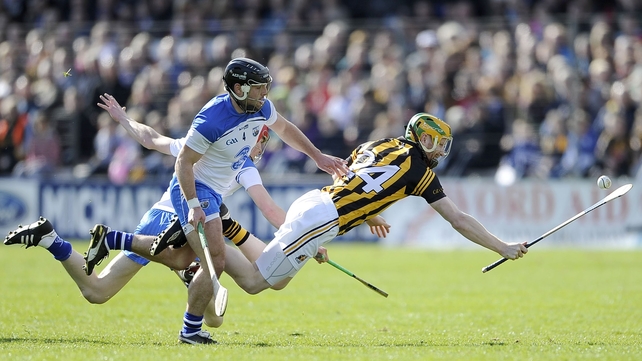 A Munster final defeat to Tipperary was a low point of the season for Waterford but they recovered superbly to beat Dublin in the All-Ireland quarter-finals and secure their place against Kilkenny in Sunday's semi-final. Moran feels that defeat was a learning experience that has helped players like centre-back Austin Gleeson and centre-forward Shane Bennett grow as practitioners of the game.
"We were very competitive [against Tipperary]. Made a few wides, made some silly mistakes," said Moran. "Obviously we were disappointed to lose the game but we had to park it pretty quickly. We had a huge match against Dublin in an All-Ireland quarter-final.
"It didn't dampen confidence or anything like that, so we just brushed ourselves down and got going for the quarter-final and thankfully we got over that."
"Gleeson and Bennett are very confident fellows - their own men. They may be young in age but age is only a number at times and they're great leaders within our camp.
"The skill and pace they bring to the team is quite exciting and it's what's needed
"It's brilliant to get there and be competing on the big days. We're fully aware of the formidable opposition that we're up against. You have to go with the intention that you're going to win the game and we just want to go out and perform to the best of our abilty.
"We have to give a good account of ourselves over the 70 minutes and whoever plays the best will be going on to an All-Ireland final in a few weeks' time."