Mayo 6-25 Sligo 2-11
Aidan O'Shea was in inspired form as his personal haul of 3-04 helped Mayo to a 6-25 to 2-11 facile victory over Sligo to seal a fifth Connacht football title in a row.
Mayo were out of sight by the sixth minute mark when Seamus O'Shea hit Mayo's second goal to add to Cillian O'Connor's strike two minutes earlier.
Sligo did hit a respectable 2-11 at the other end with goals from Brendan Egan and Pat Hughes keeping their tally ticking.
But it was Sligo's inability to deal with Aidan O'Shea at full-forward that proved Sligo's real downfall as the Breaffy man hardly lost a ball all day long and fired a brilliant hat-trick to send Mayo into the All-Ireland series on a high.
Sligo needed a whirlwind start to have any chance of upsetting Mayo, but instead it was the four in a row winners that were sharpest from the start.
Cillian O'Connor pointed from play in the second minute, after he shook off the attentions of Ross Donovan, but two minutes later Sligo were on their knees when the Ballintubber man goaled. Aidan O'Shea gathered a long ball and linked with Jason Doherty, who send O'Connor in on goal.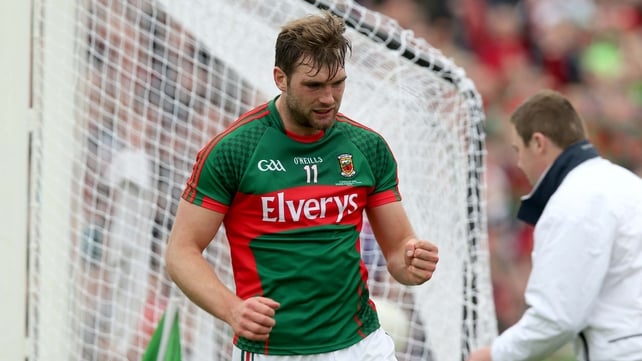 Sligo were totally dominated in all areas of the game and after Diarmuid O'Connor punished a loose kick-out with another Mayo point Seamus O'Shea hit the net for a second time for Mayo after he played a one-two with his brother Aidan before he gave his side a 2-2 to 0-0 lead.
Mayo were rampant and the scores didn't stop there. Diarmuid O'Connor pointed for a second time in the seventh minute, before Cillian O'Connor slotted a free to give his side a ten-point lead by the ninth.
Niall Murphy finally got Sligo off the mark with a long range free after ten minutes, but the relief was brief as Aidan O'Shea continued to dominate at full-forward and he duly kicked his first point of the game.
Adrian Marren tapped over a Sligo point after a goal half-chance disappeared for David Kelly, but Mayo were not too bothered as they were soon back on the goal trail when Andy Moran sent Aidan O'Shea in and the Breaffy man applied a cool finish past Aidan Devaney for a 3-6 to 0-2 lead.
Brendan Egan goaled for Sligo ten minutes from the break, but that only halted Mayo's progress for a blink of an eye. A minute and a half later Aidan O'Shea bagged his second goal as Mayo cantered to a 4-9 to 1-6 half-time lead.
Unfortunately it was more of the same after the break form a Sligo view point as Mayo, led by Diarmuid O'Connor and Aidan O'Shea, added another eight points in the first 15 minutes of the half.
That put them 4-17 to 1-8 ahead, but they weren't finished. Aidan O'Shea completed his hat-trick in the 51st minute, before he laid Mayo's sixth goal on a plate for Lee Keegan a minute later.
Pat Hughes did find the net for Sligo in the 55th minute, but it hardly dented Mayo's winning margin.
Mayo: D Clarke; D Vaughan (0-02), G Cafferkey, T Cunniffe; K Higgins, C Boyle, L Keegan (1-00); T Parsons, A O'Shea (3-04); D O'Connor (0-04), S O'Shea (1-00), J Doherty (0-02); A Moran, K McLoughlin, C O'Connor (1-07, 0-04f, 0-01'45).
Subs: B Moran (0-01) (0-01) for S O'Shea (24 mins), A Dillon (0-01) for Moran (half-time), B Harrison for Cafferkey (45), M Ronaldson (0-02) for McLouglin (51), P Durcan (0-01) for Keegan (53), C Barrett (0-01) for Boyle (63).
Sligo: A Devaney; R Donovan, K McDonnell, D Maye; K Cawley, B Egan (1-00), E Flanagan; C Breheny (0-01), N Murphy (0-01); B Curran, M Breheny (0-04, 0-02f), N Ewing (0-01); D Kelly, P Hughes (1-00), A Marren (0-03).
Subs: S Gilmartin for Murphy (44 mins), C Davey for Ewing (50), E McHugh (0-01) for Egan (57 BC), J Hynes for C Breheny (57), N Gaughan for Cawley (60), L Bree for McDonnell (65).
Referee: Padraig O'Sullivan (Kerry)