You have to go back to 2009 for the last time Cork overcame Kerry in a replayed championship game. Páirc Uí Chaóimh was the venue as the Rebels comfortably saw off their neighbours 1-17 to 0-12 in the Munster semi-final.
The provincial decider in 2006 required a second game and it was Billy Morgan's Rebels who came out on top by six points. We were also in replay territory in 2002 and again there were celebrations on Leeside after a three-point victory at the last-four stage. In each of those three campaigns the sides would meet again later in the championship. In a reversal of fortune, it was the Kingdom who reigned supreme and twice they went on to lift Sam Maguire.
What those stats tell us that apart from defeats to Kerry in 2008 and '10, Cork's recent success rate in replays against their rivals is not bad, even if the wins came on their home patch. It also highlights the fact that the Kingdom do tend to improve as a championship progresses. Of course, such data may count for nothing ahead of Saturday evening's replay between Munster's great rivals at Fitzgerald Stadium.
"The more championship games that Kerry play, the better they seem to get" - Martin McHugh
Yet, RTÉ analyst Martin McHugh is sticking with the convention that the greater improvement will be seen from Kerry.
"The drawn game will stand to the Kerry team more so than Cork" he told RTÉ Sport.
"The more championship games that Kerry play, the better they seem to get. There is more to come from this Kerry team and I think they'll probably have their team lined out better for the replay."
Expanding on that last point, the former Donegal star added: "Kerry will go back to the midfield partnership of Anthony Maher and David Moran that served them so well last year. I don't understand why Eamonn Fitzmaurice changed it. They were completely wiped out in the middle the last day, especially in the second half. Alan O'Connor for Cork played really well.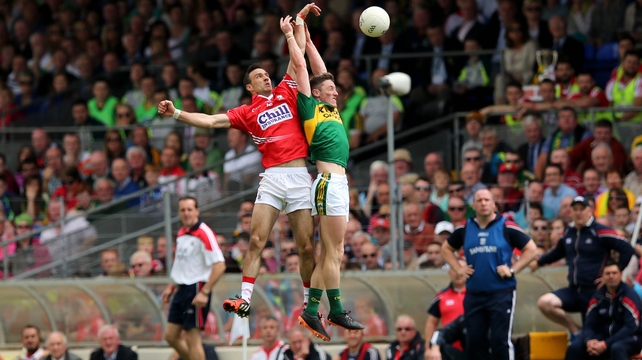 "I don't think they'll start Colm Cooper on Saturday and I suspect Bryan Sheehan will move to the '40. Paul Murphy should be back in defence."
Like many, McHugh was impressed with the way Cork upped their intensity to really rattle Kerry a fortnight ago. However, he has doubts as to whether they can turn it on again for the replay
"Cork threw everything at Kerry in that second half and played some great stuff. The way they ran through the Kerry lines was most impressive. I may incur the wrath of Cork fans here, but I'm not sure whether this side can put two good performances back-to-back. They may prove me wrong but I'm going to go with Kerry by four or five points."
As well as a provincial title being up for grabs on Saturday evening, there is the prospect that for the loser a potential All-Ireland quarter-final awaits against the Dubs on 2 August. Before that, there is the Kildare hurdle to be jumped in the final round of the qualifiers.
For the victor, there is a date with either Westmeath or Fermanagh in the quarters. Such possibilities add further intrigue to this latest Killarney showdown.