Like many towns of its size, Clones is a sleepy backwater. For some it is the place that inspired Pat McCabe's creation of Francie Brady in the Butcher Boy but for GAA fans it's recognised as the citadel that hosts the Ulster final.  
Originally its convenient location on the now defunct Great Northern Railway system made it a sought after venue and, with a few exceptions, on the third Sunday of July every year, this small town with its cramped streets, smell of burgers and guttural whoops bursts into life to become Monaghan's Maracana.
This Sunday, the last two standing at the end of a typically bruising Ulster championship - Monaghan and Donegal - meet to decide the destination of the Anglo-Celt Cup. Both are familiar with the occasion and the demands expected. For the third year in a row they meet in a final where test of character, good decision making and an ability to outwit one another's defensive systems will be high on the agenda. A reluctance to deviate from their carefully constructed defensive game plans will be one of the game's certainties.
Conceived and constructed by Jim McGuinness, Donegal initially had a patent on the system. Over time others have copied and added their own slant. The end result is that Ulster football in particular, due to the emphasis on massed defending, can sometimes appear robotic, claustrophobic and lacks the spark that excites the imagination.
Donegal, under Rory Gallagher, have retained the template that has served them well. Malachy O'Rourke equally has prioritised defence, although this year the balance at the back has been compromised to a degree by the absence of Drew Wylie.
Over the course of their three games to date, in what was recognised as the more difficult side of the draw, Donegal have conceded an average of ten scores per game while their opponents have been a little more profligate in leaking a season average so far of 14 per match.   
With an even share of the spoils in their last two deciders, little has changed by way of personnel. Rory Kavanagh and Ryan Bradley are no longer involved with the Donegal squad, while Monaghan have struggled to compensate for the absence of Tommy Freeman, due to retirement, and the aforementioned Wylie. Furthermore, injury and the inevitable passage of time has seen a diminution in the influence that Dick Clerkin, Stephen Gallogly and Paul Finlay once brought to games.
Though the subs bench has become their familiar territory as they no longer are regarded as having the legs to endure a hard-fought, energy-sapping game, the first two named made big contributions when introduced against Cavan. Impact subs have their place but trying to reel in a game when the Tir Conaill men have established a lead has often proved a thankless exercise.
To negate a good Donegal opening period we may well see the physically imposing Clerkin promoted to the starting line out with a view to dealing with the presence of Neil Gallagher in the middle.
The big Glenswilly man is in the form of his life at moment. His role as midfield enforcer has grown. He has assumed a greater leadership role this summer than in previous campaigns and never was this needed or more apparent than in their recent win over Derry. Here he kept an under-performing team energised.
Defensively I have the greatest admiration for Monaghan's Dessie Mone and Vinny Corey. Karl O Connell's athleticism and skill on the ball has been a perfect foil to their aggression in the half-back line.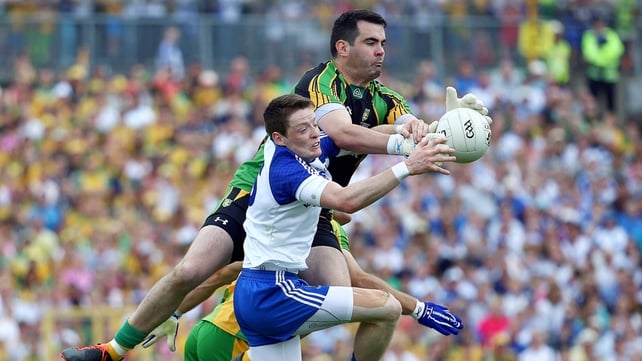 The Hughes brothers - Darren and Kieran - add drive to the central area but without doubt much of the responsibility for keeping the scoreboard ticking over will fall to Conor McManus. Although they had 11 different scorers against Fermanagh, McManus is still the 'go to' man. His assurance on the ball and ability to notch important scores is well documented. In a game of this importance Monaghan cannot afford any fall-off in his contribution.
To counter this threat Donegal will deploy one or other of the McGee brothers as McManus's shadow. Dogged defenders they may be but neither their temperament nor game intelligence should be underestimated. One will man-mark McManus while the other sweeps. In front of them Frank McGlynn and Karl Lacey, who so far has been marginally short of his imperious best, will orchestrate the counter attacks. Whether or not management starts Mark McHugh remains to be seen. No one fulfils the role of sweeper as effectively as the Kilcar man but his replacement in recent games, Martin O Reilly, has rewarded management's faith with a brace of important goals.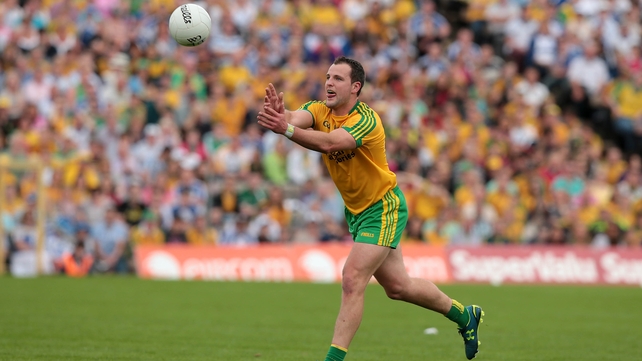 Up front is where I think Donegal possess a distinct advantage. Michael Murphy, Donegal's talisman, though he can anticipate special attention, has a wonderful sense of what is required at any time in a game.  Who will forget the three howitzers he launched from distance at the Athletic Grounds?
With a licence to roam, his unselfishness and teamwork have been one of the summer's highlights. Riding shotgun, Colm McFadden and the talented Odhran Mac Niallais have impressed. Ryan McHugh is always a threat where his industry is equally admirable. If his injury hasn't cleared, Patrick McBrearty's absence would remove a credible threat from the full-forward line. His potent left foot is a threat to any defence.
As regards a verdict, Monaghan need to replicate their 2013 display and squeeze the living daylights out of Donegal. Discipline and determining not to fall into arrears will inform their thinking. A low scoring attritional contest will best suit them. Neither side are slouches when it comes to trench warfare. I just think that Donegal's superior attacking quality, allied to greater experience and composure, will swing the result in their favour. Be warned though, it will be grim and unforgiving. 
In a game of fine margins, Donegal to win by two.