Westmeath boss Tom Cribbin insists he was confident his side would finish well after they turned around an eight-point half-time deficit to record a first ever championship win over Meath on Sunday.
Westmeath sealed a date with Leinster champions Dublin in the provincial final on 12 July with an epic comeback, but Cribbin pointed out that the seeds of that win were sown in the quarter-final victory over Wexford.
"We've finished very strongly in all our games," he told RTÉ Sport. "We went two points down with 10 minutes to go last week and scored 1-9, 1-8 from play, in seven or eight minutes.
"So we had the belief we'd finish strong but the way Meath played in the first half I didn't know if we could handle that in the second half.
"Mick [O'Dowd] got his tactics very right in the first half and it took us a good while to get to grips with it.
"But there's a very strong fitness level there built up in the guys. They're young and I knew they'd last well."
Meath out-gunned the Lakemen 2-12 to 1-07 in the first half but Cribbin sent Kieran Martin in to full-forward after the break, which paid dividends handsomely as the Maryland man finished with 2-03.
"We just had to go hell for leather at it," said Cribbin. "We moved a few lads that we thought were more mobile into the middle of the park and moved Kieran Martin up front.
"We knew we needed that threat and we had to get John Heslin on the ball and thanks to be God a lot of lads played really well for us.
"It means an awful lot to Westmeath people. A lot of good football people were probably wishing for Westmeath at some stage to break that duck."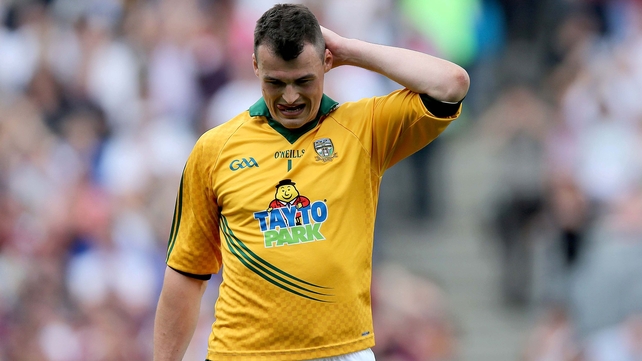 Meath manager Mick O'Dowd complimented Westmeath on their victory but admitted the Meath camp were "incredibly disappointed" at the manner of the defeat.
"We had the game won, in many ways, and just didn't finish it," he said.
"We played a lot of good football but in the second half, Westmeath never gave up. They won a lot of breaking ball around the middle and we didn't seem to get the same ball into our inside line as we were doing in the first half.
"With each score they got momentum and we didn't break it.
"We're incredibly disappointed because you could see from the first-half display that we came here to do a job and get to a Leinster final, and we haven't done it.
"There's nothing we can do now, only regroup and get ready for the qualifiers."
O'Dowd accepted that there would inevitably be criticism of the result but he was adamant that they were a young team, who still had a lot of potential.
"People like to be hard on Meath and critical of Meath but we're building a new team," he said.
"Over the last couple of years we've given 14 fellas their championship start. We've reached the last two Leinster finals and we've consolidated pretty well in Division 2.
"It's a young team, average age under 23 and you saw there is good football in the team. I think with a little bit more maturity, they'll be a bit more consistent."