Derry 0-10 Donegal 1-09
Defending champions Donegal qualified for a fifth successive Ulster SFC final with a 1-9 to 0-10 win over Derry in front of a crowd of 19,237 at Clones.
Paddy McBrearty and Derry's Eoin Bradley each scored twice in a tactical first half which ended at 0-5 each.
Marty O'Reilly's 45th-minute goal put Donegal five clear, and they held the lead to the end, despite scoring just one point in the final 25 minutes.
Caolan O'Boyle, Benny Heron and Caran McFaul pulled back points but Derry were unable to close the gap.
Both teams withdrew men behind the ball as a cat and mouse game ensued from the off, Derry's tentative approach contrasting with Donegal's preference for the long ball launched in the direction of Paddy McBrearty and Neil Gallagher, who spent much of the first half on the edge of the opposition square.
Dermot McBride and Chrissy McKaigue relished the aerial battle, while the Oak Leaf troops also found much success in tracking Donegal's main runners, Ryan McHugh and Frank McGlynn.
Donegal did carve the openings for Odhran MacNiallais, Christy Toye and McBrearty to edge them into a 0-4 to 0-1 lead after ten minutes, but they had an early scare when Enda Lynn brought a smart save out of Paul Durcan with an angled shot.
Toye's 11th-minute score proved to be his side's last for 20 minutes as they were forced onto the back foot by a Derry side treating possession as a precious commodity, working the ball laterally and waiting patiently for openings to appear.
And they succeeded in nailing score from Eoin Bradley, with his second free, Caolan O'Boyle and Mark Lynch, who brought the sides level on 22 minutes.
A much-needed flash of brilliance from Colm McFadden produced a vintage score from wide on the left, but McKaigue felt comfortable enough to appear on Bradley's shoulder to collect and split the posts.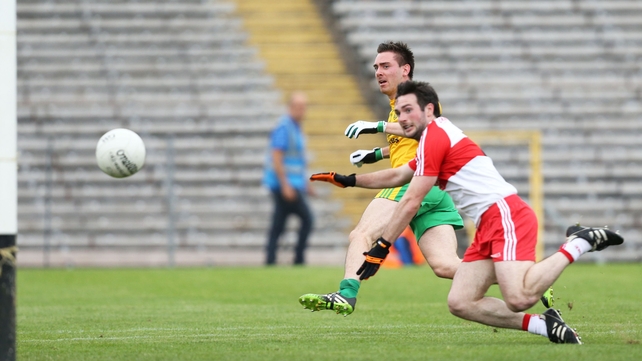 Michael Murphy, who had minimal impact around the middle despite being given as much space as he could have expected, finally pushed up, and almost plundered a goal, his fisted effort from a McHugh delivery well saved by Thomas Mallon.
The sides were deadlocked at 0-5 each at the break, but Donegal slipped into a familiar counter-attacking rythmn in a devastating opening ten minutes of the second half.
McFadden landed another special, with Murphy splitting the posts from 50 metres, into the wind, before Gallagher sent Marty O'Reilly in to round 'keeper Mallon and plant the ball in the net.
Now Donegal had their opponents where they wanted them, and there is no better side to protect a lead.
The defending champions needed to do no more than contain an Oak Leaf side that had to chase the game. Donegal scored just one more point in the final 25 minutes but kept concessions to a modest four.
Lynch, O'Boyle, substitute Benny Heron and Ciaran McFaul were all on target as Derry fought a brave battle, but too often they were frustrated by a Donegal side comfortable with the defensive job they had to do.
That frustration eventually told for Derry, who had Brendan Rogers and McFaul black-carded in the closing stages.
McFadden, Murphy and Martin McElhinney all landed long-range points before Gallagher's final pass sent Marty O'Reilly in for a 45th minute goal, and now they led by five.
The Oak Leafers produced a gutsy response with points from Lynch and O'Boyle but couldn't close the gap and Donegal advance to meet Monaghan in the provincial decider for the third year in a row.
Donegal: P Durcan; P McGrath, N McGee, E McGee; M O'Reilly (1-00), K Lacey, F McGlynn; N Gallagher, M McElhinney (0-01); C Toye (0-01), O MacNiallais (0-01), R McHugh; P McBrearty (0-02, 1f), M Murphy (0-02), C McFadden (0-02).
Subs: M McHugh for McFadden, A Thompson for Toye, H McFadden for McElhinney, D Walsh for McBrearty.
Derry: T Mallon; O Duffy, B Rogers, D McBride; K Johnston, C McKaigue (0-01), C McFaul (0-01); N Holly (0-01), F Doherty; SL McGoldrick, M Lynch (0-02, 1f), E Lynn; D Heavron, E Bradley (0-02, 2f), C O'Boyle (0-02).
Subs: B Heron (0-01) for McGoldrick, L McGoldrick for Duffy, T O'Brien for Lynn, N Loughlin for Bradley, Lynn for O'Boyle, C McAtamney for Rogers (BC).
Referee: R Hickey (Clare)