Former Donegal player Brendan Devenney had predicted the latest coming together of Donegal and Tyrone would not offer much "entertainment."
At times the clash in Ballybofey in the Ulster preliminary round on Sunday was niggly and we had a schmozzle of sorts as the teams headed for the half-time break, but more often than not good football was served up as the home side prevailed by three points.
Hopefully, it will be the start of a summer for Gaelic football that won't be dominated by talk of blankets and those claiming that the whole thing doesn't really kick off until August.
Murphy's calmness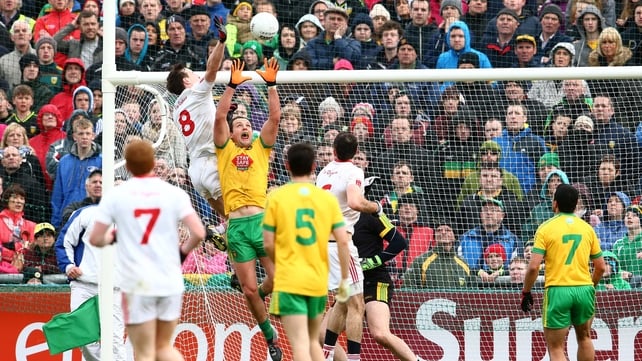 When the game was in the melting point, Donegal skipper Michael Murphy stepped up to fire over three frees that made the difference.
The Glenswilly maestro remains an important cog in the Donegal machine that will hope to keep ticking along for a good part of the campaign.
Joe Brolly provoked a vigorous debate in The Sunday Game studio after when he suggested Murphy was "the most influential player in Gaelic football".

McElhinney blockbuster
Martin McElhinney's goal for Donegal just on half-time was superbly dispatched. An early contender for goal of the season and it would also make a genuine goal of the month contender in another code.
Shotstoppers unite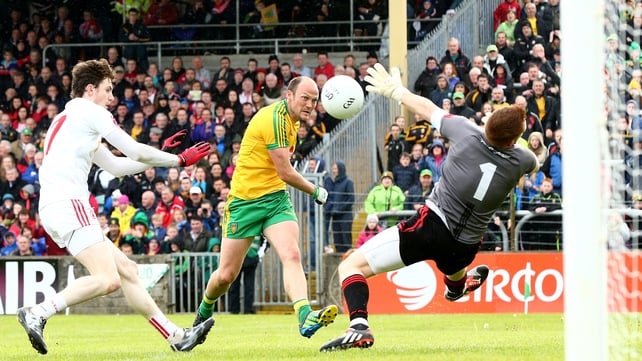 Both Paul Durcan and Michael O'Neill had fine games between the posts for their respective counties. O'Neill deputised for Niall Morgan in the Red Hand goal, though Morgan's ability to put the ball over the bar from placed balls was something that Tyrone missed on a day when victory could have been theirs.
Future prospects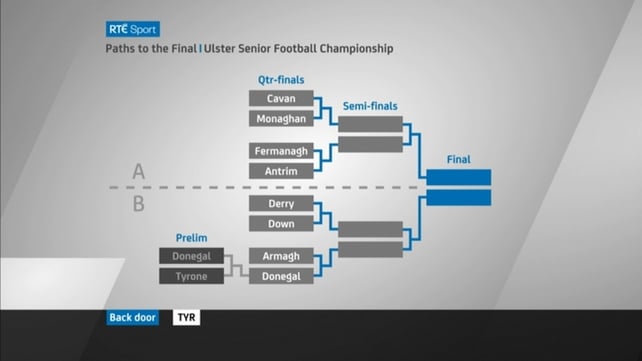 Donegal remain favourites for Ulster, though their defence did look shaky at times on Sunday and no doubt Kieran McGeeney will be looking at that with a view to Armagh upsetting the reigning Ulster champions on 14 June. A match to savour then at the Athletic Grounds!
You'll need to be on the ball with tickets for the Athletic Grounds on June 14th. Sure to be another sell out. Armagh to go one better.

— Aaron Kernan (@AaronKernan) May 17, 2015
For Tyrone, the back door could open up possibilities. Don't rule out a Croke Park appearance for Mickey Harte and co in early August.
Galway complete expected win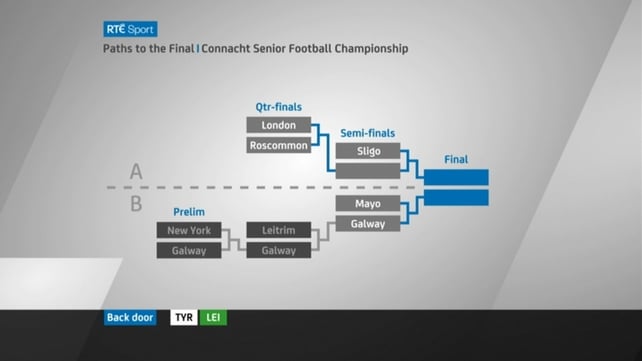 Kevin Walsh's Galway can now look forward to a Connacht semi-final against Mayo in four weeks time. Their victory in Carrick-on-Shannon over Leitrim was far from straightforward, however, as the hosts did create four good goal chances.
Still, the Tribesmen have two games under their belt and will now relish the opportunity to try and end Mayo's recent dominance in the province.
Speaking on The Sunday Game, Ciaran Whelan believes Galway have the midfield and forward threat to trouble the Green and Red.
However, Tomás Ó Sé wonders whether they have they physicality to beat Mayo in the championship for the first time since 2008. Intriguing prospect then by the seaside on 14 June.
Will Galway bate Mayo? @tomas5ky says Mayo's physicality might catch them out #SundayGame

— The Sunday Game (@TheSundayGame) May 17, 2015
Back to Carrick-on-Shannon, however, and there was no shortage of tea servers for those assembled.
Definitely Championship time in Leitrim. No sparing the tae. #GAA pic.twitter.com/bmzDVsD1mH

— Balls.ie (@ballsdotie) May 17, 2015
Goals win games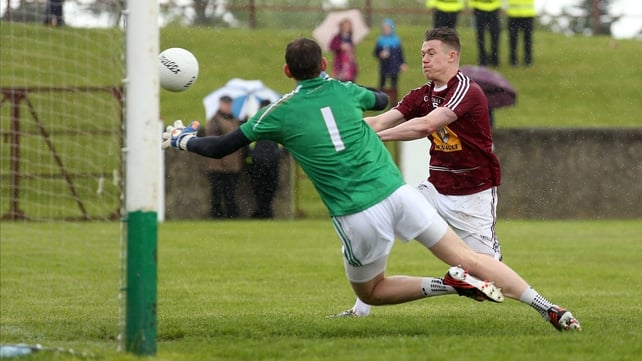 Goals do win matches and Westmeath got three of them to beat Louth by seven points in Drogheda. Next up for the Lake County is a home clash with Wexford in the Leinster quarter-final in a month's time. Their boss Tom Cribbin praised his side's first-half performance against the breeze.
He told RTÉ Sport: "We went in leading by a point and we know we had to come out and make sure we took the momentum in the game.
"We did that, got a couple of early goals and started to build on it then."
"The first two [goals] were crucial. It put them back on their heels and gave us the confidence to drive on and deliver on our performance."
Westmeath will fancy a crack at Wexford the next day. For Louth, things are difficult at the moment as their manager Colin Kelly looks to put his stamp on things.
Away from the football, I'm curious about the coffee that was on sale outside the Gaelic Grounds in Drogheda!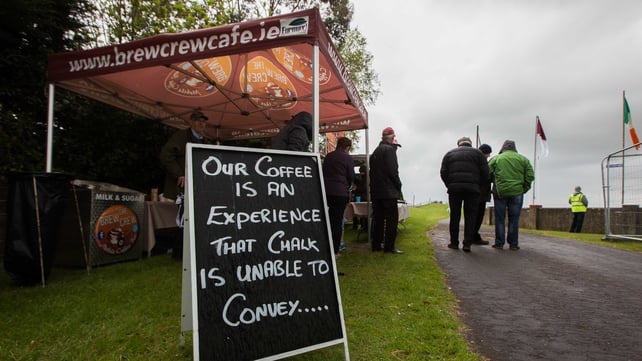 Longford's comeback stuns the Faithful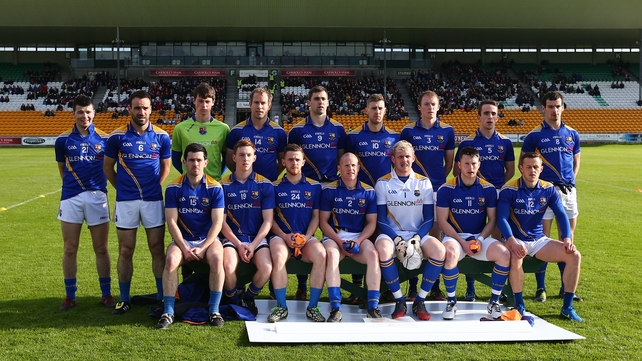 The pundits got this one wrong! It was expected that Offaly would repeat their Division 4 league final win over Longford and book a date with Dublin in the Leinster quarter-final.
At O'Connor Park, Pat Flanagan's side played some smashing football for about 25 minutes of the 70. With 24 minutes to go they led by 0-12 to 0-05 and looked on course for victory. However, Jack Sheedy's side found a new lease of life that saw them win the remainder of the game by 0-11 to 0-01 and so complete a memorable fightback.
Phone died. Invaded the pitch. I couldn't be happier! Now sports pundits....what's that you were saying? #longfordabu pic.twitter.com/NDLSiWzOfR

— Sinéad Hussey (@SineadHus) May 16, 2015
Afterwards, Sheedy told RTÉ Sport: "It was very good, big performances from a lot of lads. The work rate was savage out there, the desire of the lads to give a performance was absolutely tremendous and you couldn't ask any more really.
"We worked so hard. It would have been terribly disappointing, having given a performance like that, not to have won but sometimes you don't get the results."
Next up for Longford is a date with the Dubs on 31 May at Croke Park. In 2006, the Midlanders gave the Boys in Blue a fright when the sides met at Pearse Park, which was the last time Dublin played a championship match outside of Croke Park.
The #Elo ratings model gives Dublin a 99% chance (literally) of beating Longford in two weeks, but hope springs eternal! @TheSundayGame

— GAA Rankings (@GAArankings) May 17, 2015
For Offaly, there is bound to be huge disappointment. They have to go back to 2007 for their last win in Leinster. Their boss Pat Flanagan sounded really downbeat after the defeat and is worried that players may not hang around for the qualifiers.
All too easy for Laois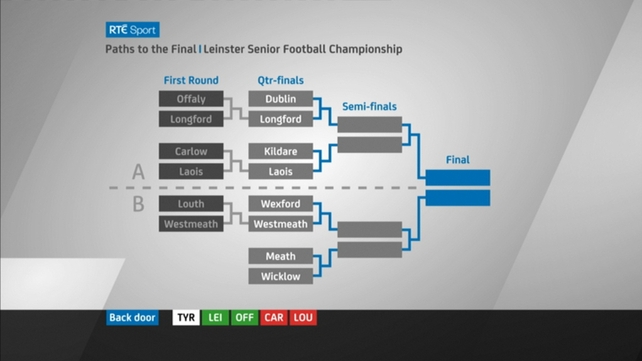 The crowds left early at Dr Cullen Park as Laois ran out 3-16 to 0-08 winners over Carlow. Next up for the O'Moore County is a home tie against Kildare in the last eight in Leinster. I suspect the Midlanders will be confident now of taking out the Lilywhites on 6 June.
Their manager Tomás Ó Flatharta praised the contribution of forward Donie Kingtson after Saturday night's victory when he spoke to RTÉ.
"Donie is very, very talented. He's shown it in the league this year and again, today, he's shown the skills that he has," he said.
"He's developing more as a player all the time. He's a good team player.
"He's physically much stronger than he was a few years ago and he's a man that's enjoying his football at the moment.
"And when you're happy in your football you always seem to play better."