Amid continued uncertainty over the future of the International Rules Series, GAA President Liam O'Neill has given a strong endorsement to it remaining as part of the GAA calendar.
The president was speaking in the aftermath of Ireland's 56-46 loss to Australia in Perth, where the home side claimed the Cormac McAnallen Cup for the first time since 2010.
"I think the series is alive and well," O'Neill, who will discuss what happens next with his AFL counterparts during the trip, told RTÉ Sport.
"This is an excellent game. I have to say that the Australians played football from start to finish – they were magnificent. We were beaten by a better team and you cannot complain when that happens.
"I said before, we want this series to continue. This game confirms that, this series has a future.
"This was fantastic football, people will take to it because of this – the skill level, there were some fantastic catches there, some great scores, the intensity was just unbelievable.
"I think that our decision to put last year behind us and to come and stay with them, play the game and keep the series going has been vindicated. We're very pleased. We lost nothing here tonight, except the game.
"As far as I'm concerned the International Rules Series is alive and well and has a brilliant future."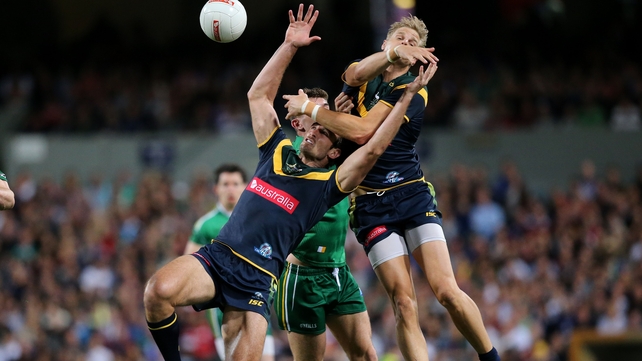 This was the first time that the series was played on a one-Test basis and O'Neill said he would prefer reverting to a two-game format.
He added: "I think the series could probably benefit from two [Tests]. I'm not sure how it's going to pan out but I know the series is going to continue."