Kerry manager Éamonn Fitzmaurice believes his new-look Kingdom team can emulate the All-Ireland winning Clare hurlers and turn their perceived inexperience into an advantage.
Kerry gave championship debuts to three new players in their championship opener, in the absence of the injured Colm Cooper and high-profile retirees like Paul Galvin and Tomas Ó Sé, but Fitzmaurice refuses to seek refuge in the 'Kerry in transition' tag ahead of Sunday's Munster final showdown with Cork.
"It's an exciting time to be a manager," he told RTÉ Sport. "The lads were fantastic servants but a lot of the satisfaction of being a manager is helping players, trying to help them improve and developing a new team.
"You don't have to look much further than the Clare hurlers. They are a young side and this time last year there weren't too many talking about them but they had a belief in themselves and they grew and grew.
"It's the same with our lads. There are a lot of very good young players there, we have a lot of faith in them. It's just a matter of doing it on the big day when they get their chance."
Fitzmaurice's side failed to impress in doing just enough to see off Clare in the Munster semi-final but the Lixnaw man believes the Division 4 finalists' tails were up and that Kerry will be stronger for having come through the test.
"It was a barometer of where we're at at the moment but I think you have to give a lot of credit to Clare," he said.
"It was their third game in three weeks and every week they raised their performance.
"They made it very hard for us. Some of the mistakes we made, unforced errors, probably made it harder on ourselves than it needed to be, but it was our first game and though the performance could have been better, once we got the win we were happy enough.
"We have to improve big-time, we know that."
Fitzmaurice is wary of playing Cork away, saying: "We don't have a great record in Páirc Uí Chaoimh. We always find it tough to beat Cork there. I think the last time we won a Munster final there was 2005.
"It'll be no different this year, particularly as it's the last Munster final before the redevelopment (of Páirc Uí Chaoimh), it'll be an added motivation for Cork.
"At the same time, we feel that we'll improve hopefully from the Clare game, and be a bit stronger, and one way or another we'll know where we stand on the Monday morning after the Munster final."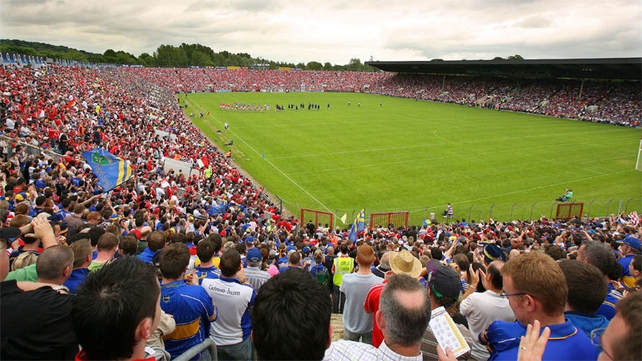 Cork boss Brian Cuthbert was keen to play down any perceived benefits of home advantage however.
"Research would say you have a better chance of winning at home but this is Cork and Kerry," he said. "There have been plenty of times over the years where we won in Killarney or they won in the Páirc.
"I'd like to think that this group of players wouldn't be taking into account too much that this is their last game at home."
Cork survived a scare against Tipp on their way to the Munster final but Cuthbert insisted that expectations of an easy win had been extremely unrealistic.
"There was a lot of talk after the game that we played poorly but I think people looked at the game as if it was a traditional Tipperary outfit," he said.
"I think the Tipperary we played are a very good team and certainly I would have been happy with a one-point win before the game."
Cuthbert was also confident that his players can put the trauma of throwing away an eight-point lead against Dublin in the second half of the league semi-final behind them and channel that experience against Kerry.
"The Tipperary game, certainly we weren't happy with the performance. We had worked on a lot of things from the Dublin game but that showed we have a lot still to do.
"It's part of the learning process. We were up against the All-Ireland champions, probably the best team in the country over the last three years and they threw everything at us.
"It exposed a few chinks in our armour but we've had time to work on those things."
"We're facing into the Kerry game knowing we have a job of work to do to go places."