Ireland will take a 22-point lead into the second international rules Test after a 57-35 win over Australia in Cavan.
Michael Murphy and Ross Murphy kicked two overs each as Ireland ended the opening quarter 17-4 ahead.
They led 28-9 at the halfway stage, and Zac Tuohy's goal was cancelled out by a Jake Neade strike as Australia clawed their way back.
But Kevin McLoughlin's goal four minutes from the end gave Paul Earley's side a cushion to take into the Croke Park decider.
Ireland's slick movement and clever use of the mark gave them a clear advantage in the opening quarter.
The Australians were unable to match the home side in the accuracy of their passing, managing just one over, through Steven Motlop in the early stages.
Thereafter, it was a case of Ireland dictating the pace and direction of the game, with Ross Munnelly and skipper Michael Murphy both causing immense problems to the tourists' defence.
They kicked two overs each, while Munnelly's strategic use of the mark set former Aussie Rules player Colm Begley up for a tidy score.
Ireland led by 17-4 at the end of the opening quarter, and while they were pushed onto the back foot by a Lance Franklin-inspired Australian side early in the second period, they soon reasserted themselves.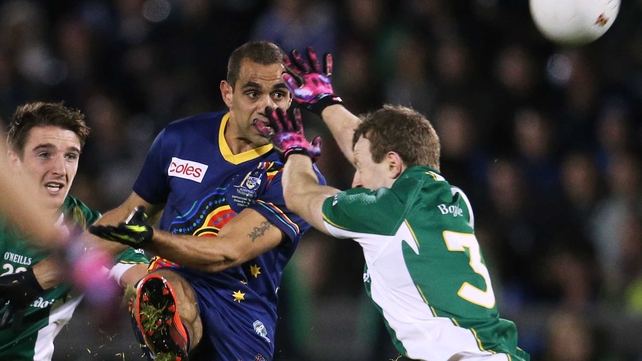 Jack McCaffrey made a series of trademark runs from deep, slicing through the Aussie cover on a couple of occasions, one of which led to a penalty call when paddy McBrearty was hauled to the ground.
Franklin landed an impressive score, but the Irish responded with overs from Louth's Ciaran Byrne, Mayo midfielder Aidan O'Shea and Tyrone's Seán Cavanagh to turn around with a 28-9 advantage at the halfway stage.
After a solid start to the 'championship' quarter, Ireland were forced to absorb heavy pressure from a resurgent Australian side.
Colm Boyle and Paul Conroy carved the opening for AFL player Zac Tuohy to blast home a goal, and Ciarán Sheehan had a chance to add a second when sent in by Cavanagh, but dragged his shot wide.
But Australian began to move the ball with more purpose and a new-found precision, and when Eddie Betts crossed from the right to the unmarked Jake Neade, the Port Adelaide man beat goalkeeper Paddy O'Rourke with a low finish.
They tagged on overs through Lewis Jetta and Alwyn Davey, and the third session ended with Ireland's lead cut back to 12, still ahead by 39 points to 27.
Matthew Stokes landed another Aussie over, and they missed a glorious goal chance when Eddie Betts and Steven Motlop combined for the latter to smash the ball against the crossbar with the net gaping.
But the Irish had another gear, and stepped it up in the closing stages, getting in for a second goal.
The Australian defence failed to clear Murphy's delivery from the left, and Kevin McLoughlin gathered to drill the ball home.
And they added overs through Colm Boyle and Conor McManus to give themselves a 22-point cushion heading into next Saturday's second Test at Croke Park, winning by 2-12-9 to 1-7-8.
Ireland: P O'Rourke, C McKaigue, P Hanley, N McGee, L Keegan, Z Tuohy (1-0-0), J McCaffrey (0-0-1), A Walsh, S Cavanagh (0-1-0), P Flynn (0-1-1), C Byrne (0-1-1), C Sheehan (0-1-0), P McBrearty, M Murphy (0-2-1), R Munnelly (0-2-2).
Interchange players: C Begley (0-1-0), A O'Shea (0-1-0), C Boyle (0-1-0), K McLoughlin (1-0-0), C McManus (0-1-1), C Kilkenny (0-0-1), M Shields, P Conroy.
Australia: A McGrath, C Yarran, T Armstrong, C Ellis-Yolmen, J Harbrow,, N Lovett-Murray, Lewis Jetta (0-1-0), D Wells (0-0-1), L Franklin (0-1-4), M Stokes (0-1-0), J Hill, Alwyn Davey (0-1-0), S Motlop (0-2-2), L Thomas, E Betts.
Interchange players: S Edwards, S Wellingham, Leroy Jetta (0-1-0), J Neade (1-0-0), D Barry, Aaron Davey (0-0-1).
Referees: Maurice Deegan (Ire) & Matt Stevic (Aus)