By Ger Canning
There is some concern that the Australian team coming to Ireland in October to challenge the top players in Gaelic Football may not be the best which the AFL could assemble.
However, the indigenous nature of the Aussie squad should not be taken as a slight to the hosts.
In fact, the Aussie Rules players likely to play in Kingspan Breffni Park and Croke Park will be among the most exciting and talented group currently entertaining huge crowds in Melbourne, Perth, Sydney and Brisbane.
Of course it would be preferable to have the very best which both codes can offer, but that has rarely been possible.
As many young Gaelic players, who have opted to try the luck as a professional in Australia will testify, playing Rules footy involves close to a 12-month commitment.
The home and away element runs from March until August.
The top eight then play in the various finals (preliminary and otherwise) before the leading two clubs compete for Premiership glory on Grand Final day at the MCG on the last Saturday in September.
Of late, it has even been moved to early October.
It is now a regular requirement for players after such a demanding schedule to require corrective surgery on aching limbs once the season is over.
The busy preparation period for the next season begins almost as soon as the last one ends.
The difference here is that these players are full-time professional.
Not everyone in the past has made themselves available to challenge the Irish in International Rules football.
The quality of players coming here in 1984 was extremely high and included more of those coming from the top eight clubs in the VFL (as it was then).
There were exceptions. Great players such as Gary Ablett Snr and Tony Lockett never competed and these were among the true legends of Aussie Rules football.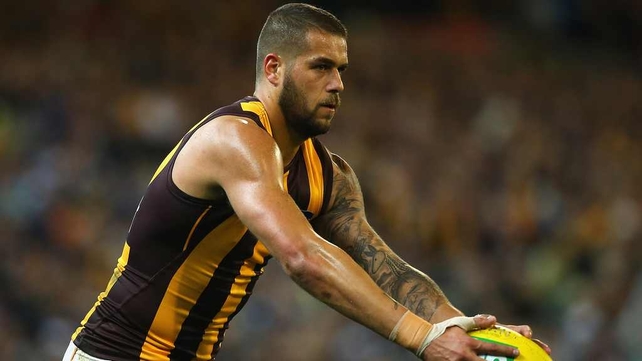 Another who never played this composite game is Lance 'Buddy' Franklin of Hawthorn.
This towering full-forward is one of the real 'pin-up' stars of the AFL.
He's a type of Kieran Donaghy, brilliant in the air, has that swashbuckling appearance, and possesses a subtlety in or near goal.
The image most footy fans have of him is one where he manufactures a scoring chance for himself, approaching the goal posts from an oblique angle, and yet he manages to kick a goal while running hard with little to aim at.
Buddy is a tremendous entertainer and if he is part of Michael O'Loughlin's travelling party, rest assured that quality will be there in abundance.
The side is likely to be skippered once again by Adam Goodes of Sydney Swans.
He was in Ireland three years ago when the touring party was managed by Mick Malthous (now with Carlton), who won the 2010 Premiership with Collingwood and approached the task of leading his country in a restrained, dignified manner.
This was in stark contrast to Kevin Sheedy, the man who was seen to adopt a 'win at all costs' policy with the Aussies in an infamous afternoon in Croke Park in 2006.
The name 'Rioli' may ring a bell with followers of this compromise sport.
Maurice Rioli was a touring player here for the inaugural international series in the mid-80s.
His nephew Cyril is a gifted predominantly left-footed attacker for Hawthorne.
He starred in '08 when the Hawks came through the qualifying final, then the preliminary final in the AFL, before finally beating a brilliant Geelong team in the Grand Final. Cyril Rioli is also expected to be in Ireland this autumn.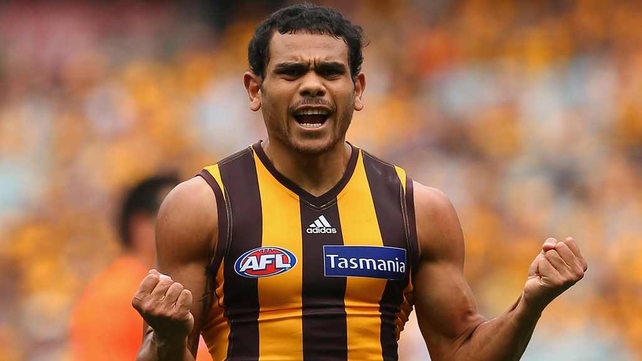 The touring Australians have always had at lest four or five indigenous players in their ranks for all trips to these shores in the past and many of them have greatly distinguished themselves.
Chance Bateman, Shaun Burgoyne, Daniel Wells, Aaron Davey, Danyl Pearse, Lindsay Thomas and Travis Vascoe are old hands at playing with a round ball and do so with great ability.
Not to mention the man who made his debut in this series in Galway and bears the curious name Graham Johncock (Adelaide Crows) Some of these players have adapted so rapidly to an unfamiliar situation that they have nearly embarrassed some of our leading forwards with the ease with which they avail of point scoring opportunities.
Eddie Betts of Carlton would have been regarded as a Gaelic football corner forward when we had such creatures wearing jerseys with the numbers 13 and 15 on the back. He was prominent in the two matches played here during the last tour in Limerick and Dublin.
Stephen Motlop remains a fixture for the Geelong side which has been regenerated in recent years. He was with 'The Cats' in their last premiership winning seasons.
One indigenous player I would truly love to see coming here this year is Andrew Krakouer of Collingwood.
He won Premiership honours in 2010 and '11, he has had his problems off the park, ended up in jail for assault, but out in the middle of the MCG in the stripy black colours of the 'Pies he is a wizard. Think Brian Dooher!
As someone busily working his way from half-back to inside-forward, Krakouer covers a lot of ground, he is courageous, highly skilled, and gets goals-a-plenty.
The 2013 Australian party may not contain luminaries such as Nick Riewoldt or Scott Pendelbury, and we may have to do without the ageless Dustin Fletcher playing in goal (they don't have goalies in Oz!) , however, the likelihood is that Michael O'Loughlin's squad will bring character, quality and flair with them as they seek to regain the Cormac McAnallen Cup.
They may be different, but they are most unlikely to be second rate.