By Rory O'Neill
With the days getting longer, the grass being cut and exam time for students, it can only mean that the Championship is fast approaching.
It makes you think about what makes it special.
In the world of Gaelic Games, there is nothing quite like an upset.
Click here to vote for your choice as biggest GAA Championship upset in association with The Sunday Game.
When a team enters a big Championship match with the odds stacked firmly against them and when they've been completely 'written off' by the media, history would suggest that is when teams are at their most dangerous.
Through history and in particular recent times in the television age, we have seen some amazing upsets. Some of these have gone down in legend and some have been slightly embellished with the passing of time.
This year on The Sunday Game we are going to compile a list of the Top 10 upsets in GAA history and it is you the public that will ultimately decide which turn up for the books ranks as the nation's most compelling.
We will then run this on a weekly basis in the Sunday Game, counting down from 10 to 1, to celebrate and acknowledge each of these incredible moments when a team ignores the form guide and writes their own small piece of history into the annals of GAA folklore.
Below is the list of 20 which we ask you at home to whittle down to 10 by voting for your favourite.
Click here to vote for your choice as biggest GAA Championship upset in association with The Sunday Game.
The list as it stands is chronological and will ultimately be ranked by how you at home vote. So get voting and share.
Galway v Cork
All-Ireland Hurling semi-final 1979
Cork were aiming for a historic four-in-a-row and hence were the defending All-Ireland champions. After a record equalling fifth consecutive Munster title on the back of a final win over Limerick, Cork were expected to see off the Galway challenge comfortably. Galway, on the other hand, were coming with a team of their own backboned by the likes of the Connolly brothers and Noel Lane. In front of a paltry attendance of 12,315, Galway shocked the hurling world by dumping the holders out and progressed to the 1979 decider.
Offaly v Kilkenny
Leinster Hurling final 1980
Easily regarded as one of the most important days in the history of Offaly hurling, it was only the sixth time they had ever made it to the Leinster final. The Faithful had never won the title while Kilkenny were expected to add to the back-to-back crowns they had won the previous two years and make it three-in-a-row. It was a high-scoring affair and Kilkenny went in at half-time with a two-point lead. Offaly came out in the second half and despite the lead changing hands on several occasions, the Faithful had their first ever Bob O'Keefe Cup and were Leinster champions on a score line of 3-17 to 5-10.
Offaly v Kerry
All-Ireland Football final 1982
Another upset featuring the irrepressible Faithful County but this time in football.
Kerry were on the verge of immortality having won four All Irelands on the trot from 1978-1981.
The five-in-a-row would cement their place in history so much so they wrote a song about it, in advance of the final! Someone forgot to mention this to Matt Connor, Seamus Darby and Eugene McGee as Offaly pulled off a great shock by dethroning the All-Ireland champions in one of the great moments in GAA history.
Cork v Kerry
Munster Football final 1983
In the days before the backdoor [remember them anyone?], Cork had been locked in to Munster by an all-conquering Kerry side that had won the Munster Championship every year for the previous eight seasons and were going for a record ninth title under Mick O'Dwyer. Kerry were also looking to atone for the last-gasp defeat to Offaly in the previous year's All-Ireland final but were shocked with another late goal, this time from Tadhgh Og Murphy, which helped Cork to land a first Munster title for the Rebels since 1974.
Waterford v Cork
Munster Hurling semi-final 1989
Waterford hurling was at a low ebb in the 1980's and they had suffered some terrible beatings at the hands of Cork in particular. The 1989 Championship saw an upturn in fortunes and having beaten Clare in the first round, they went into the semi-final against Cork with confidence levels high. Having drawn the first match 18 points apiece,many felt that Waterford had let their chance slip when faced with having to play Cork for a second time in the replay a couple of weeks later. This time they closed out the deal with a famous two-point win and their first Championship success over Cork since 1974.
Antrim v Offaly
All-Ireland Hurling semi-final 1989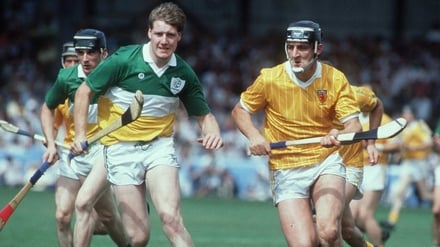 On a day when both semi-finals were played together, Antrim and Offaly acted as the curtain raiser with the result considered a mere formality. 1943 was the last time a team from Antrim, or any team from Ulster for that matter, had contested an All-Ireland decider. Offaly, meanwhile, had been All-Ireland champions twice in the previous 10 years and were expected to brush aside the Saffron challenge with ease. With a brace of goals from Olcan McFetridge and another brace from Aidan McCarry, the day belonged to the men from the Glens who were sportingly applauded from the field by the vanquished Offaly team in one of the great sporting moments in GAA history.
Cork v Tipperary
Munster Hurling final 1990
'Donkeys don't win derbies!' proclaimed Tipperary hurling manager 'Babs' Keating in the build-up to the 1990 Munster final with Cork. As defending All Ireland Champions and having won their first Liam McCarthy Cup since 1971, Tipp were hotly fancied to defend their title with a star-studded line-up that included Nicky English, Pat Fox and Declan Ryan. 'Babs' comment served to upset Cork so much so that Tipperary were unceremoniously dumped out of the Championship with Mark Foley's individual tally of 2-07 being key to the 4-16 to 2-14 victory. Cork would go on to win that year's All Ireland to prove that donkey's do win the occasional derby.
Down v Meath
All-Ireland Football final 1991
Meath went into this final on the back of an amazing quartet of matches with their old rivals Dublin. When they eventually came out on top to make that year's All-Ireland final, they were expected to easily account for the challenge of a Down team appearing in their first final since the 1960s. In fact Sam Maguire had been absent from the six counties since Down's previous All Ireland way back in 1968. Nevertheless Down prevailed, spearheaded by legendary figures like Ross Carr, Greg Blaney, 'wee' James McCartan and Conor Deegan, to win by two points.
Clare v Kerry
Munster Football final 1992
Immortalised by a famous line from a certain commentator about 'cows and milk', absolutely nobody gave Clare any chance going into the 1992 Munster final against the footballing dynasty that is the Kingdom. Kerry went in to the match as raging hot favourites while Clare were fresh from success in the All-Ireland B Championship. They could even afford to miss an early penalty and despite some free-taking heroics from Maurice Fitzgerald, the day belonged to the Banner once Colm Clancy rocked the back of the Kerry net. The Clare footballers were off to Croke Park for the first time since 1917.
Donegal v Dublin
All-Ireland football final 1992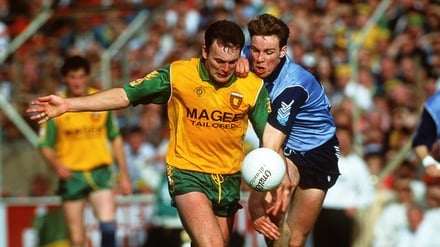 In the same year that Clare shocked the footballing world by knocking out Kerry, Donegal, under Brian McEniff, made it to the All-Ireland final for the very first time. The Dubs had disposed of the Clare challenge with ease in their semi-final while Donegal had struggled to cope with Mayo in the other semi final. If it was a case of the Dubs just turning up, Donegal ignored the form book and took the game to Dublin from the off with the McHugh brothers, James and Martin, instrumental in a famous victory for Tir Chonail as captain Anthony Molloy lifted Sam and it headed for the hills for the first time in history.
Clare v Cork
Munster Hurling semi-final 1993
Clare went into the Munster Hurling Championship of 1993 completely under the radar. With no Championship victory over Cork since 1981, few expected them to turn the tables on what was an ageing Rebel side in the Munster semi-final in Limerick. In a brief glimpse of what was to come for the Banner they outmuscled, outfought and ultimately out hurled Cork on a blustery rainy day in June. With only a point separating sides with a little over 10 minutes to go, a great save by Cork goalkeeper Ger Cunningham saw the ball bounce kindly in to the path of Fergie Touhy who buried the rebound into the net and the Banner had secured a famous victory.
Leitrim v Mayo
Connacht Football final 1994
The story of Leitrim 1994 has been immortalised in song and story over and over. And the romance of it probably glows that bit brighter with the passing of time. A famous line from a former Leitrim Chairman exudes the reality faced by football in a county with a population of less than 30,000: "Kerry supporters are only happy when they win the All-Ireland, Leitrim supporters are happy when we win".
In our own personal favourite in RTÉ Sport, Leitrim's Connacht title of 1994 stands out when Mayo man John O'Mahony led them to only their second Provincial title in their history and first since 1927.
Offaly v Meath
Leinster Football final 1997
Once again in the days before the backdoor, Meath went into the Leinster final of 1997 as raging hot favourites. Not only were they defending All-Ireland Champions, they had already beaten the Dubs and victory in a three-game epic with Kildare proved their Championship credentials still stood up for the 1997 season. No county revels in the role of underdog better than Offaly, however, and despite having not won a Leinster title since they were All-Ireland Champions themselves way back in 1982, they went into the match under Tommy Lyons with a quiet confidence. A three-goal burst gave Offaly a stunning victory and a first Leinster title in 15 years.
Waterford v Tipperary
Munster Hurling final 2002
Tipp had gone back to the summit of hurling the previous September when they won a thrilling All-Ireland over Galway so when they made it to the Munster final of 2002 and found themselves facing Waterford, not many gave the Deise much of a chance. After all it had been 39 years since they had last won a Munster Championship. Ken McGrath gave a virtuoso performance cementing his place in Waterford hurling folklore forever more with seven points from play and Waterford under Justin McCarthy had dethroned the All-Ireland champions.
Wexford v Kilkenny
Leinster Hurling semi-final 2004
If ever there was an upset this was it when Wexford ended Kilkenny's six-year reign as Leinster champions. Kilkenny were back to back All-Ireland Champions and in search of three in succession. A tight contest was decided in the dying moments, when Kilkenny, a point up, failed to make a clearance when centre back Peter Barry was blocked down my Michael Jacob and he promptly dispatched the ball to the Kilkenny net. It gave Wexford one of their most famous victories on a final score line of 2-15 to 1-16 and the Bob O'Keefe Cup headed to the sunny south east for the first time since 1997.
Fermanagh v Armagh
All-Ireland Football quarter-final 2004
Fermanagh were one of the major beneficiaries of the qualifiers and in 2004 in Charlie Mulgrew's second season in charge, they went on another charge through the backdoor. Having already beaten Meath, Cork and Donegal, they met their near neighbours Armagh in the quarter-final and this is where a serious halt was expected to be called to their gallop. Armagh were Ulster Champions with a star-studded line-up which included some household names like McGeeney, McConville and McNulty, yet Fermanagh defied all of the odds and pulled off one of the shocks of the summer. Tom Brewster struck with a late winner and dump one of the favourites for Sam out of the Championship.
Galway v Kilkenny
All-Ireland Hurling semi-final 2005
Having lost the All-Ireland final to Cork the previous year, Kilkenny were hotly-fancied to make it back to the decider to avenge that defeat but first had to get over the challenge of Galway who were appearing in their first semi-final since the two counties had met at the penultimate stage in 2001. The goal fest that ensued caught most by surprise as Kilkenny were hit for five which included a Niall Healy hat-trick and set the Tribesmen up for an astonishing victory on a final score line of 5-18 to 4-18.
Sligo v Galway
Connacht Football final 2007
Sligo had not won a Connacht title since 1975 when they began the 2007 campaign under Tommy Breheny. With Galway and Mayo on the opposite side of the draw a chance to at least make the final presented itself but when they were paired with Galway in the decider, they were given little chance. The game ebbed and flowed with neither team able to pull away it took a moment of magic from Eamonn O'Hara, a corker of a goal, to be the difference. Sligo won by the merest of margins on a score line of 1-10 to 0-12 and O'Hara had a much coveted Connacht Championship medal, a career in service to the Yeats County so richly deserved.
Limerick v Waterford
All-Ireland Hurling semi-final 2007
These two had met in the Munster final earlier that summer and Justin McCarthy's side had prevailed on the back of an inspired performance from Dan 'The Man' Shanahan. Waterford had beaten Cork in a replayed quarter-final only the week before and were expected to make a first All-Ireland final since 1963. Limerick, meanwhile, came in to the game very much the rank outsiders and given little hope of upsetting the odds. Limerick banged in five goals with Andrew O'Shaugnessy, Donie Ryan and Brian Begley in superb form and Waterford were dumped out of the All-Ireland Championship at the semi-final stage once again.
Down v Kerry
All-Ireland Football quarter-final 2010
A low key quarter-final with a small attendance wasn't exactly the place we expected Kerry, the defending All-Ireland champions, to make their exit in the Championship of 2010. That's exactly what happened with the Red and Black jerseys of Down arriving into Croke Park with a sprightly spring in their step to catch Kerry completely on the hop. Down whipped up a storm from the off and Mark Poland's goal after barely 52 seconds on the clock set down an early marker from which the Kingdom struggled to recover. A fully deserved six-point victory on the day preserved their unbeaten Championship record against Kerry and gave the Mourne Men the shock of the summer.
And finally you can decide if a game we do not have listed merits inclusion.
So get your suggestions in here and see if it makes the Top 10 which we will countdown on The Sunday Game 2013.