Email: sportonline@rte.ie
By Tadhg Peavoy
1137 A facile win for Ireland against a totally undercooked Australia team.
From the very first throw-in Ireland were in control of this battle, roaring into an early lead. From there, there was no let up from the Boys in Green as they punished Australian profligacy in front of goal and refused to allow the Australians any space to get back into the game.
Superb Irish finishing can be contrasted by dismal Australian marksmanship: that was the key difference as Ireland coasted to victory in Etihad Stadium. Keep an eye on the GAA section of this site for a match report.
1136 END OF FOURTH QUARTER: AUSTRALIA 36-80 IRELAND
1134 Aidan Walsh makes a 50-metre kick and Brendan Walsh gets under it to claim a mark on the 20-metre line. Murphy places the kick over the bar - the last score of the tie.
Australia 36 Ireland 80
1133 Green is fed from a free near the 45. He lines up and fires home another over. Australia 36 Ireland 77
1132 Australia land another over to reduce the defecit. Damage limitation is the name of the game. That score is followed by an Ireland wide. Australia 33 Ireland 77
1130 Aidan Walsh launches a high ball. McDonnell claims the mark under severe pressure. McDonnell, from 20-metres out, lands the over. Australia 30 Ireland 77
1129 Another behind for Australia - they have been abysmal in front of goal today. Australia 30 Ireland 74
1125 GOAL - MCDONNELL - IRELAND
McDonnell is played in on the Aussie goal, wide right. He storms at the nets and manages to fluff his lines as he miscontrols the ball. But he recovers possession and from the most acute of angles he lashes home past Suckling. Australia 29 Ireland 74
1122 Donaghy hammers home a goal for Ireland, but the referee pulls play back for an earlier infringement.
1120 Donaghy claims a mark way out on the right and lashes over the over. Donaghy has been commanding today.
Australia 29 Ireland 68
1119 GOAL - GLYNN - IRELAND
Glynn is played in right of front of goal and smashes home a fierce effort to the top left-hand corner. That is the final nail in the Australian coffin. Australia 29 Ireland 65
1116 FOURTH QUARTER BEGINS.
1110 END OF THIRD QUARTER: AUSTRALIA 29-59 IRELAND
1108 Gray adds another over from 20-metres out as the hooter sounds for the end of the third quarter. Australia 29 Ireland 59
1107 Australia win a free on the Ireland 13m line and Gray taps over the over. Australia 26 Ireland 59
1106 McKernan fires in a truly awesome over. From near the 45 he lashes a piledriver at goal and it sails over the bar.
Australia 23 Ireland 59
1105 Glynn claims a mark wide left and steadies himself for the shot. He makes no mistake with the effort on goal. A superb over.
Australia 23 Ireland 56
1104 Donaghy calls a mark. From on the 20-metre line he fires the ball in for an over. Australia 23 Ireland 53
1103 Glynn tries to curl in a mark from wide right. The effort hits the post and rebounds out.
1102 Play has resumed and Hanley drives an effort well wide.
1101 It's all kicked off after Bolton's injury with a mass handbags disagreement taking place. Somebody stole someone else's lipstick and things got nasty.
1100 Pictured below: Eamonn Callaghan fires home Ireland's second goal.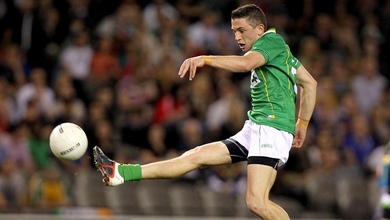 1059 Bolton took a knock to the head during a tackle.
1058 Emmett Bolton goes down under an Aussie challenge and must receive attention.
1056 Brad Green is fouled on the Ireland 20-metre line. Green claims a behind with the resulting free. Again, shocking. Should have been an easy over. Australia 23 Ireland 50
1055 Tommy Walsh has three overs so far today.
1054 Great score from the Irish. Kennelly soccer passes to Donaghy, he pops up and over his head to Walsh, who claims the ball and fires home an over. Australia 22 Ireland 50
1053 Green wins a free for Australia and from the 20-metre line he puts over a behind. That was awful: a free shot from 20 metres, should have been an over. Australia 22 Ireland 47
1052 Robinson hits a behind for the Aussies.
Australia 21 Ireland 47
1051 Kennelly tries to find Donaghy and overcooks it - the ball runs through to Suckling in the Aussie goal.
1050 Murphy overs with a mark from wide left. First score of the quarter. Australia 20 Ireland 47
1049 THIRD QUARTER BEGINS.
1033 END OF SECOND QUARTER: AUSTRALIA 20-44 IRELAND
1032 Ireland win a free on 20 metres. McDonnell hammers it over for an over. That's his third over of the match.
Australia 20 Ireland 44
1029 Both Ireland and the Aussies overcook efforts and they find touch. Cluxton makes a howler in goal as he miscues a shot and overhits a pass to nobody. The Aussies' Brad Green gets to the ball first and fires into and empty net. A rare balls-up from Cluxton. Australia 20 Ireland 41
1028 Mitch Robinson capitalises on a mix-up in the Ireland defence and fires home an over from 20-metres out.
Australia 14 Ireland 41
1027 Walsh claims a mark for Ireland. Walsh makes no mistake with the free - another over. That's six points from Walsh today. Australia 11 Ireland 41
1026 Richard Douglas adds to his behind with an over.
Australia 11 Ireland 38
1025 Stevie McDonnell adds another over for the Irish.
Australia 8 Ireland 38
1022 GOAL - CALLAGHAN - IRELAND
A long ball draws the Australian keeper Suckling out of his box. He makes a hash of the clearance and it falls to Eamonn Callaghan. He takes a few steps before lobbing the ball into an empty net.
Nahas responds with an over for Australia.
Australia 8 Ireland 35
1021 Douglas tries a long ball to the Ireland area. Nobody can get on to it and it goes for a behind. Australia 5 Ireland 29
1020 Hanley throws a hefty shoulder on Trengrove and he goes down like a bag of spuds. Free-in Australia. They fail to make use of it as Kennelly steals possession. Kennelly is all over the gaff so far today - class.
1019 Another behind for Ireland just moments later.
Australia 4 Ireland 29
1018 Donaghy makes a behind to stretch the lead.
Australia 4 Ireland 28
1017 McKernan is fed again on the right, he sprints at the Aussie goal and leaves the defence trailing, before lashing an effort over for an over. Australia 4 Ireland 27
1014 Kennelly is held back by James Kelly on the right touchline. Kennelly takes the free and finds Donaghy, he feeds McKernan, who can only manage to claim a behind. Australia 4 Ireland 23
1013 SECOND QUARTER BEGINS.
1012 Cluxton was the major ball winner of that first quarter. The Dublin goalkeeper caught 15 balls - emphasising Australia's dismal first-quarter shooting.
1008 There was only one team in that first 20 minutes: Ireland were dominant in defence, attack, the air, marking and finishing. Australia had a couple of bad misses early on and that unsettled them as they failed to find their rhythm.
1007 END OF FIRST QUARTER: AUSTRALIA 4-22 IRELAND
1006 Stephen McDonnell makes a superb over. Hugging the right touchline, he glances up and skies the ball between the sticks. Superb. Australia 4 Ireland 22
1004 Milne claims Australia's first over with a decent effort from left of goal. Australia 4 Ireland 19
1003 GOAL - MURPHY - IRELAND
Murphy is fed with a lobbed ball into the Australia area and he collects, takes a couple of strides, and lashes home an effort into the bottom left-hand corner. Ireland are flying.
Australia 1 Ireland 19
1002 Another wide for Australia. They just cannot get their kicking feet sorted at all.
1000 Hanley behinds from out left, he was way out on the flank and couldn't get the right leverage on the football.
Australia 1 Ireland 13
0958 Kennelly claims a further over in response to an Australia behind. Wonderful score from Kennelly breaking down the right flank and curling an effort in from out wide.
Australia 1 Ireland 12
0957 But Ireland launch another attack and Michael Murphy claism a mark 13m out and places his over above the bar.
Australia 0 Ireland 9
0956 Ireland try to find Donaghy in the top-left corner, but the pass it too long and runs out of play.
0955 Smith claims a mark for Australia, just outside the Ireland box, but his effort on goal is tame and lands in Cluxton's hands.
0954 An embarrasing wide from Australia's McGlynn. He scuffed it off the outside of his boot and it went way to the right.
0952 Glynn is played into space near the Australia goal and turns to drive home another Ireland over. Australia 0-6 Ireland
0951 Tommy Walsh claims an over from 25 metres out - a lovely floated effort. Australia 0-3 Ireland
0950 First chance for Australia and it goes wide, totally sliced.
0949 And they're away in Melbourne.
START OF FIRST QUARTER.
0946 The Ireland starting XV is:
Stephen Cluxton
Ciaran McKeever, Finian Hanley, Neil McGee
Kevin McKernan, Pearse Hanley, Colm Begley
Zac Touhy, Tadhg Kennelly
Leighton Glynn, Tommy Walsh, Joe McMahon
Michael Murphy Kieran Donaghy and Stephen McDonnell

0944 Advance Australia Fair is next up for the boys playing in navy.
0943 The teams are lining up for the anthems, with Ireland's Amhrán na bhFiann first on the setlist.
0940 The main pre-match news is that Paul Galvin has opted to wear red trousers for the TG4 studio coverage; surely a first for Irish sport broadcasting.
0937 Australia and Ireland meet in Melbourne for the first of two International Rules tests - follow our tracker here.
Throw-in is at 9.45pm.